With everything going on in Top City this weekend, we thought it only appropriate to help you be as efficient as you are fabulous. Wear good shoes so you can cover the most ground Saturday. Remember: You can start the day at 7:30 a.m. at the Downtown Topeka Farmers Market and round out the day by partying into the wee hours at one of Topeka's premier downtown eateries (see no. 5), so you're going to want to pace yourself.
8. Check out food trucks from three states – Kansas, Missouri and Arkansas. There are 33 in all and you can get the full list, and links to their Facebook pages if they have 'em, on our website. 
7. Bring lawn chairs or picnic blankets. There will be some tables and chairs, but you can only picnic on the Capitol lawn with your own gear. (You won't have to carry them very far. Parking garages are open and meters are not enforced on Saturday.)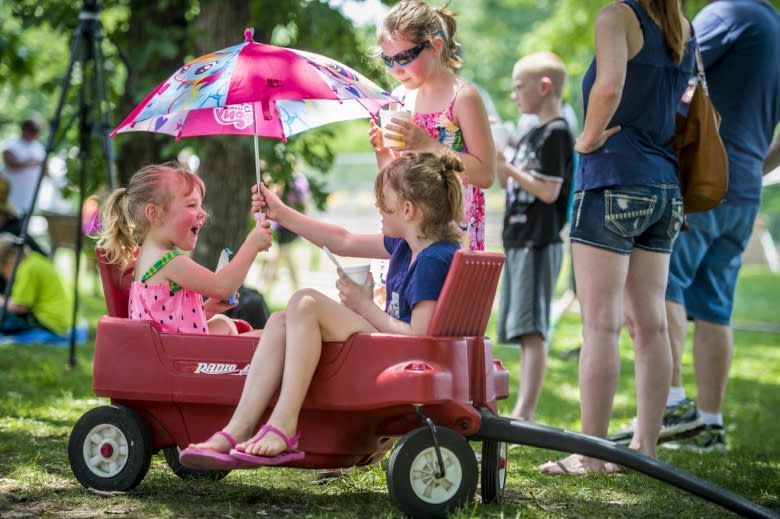 6. Start Early: The Saturday tours at the Kansas Statehouse begin at 10 a.m. Both historical tours and dome tours will be offered. Can you climb 296 steps after you eat? Plan accordingly.
Learn more about the Kansas Statehouse. 
5.  Stay Downtown: Take in a movie for a good cause at the Jayhawk Theatre at 4 p.m. LUNAFEST is a film festival about women, by women. Proceeds from the event will go to benefit Girls on the Run Northeast Kansas. Or try one of Downtown Topeka's newest dining sensations: The Pennant. Enjoy gourmet bar food and unique drinks while getting game or two (or ten) at the restaurant's bowling alley or retro arcade. Saturday hours are 11 a.m. to 2 a.m. 
4. Get your sample on! If you just can't decide or don't want to commit to a full entrée, look SAMPLE MENU. All of this year's participating food trucks are offering small portions of favorites for $2-$3. This year one lucky food truck will be named "Best in Food" by a panel of judges! Judging will conclude at 3 p.m., so be sure to stick around to hear their top pick. 
While at Capital Family & Food Trucks Fest take the Sweet Treat Downtown Walking Tour. 
3. Got game? Check out Sky's the Limit Mobile Gaming. There will also be various carnival games. Pick up a $5 wristband for all-day play!
2. Find Baby Jay and Willie the Wildcat around the festival. Pictures welcome. High-fives encouraged.
1. Bring some cash. Sure, most trucks can take cards, but not everyone. You don't want to miss out because you only carry plastic. If you do forget, there are ATMs at 7th and Kansas (CapFed) and 9th and Kansas (CoreFirst).