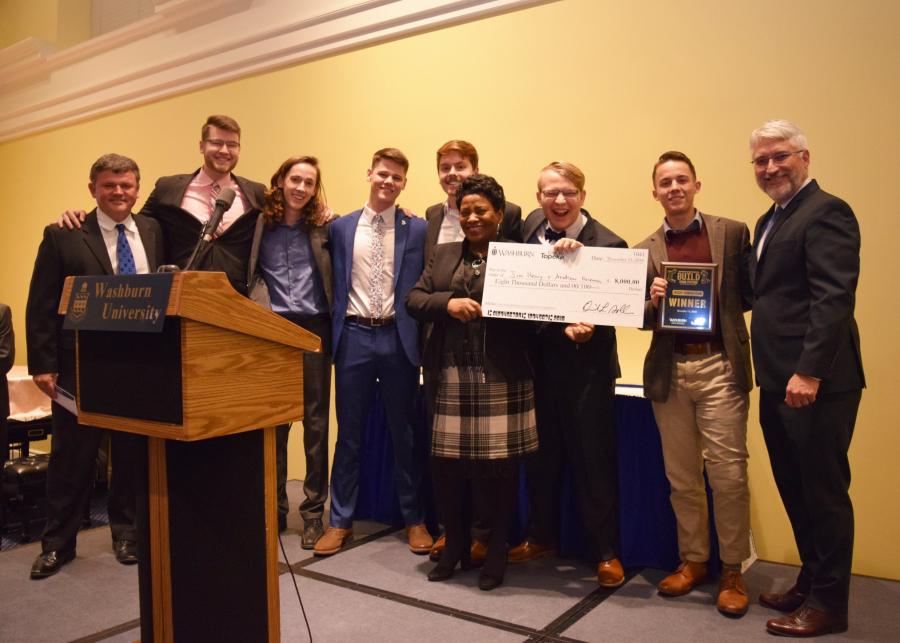 The members of Agrotech Enterprises won Washburn University's 2018 Pitch Competition. Andrew Foreman is featured holding the check next to GO Topeka's Glenda Washington. 
When you listen to Andrew Foreman speak about his plans for the future, so purposefully and resolutely, you start to understand why one of his personal mottos is, "If you can't find the right opportunity, make it."
ALSO READ: BAJILLION AGENCY, ACTIONCOACH & MOTOVIKE FILMS GROW WITH GO TOPEKA
Indeed, the Washburn University junior means to make waves with his new startup Agrotech Enterprises and its main product: Protein Powder. But this isn't just your run-of-the-mill protein powder derived from whey, pea or hemp. No. It's cricket powder. (Hold for varied reactions.) A form of protein, Andrew assures, that is far superior to alternative forms.
Crickets as a food source are preferable, affirms Andrew, because not only are they better stewards of the land, it's a fairly new, quickly growing market. "Today 77 percent of our agriculture land is used to raise livestock and out of everything we produce from that, that only counts for 17 percent of human consumption," says Andrew. This limitation is due to the fact that livestock, such as cattle, have a very inefficient feed-to-food ratio. "Cattle in particular require enormous amounts of land, water and feed to produce even just a pound of beef. When we look at insects – especially at crickets – the feed-to-food is just way higher. So, crickets can do a lot more with a lot less."
This concept was presented at Washburn's 2018 Pitch Competition. It - along with a good business model – won Andrew's group the competition. Other members of Agrotech Enterprises are Aaron Ediger (CTO), Jonathan Barnell (director of research and development), Jim Henry (VP of finance) and Matthew Hochuli (CFO) – all Washburn students. That night Agrotech walked away with the $8,000 first place prize, a decent first investment in the burgeoning company.
Learn more about Washburn Unversity's 2018 Pitch Competition.
To those of you Topekans that are afraid of losing Andrew and his talented team to another community, fear not. All the members of Agrotech agree that Topeka is the ideal location for a business to grow and develop. The capital city not only offers affordable real estate – an important factor because crickets must be raised indoors – but also because it is the center of the Animal Health Corridor. "The majority of the world's animal product research and science happens right here. We 're in a strategic place to develop the business, make partnerships and succeed at developing and selling our project."
Andrew affirms that another reason he chose such a high-grow industry was that he is extremely passionate about growing the capital city. "I don't mean to sound cliché or cheesy, but I really love Topeka and I really want to see if I can do something that can help improve Topeka's economic outlook and grow the community."
Agrotech Enterprises hopes to launch their product by early summer. While they continue to fundraise, the team is also exploring Topeka real estate options for housing the crickets and finding ways to cut overall costs.