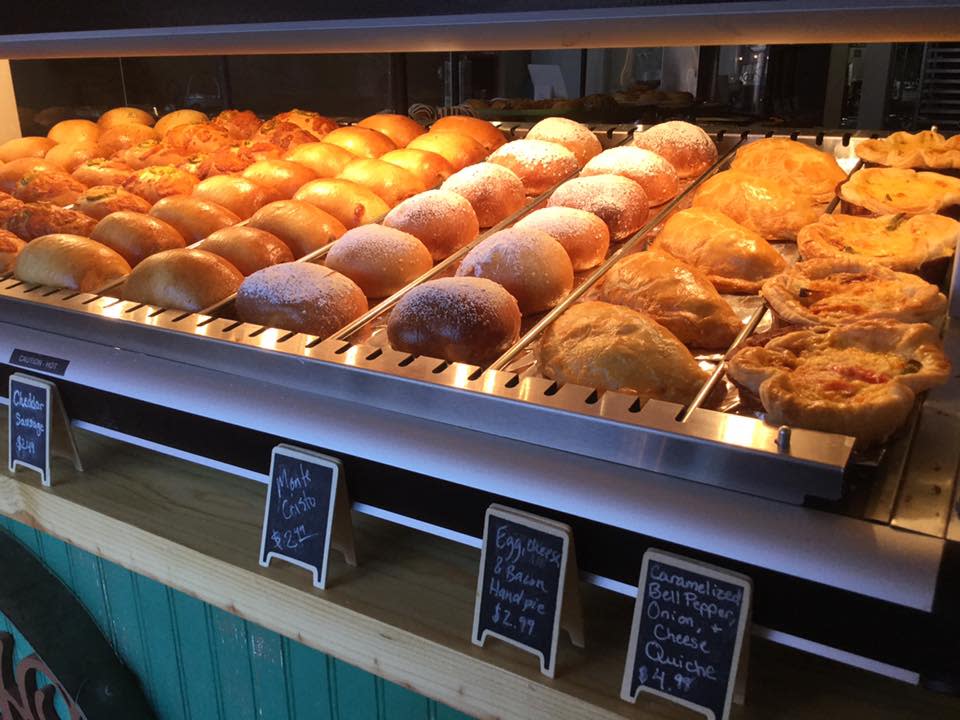 Savory, scrumptious, saucy: a few choice words to use after sampling some of Josey Baking Co.'s breakfast delights. A while back I had the chance to treat my officemates to breakfast from this Westboro gem, and I think I hit it out of the park with this one. Goodbye doughnuts! Sayōnara drivethru! I think I've found my new breakfast to-go go-to. 
First off, I will say that the ambiance in Josey's Baking is to die for, like so cute I want to punch it (but not really). It possesses a quaint bakery vibe mixed with hip, Seattle-esque coffee shop decor. If you have the time, I'd recommend taking a seat to enjoy the chill atmosphere before jetting off to your next obligation. 
For my office fam I ordered: the Monte Cristo Kolaches, the Sausage Gravy Kolaches and the Pumpkin Rolls (a PSL variation of Josey's stellar cinnamon rolls). 
When describing the the Monte Cristo, I can't help but use the word decadent. A kolache filled with ham and cheese, topped with a light dusting of powdered sugar. Served with berry preserves that packs a covert spiciness, the Monte Cristo is truly full of surprises. This one was by far my favorite. 
I think it was easy to say that the Sausage Gravy Kolache left a few of my co-workers foodgasming. They described it as just the right amount of spicy sausage and rich gravy. And, surprise-surprise, the gravy was safely cradled within the delicate sweet bread, entirely self-contained. 
Lastly the Pumpkin Rolls. For all my friends who like pumpkin but are a bit weary of the overhyped pumpkin flavor craze, I think you'll want to give this one a try. With just a subtle hint of pumpkin flavoring, the Pumpkin Roll is enjoyed for its subdued sweetness (good news: no sugar headache!) and gooey, but not sticky texture. It's melt-in-your-mouth good! 
That morning all I could hear from my office was my work buddies exclaiming "just...wow" and "freaking delicious." I had supplied them with a new addiction. 
Looking for more delectable offerings in Topeka? Check out our Restaurant Guide!