Like all art, murals have the power to convey a meaningful message. Moreover, they're very telling of the city they inhabit. And more often than not, murals tell the unique history and culture of an area. They even have the power to give new life to an area with their loud colors and imaginative design. If you ask me, there's no better way to explore and enjoy the full scope of a city's local color than to visit the local murals.
Searching for a unique pop of color? Check out these Topeka murals!
Oakland Murals
 
If you venture over to Oakland, a close-knit neighborhood in East Topeka, you'll find a mural that serves as a beacon of community pride. Created by artists Maria Guzman and Jamie Colon, the mural is a symbol to the Latino community in Topeka. The section spotlighted above features Colon's grandparents, Domingo and Antonia Lopez, prominent figures in the Oakland area. 
.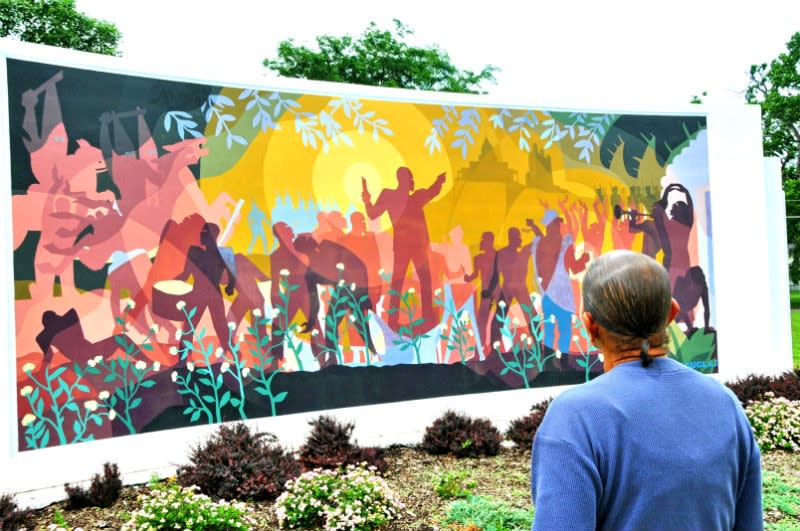 The Aaron Douglas Mural celebrates the life of the Topeka-born muralist, illustrator and scholar. Painted on a large wall by local high school and college students and residents of Topeka's Tennessee Town neighborhood, the mural is a reproduction of one of four panels of "Aspects of Negro Life: From Slavery Through Reconstruction" that Douglas completed in 1934 for the 135th Street Branch of the New York Public Library (now the Schomburg Center for Research in Black Culture).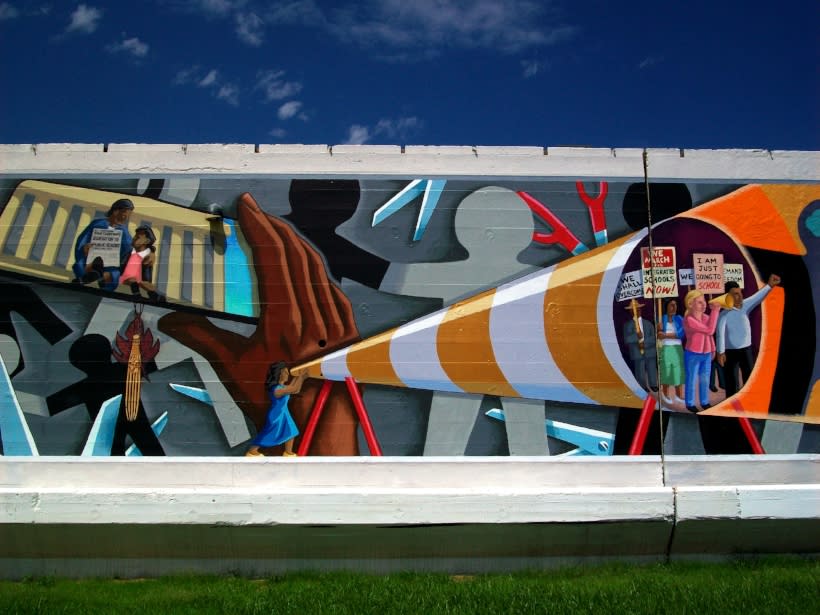 Located in Chesney Park, the Great Mural Wall started as a community based and driven mural arts initiative by the City of Topeka and area neighborhoods. To quote Atlas Obscura:
"Pass by this sprawling piece of public art and you'll instantly be given a visual history of Topeka."
Started in April of 2007 by the Chesney Park NIA, mural continues to grow to this day. Panels are painted each spring and summer. Community members and visitors alike are welcome to participate in making the Great Mural wall of Topeka the largest mural in Kansas!
Tragic Prelude and State Capitol Murals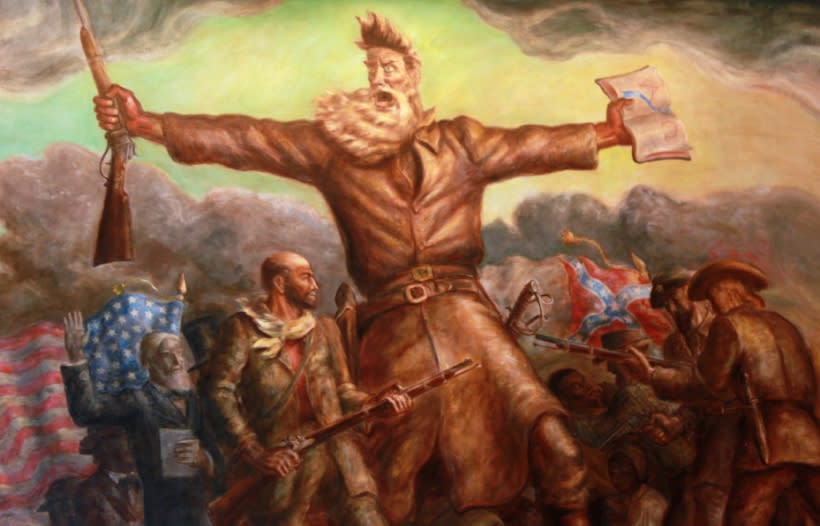 Perhaps one of Topeka's, if not the entire state of Kansas', best known murals is the "Tragic Prelude" by John Steuart Curry located at the Kansas State Capitol Building. It depicts Curry's interpretation of the controversial abolitionist John Brown and the anti-slavery movement in Kansas Territory. At the center is Brown with a Bible in one hand and a Beecher's Bible (rifle) in the other. Other murals by Curry inside the Capitol include "Kansas Pastoral."
NOTO Arts District Murals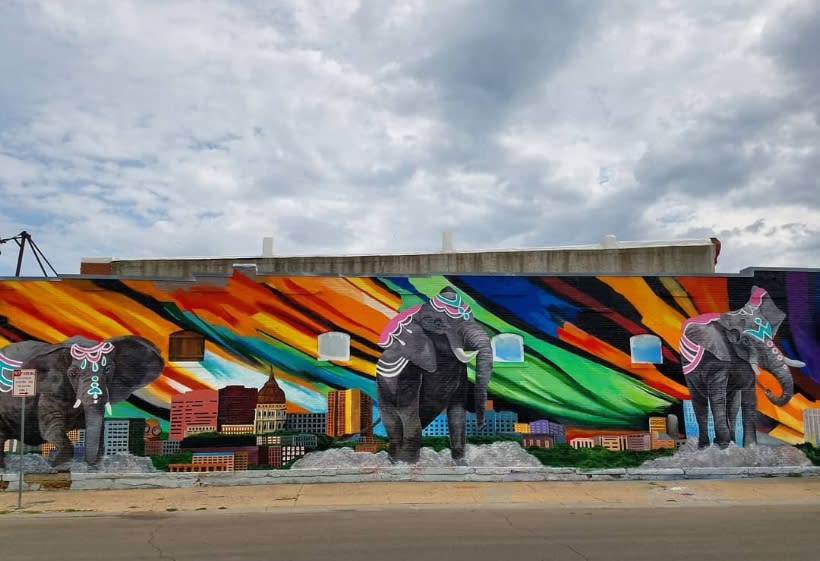 Credited to Connie_Mack via Instagram
The North Topeka (NOTO) Arts District is home to a multitude of art, including various murals and outdoor art installations. View Jennifer Bohlander's elephant mural and Greetings from Topeka postcard, Isaiah Zagar's mosaics Ragazagar and Wizard of Oz, Rev. January Kiefer's Wall of Healing and many, many more!
Brown v. Board of Education Mural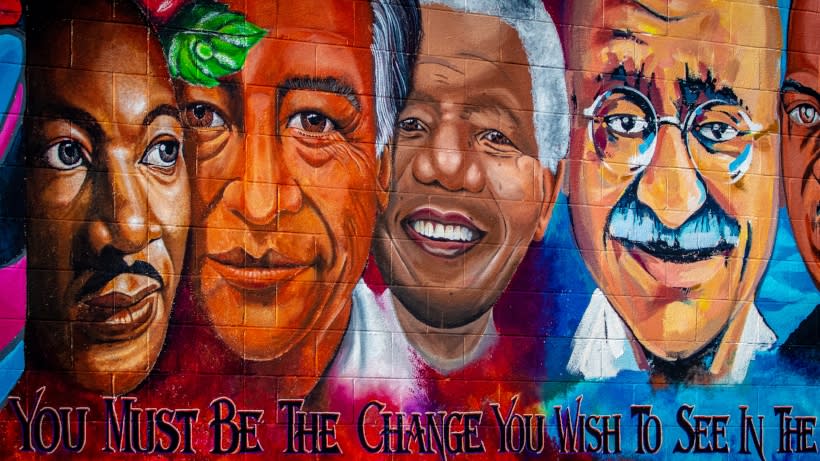 Some might not know that Topeka was the backdrop for the landmark Supreme Court case Brown v. the Topeka Board of Education which deemed segregation in the U.S. school system unconstitutional. The mural, completed in summer 2018, conveys themes of diversity, equality, inclusion and justice. Artist Michael Toombs directed the painting of the 130' x 30' wall along with a team of artists and thousands of members of the community. View the mural in its entirety across from the Brown v. Board of Education Historic Site at 1515 SE Monroe Street. 
Some Honorable Mentions
There are an abundance of murals in Topeka - too many to name in just one blog. But some honorable mentions we'd like to include are the Constitution Hall Mural, the Mulvane Artlab recycled mosaics, the mural by Andy Valdivia at The Amigos of Marlo Cuevas-Balandran Activity Center Inc. and the multiple murals at Our Lady of Guadalupe Church.