Top City is a great place to put an attitude of gratitude to work for the community. If you're visiting, here on an internship, or you're a Topekan looking to give back, let this list get you started. Several holiday season examples are shared, but each organization has opportunities throughout the year. Nothing on this list requires extensive training or a long-term commitment.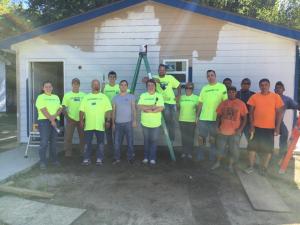 Habitat for Humanity has many opportunities that require little to no training. They provide on-site training during volunteer days. Those interested can sign up on the Habitat for Humanity website. This is a good opportunity for people who have a free day and just want to show up and help out! (Photo courtesy of Topeka Habitat for Humanity)
Topeka Rescue Mission has lover 1,500 volunteer opportunities monthly and they're continually changing. You can view current needs on their website, or you can check out special volunteer needs like the Tubs of Love or seasonal opportunities.
Harvesters is a great option for families who are looking to give back together since kids 8 and older can volunteer and don't need training. They do have special arrangements for volunteers ages 6-7 if you contact Volunteer Services ahead of time. It's really easy to get started - you simply reserve your time online or call 785.861.7716 to make a reservation. Volunteer shifts are two or three hours depending on the activity.
Helping Hands Humane Society is always in need of pet care supplies. If you have more treasure than time, view their wish list. If you're interested in volunteering your time, they have a Volunteer Application Form that needs to be submitted for each person who plans to volunteer. Afterwards, you'll get an email inviting you to log into their volunteer center to register for a Volunteer Orientation at the shelter. Volunteering at HHHS does require training which is outlined on their website.
United Way of Greater Topeka has many opportunities to adopt families in need during the holiday season. Read more about adopting a family. You can also learn more about their Community Impact Councils, Panels, and Committees that rely on the help of volunteers who care about the Topeka Community.
Meals on Wheels has meal delivery volunteer positions available.  Training is about one hour and volunteers must fill out a few forms before they can deliver meals. Contact by email or phone, 785-295-3989, for more information.
The Salvation Army has opportunities for bell ringers. Shifts can be as short as two hours for those with active lifestyles but big hearts. Call The Salvation Army volunteer hotline at 785-233-9648
Your local park! For an easy volunteer job to beautify your community, collect litter around the community. A little work can go a long way and make an impact on the community.