We've all heard about how Topeka's the TOPs: TopCity, TopTank, TopMagazine. And in the wave that is the TOP enthusiasm, we've been asking ourselves: what happened to the EKA? What is EKA anyways? Well, we've come to the conclusion that if TOP is Topeka at its best, then EKA is Topeka at its happiest. And we think many would agree that sometimes it's the little things that make us the happiest. The local hole-in-wall establishments, the close-knit communities, little-known facts are all underlying factors -or hidden gems, if you will - that bring a lot of joy to those whom live, work or explore Topeka. So, it's time to share the EKA and spread the word on the little-known wonders at play in Topeka, Kansas.
Topeka is home to many passionate communities, and none are quite so enthusiastic about Topeka's past as Topeka History Geeks. This Facebook group, organized by Oddfellow's Fine Books and Collectables, is excited about sharing the history that is Topeka.
What are some of Topeka's history highlights?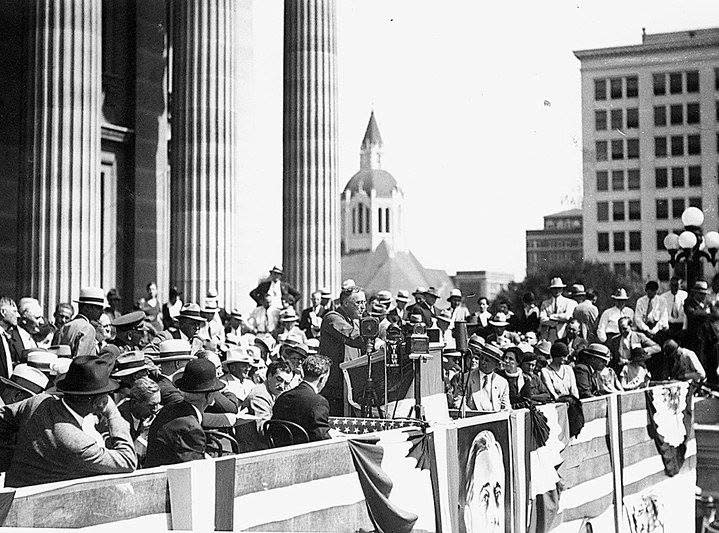 Franklin Roosevelt on the south steps of the Kansas Statehouse. He made his speech September 14, 1932 on his way to Denver. Image courtesy of  Bob Totten via Topeka History Geeks. 
Learn more about the history of the Kansas Statehouse. 
When you visit this group's page, it's not uncommon to see remnants a Topeka that only a select few may remember: review the ludicrously cheap prices offered in a 1950s Woolworth's menu; watch a 1980s news broadcast chronicling the final days of Boyles Joyland Amusement Park; enjoy an early snapshot of Americana in a black and white snapshot of the classic Topper Drive In.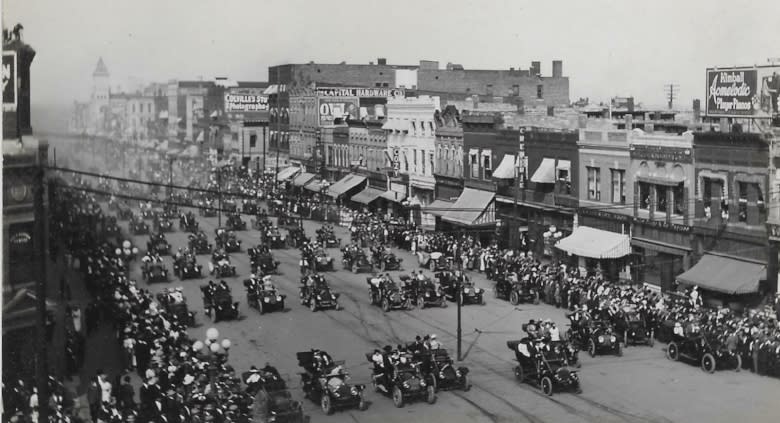 The 1916 Topeka Auto Parade. Image courtesy of Emily Wilkes via Topeka History Geeks. 
Have you ever wondered what dance clubs were open in Topeka in the early 1940s? Are you looking for the colloquial term for roundabouts used in the 1950s-60s? Ask the History Geeks! Everyone is welcome to post their questions on the group's page. With more than 20,000 members, chances are good that this group can help you with any historical questions you have. Members are also encouraged to share historical photos and finds. From local history to family history, the Topeka History Geeks are eager to learn it all.
While the city grows and reinvents itself, these historical devotees are always on the hunt for the deliciously nostalgic tidbits that make up our city's past.
Share your "EKA!" We want to know - big or small; past or present - what makes you happy to live, work or explore Topeka? Submit "Your EKA" to Jensen at Jensen.Simons@TopekaPartnership.com, and your topic may be covered in our next blog or social media post. 
Your EKA: Happiness Homemade