From the local chocolatiers at Hazel Hill Chocolate Traditions comes a new line of chocolate that emphasizes the flavors of the product's single origin. The aptly named Single Origin Chocolate is made from raw cacao sourced from separate regions from around the world. The individual bars are named from their place of origin, which include Sur Del Lago from Venezuela, Sambirano from Madagascar and Lam Dong from Vietnam.
"This is something that not many in my field are doing," that being "taking heirloom cacao with regional flavor and using them for food," says owner Nick Xidis.
Utilizing its own separate kitchen, located in the lower level of the shop, Hazel Hill can ensure a larger production and reduce cross contamination of other products – meaning the chocolate is guaranteed vegan, nut-free and gluten-free.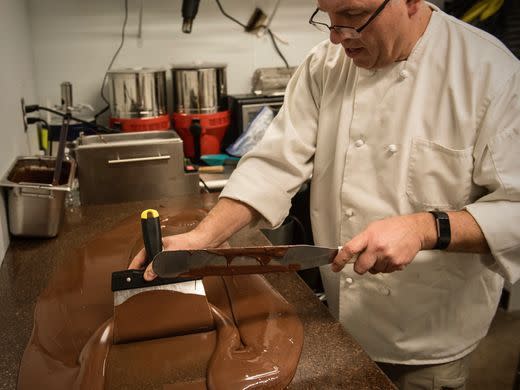 The entire production process takes about a week. First, the raw cacao is cleaned and de-husked. Then, the cacao nib is ground down in a stone wheel grinder for three days at a temperature of around 100 degrees.
Cocoa butter and sugar is added for viscosity and flavor. The concoction is additionally flipped and churned to release natural flavors. Finally, the mixture is spread out on a marble table where a heating and cooling process is used to tamper the chocolate.
While grinding and turning the cacao nibs does extract different elements of the raw ingredient, the flavor essentially comes from the genetics of the individual plant as well as the location in which it grows.
"For example," says Xidis, "if the cacao plant grew near something like bananas, that flavor would influence the taste of our final product."
This line is Hazel Hill's first inhouse crafted chocolate. The development process was nearly a year in the making, with the sourcing of ingredients and cooking experimentation taking up the majority of the time. The specialty kitchen became operational in Oct. 2017.