Rock the night away at Topeka's inaugural Rock & Food Truck Festival Saturday, July 28. This is your chance to indulge in mouthwatering food and rockin' tunes in Topeka's dynamic downtown. But before you breakout the folding chair and your favorite nostalgic band tee, check the evening's headliner, The Big Rock Show. As fate would have it, this 1980s hard-rock, metal review has special ties to the capital city. 
What's the line up for Rock & Food Trucks?
What's going on in Topeka during Rock & Food Truck weekend?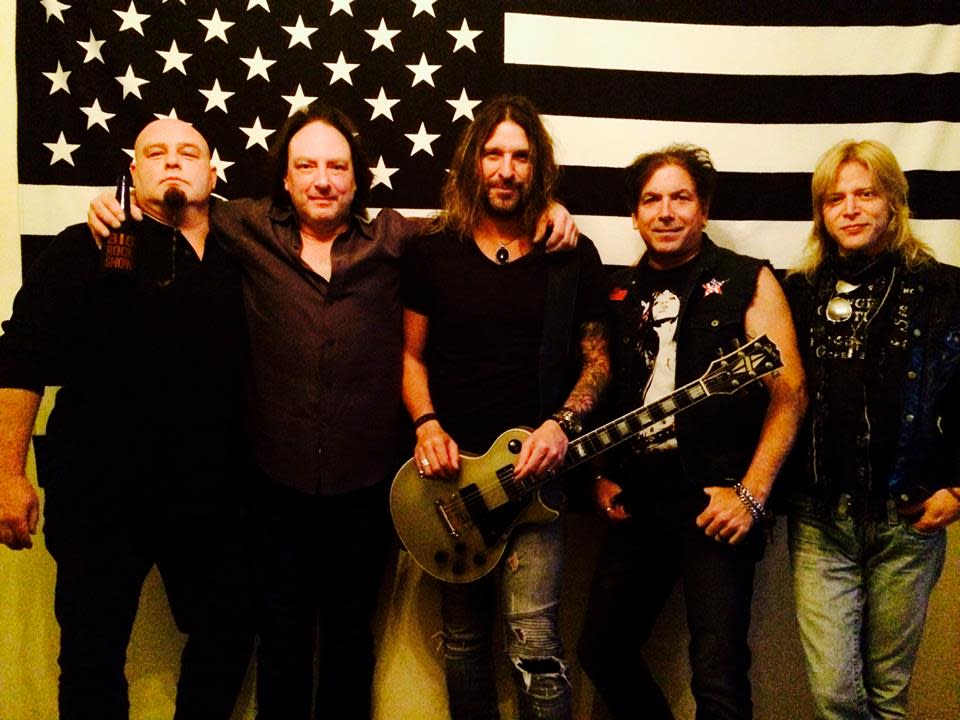 Band members include Ryan Cook (lead vocal/guitar), Dean Workman (lead vocals/bass guitar), Jeremy Asbrock (lead guitar), Matt Green (drums) and Paul Taylor (keyboards). When they aren't rocking out together, members of the band have been known to play with notable rock acts: Hair of the Dog, the Gene Simmons Band, John Corabi, Alice Cooper and Winger. 
The Big Rock Show got their start in Nashville in 2008. The act plays to tribute to metal groups from the 80s, such as Bon Jovi, White Snake, Dio, Van Halen, Rat. Their set has been called "90 minutes of hard-rock fun." The band has been rocking audiences the world over for 10 years now, but for members Dean Workman and Ryan Cook the draw to music started early on right here in Topeka, Kansas nearly four decades ago.
Having known each other since grade school, the duo bonded as teenagers while jamming in their first band. "It was called Sweet Cheater." says Ryan. 
"Ryan got himself a fancy Gibson custom guitar when he was at Logan Junior High and he needed a singer for the talent show," recalls Dean. "Meanwhile, I was on the back of the bus singing ACDC, and Ryan was there sitting with pretty girls at the back of the bus. They were like, 'Hey, you should get that Dean guy to sing.' He said, 'that guy is so annoying. I don't want him to sing in my band!'" he says with a laugh. "But, I tell you, a couple of weeks later I got the gig. So, we rocked out at the Talent Show at Logan Junior High and that was the origin story."
Dean and Ryan (Sweet Cheater) before their performance at their 8th grade talent show at Logan JHS.
"Years later we both moved to LA separately, played in bands, and then found ourselves in Nashville," Dean continues. "Then about 20 years to the date of that Logan show we started The Big Rock Show - for fun at first - and it's really taken off from there." 
The band has played throughout the land (and the sea) along side notable acts such as Kid Rock and Kiss, to name a few. When Ryan isn't touring with The Big Rock Show, he plays with Hair of the Dog and the Gene Simmons Band. In fact, Ryan will have just returned from touring Europe with Gene Simmons at the time of the Rock & Food Truck Festival. (Be sure to ask him all about it when you meet him after Rock & Food Trucks!)
But Dean and Ryan haven't lost touch with their roots. 
Speaking on a recent trip he made to the capital city, Ryan reminisced, "I loved going downtown growing up...there was a Macey's Department Store, a really cool book store I used to go to called City News...it's changed since then, but it's really exciting to see all the cool things they're adding to this neat little area...I must say, I really like The Pennant - I'm hoping to take the band there when we come back." *Hint, Hint to any of you wanting to meet the band.*
Ultimately, it's the pull of home, along with the pull of the music, that have Dean and Ryan excited to return. "Getting to come home and see all our friends and play- it's just a win-win for us." expresses Ryan. "The band's played in Topeka once, four years ago, and we're so happy we're coming back." 
Be sure to come out to Rock & Food Trucks to see The Big Rock Show! Food trucks open at 3:30 p.m. and music will begin at 4 p.m. with Departure, Black Water Mountain at 5:15 p.m., and ZZ-KC at 6:30 p.m. The Big Rock Show is scheduled to take the stage at 8 p.m.
The Big Rock Show will be playing Kid Rock's Fish Fry 2018 on October 4 in Nashville,TN and Kiss Kruise 8 pre-party at The Hangar in Miami, FL on October 30. For more important dates and information, be sure to follow The Big Rock Show on Facebook.