These unique Topeka breweries have brought something new and exciting to the city. These craft breweries have become destination places for locals and visitors alike.
Norsemen Brewing Company
"Mortal Brewed, Odin Approved."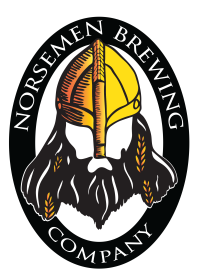 At Norsemen Brewing Company, located in the NOTO Arts District, you won't find any pillaging or plundering, you'll only find tasty craft brews that belong in Viking lore. Sipping a craft beer in the sophisticated comfort of our taproom will make you feel like you have finally found Valhalla. Opened in 2016 and recipient of multiple awards including Small Business of the Year and "Best of Topeka", try one of their creatively named, small batch hand-crafted beers, like the Odin's One-EyePA (IPA) or Shield Maiden Wheat.
Connect with them on Facebook, Instagram or Untapped. 
Tap That Beers
Cherry Milkshake IPA 
IPA - New England 6.2% ABV 53 IBU
A New England style IPA brewed with lactose and aged on Madagascar vanilla beans and cherries. It's hazy, smooth and juicy!
Fat Back Vienna Lager 
Lager – Vienna 5% ABV  21 IBU
Vienna lager is a style of lager beer that was originally brewed in Germany starting in 1841. Its popularity in Europe eventually faded, but Austrian brewers who emigrated to Mexico revived the style in the late 19th century.
Love In A Longboat
Lager Cream Ale 4.7% ABV  10 IBU

Odin's One EyePA 
IPA – American 7.3% ABV  80 IBU
House IPA made with 6 varieties of hops provides great aroma and the right amount of bitterness.
Happy Basset Brewing Co
"Brewing Beer for Dogs' Best Friend"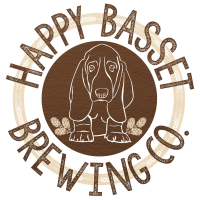 This basset hound inspired brewery in southwest Topeka has been quenching beer enthusiasts thirsts for two years and still going strong. Their staff really enjoys playing with taproom experiments which have resulted in some interesting flavors like a s'mores flavored porter and a chili porter called Fire Hydrant Stout.
Connect with them on Facebook, Instagram and Untapped.
Tap That Beers
Resolution Whiskey Stout
Stout American 9.7% ABV 32 IBU
Whiskey barrel-aged stout
Slow Rise Saison
Saison/Farmhouse Ale 7.1% ABV 27 IBU
Crisp, citrusy, slightly hoppy farmhouse ale
Chihuahua Lager
Lager Amber 4.6% ABV 9 IBU
Light, crisp, easy drinking lager served with a lime
Clurichaun Irish Red
Red Ale Irish 6.5% ABV 21 IBU
Dark, crisp and malty
Gracie Strawberry Blonde
Blonde Ale 5.4% ABV 18 IBU
Light, refreshing Blonde with a hint of strawberry
Hoppy Basset IPA
IPA American 6.8% ABV  62 IBU
Bitter, hoppy, citrus, and light bodied
Mangose
Sour Gose 5.6% ABV  7 IBU
Tart, slightly salty, and mango infused
Rare Breed
Pale Wheat Ale American 5.1% ABV  17 IBU
Crisp, easy drinking raw wheat
Blind Tiger Brewery & Restaurant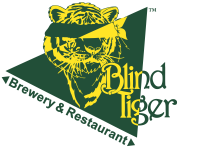 The Blind Tiger Brewery & Restaurant is named for the Prohibition-era custom of illegal drinking establishments displaying stuffed tigers or china tigers to alert potential patrons to the availability of illicit alcohol after hours. In southern dialect a "tiger" was a roaring party. These "tigers" were "blind" because the authorities, at least officially, did not know they existed. They keep at least six flagships and seven rotating seasonals on tap, to the tune of about 1300 barrels a year. Their brews have gathered 21 national and international awards over the past 15 years.
Connect with them on Facebook and Untappd.
Tap That Beers
Principal Bob's Weizenbock 
Weizenbock 10% ABV  23 IBU
Weizenbock is a wheat doppelbock and strong in alcohol. It's a burnt caramel color with a light banana-clove aroma. It's malty rich with a soft creamy texture
Sour Whiskey Barrel Porter Sour
Ale 5.7% ABV  23 IBU
Smooth porter with the essence of whiskey, tart finish and hints of vanilla
Capital City Kölsch 
Kölsch 4.6% ABV  18 IBU 
Light and subtle flavors achieved through a long maturation period of cold conditioning
Cuvée De René Lambic
Fruit 5.4% ABV  13 IBU
Brewed with Oregon grown red raspberries that deliver a sweet tartness
Kristal Wheat 
Kristallweizen 5% ABV  6 IBU
Brewed to the German Hefeweizen style then filtered to be crystal clear. A great summer beer!
Maibock 
Maibock / Heller (Helles) Bock 6.8% ABV  16 IBU
German style bock is golden and bright
Top Gun IPA IPA
American 7% ABV  60 IBU
Amarillo & Simcoe hops
Topeka Beermuda Triangle 
California Common 5.8% ABV  37 IBU
A collaboration between Blind Tiger, Happy Basset, and Norsemen resulted in this tasty beer. This amber colored lager has a toasty caramel malt aroma and flavor. Bitterness is medium. Hop aroma and flavor is low.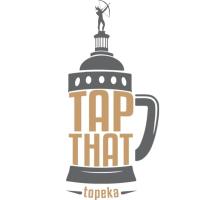 Tickets are going fast and aren't expected to be available at the gate. Don't miss out on this cool opportunity to sample these beers and many more at Tap That Topeka!