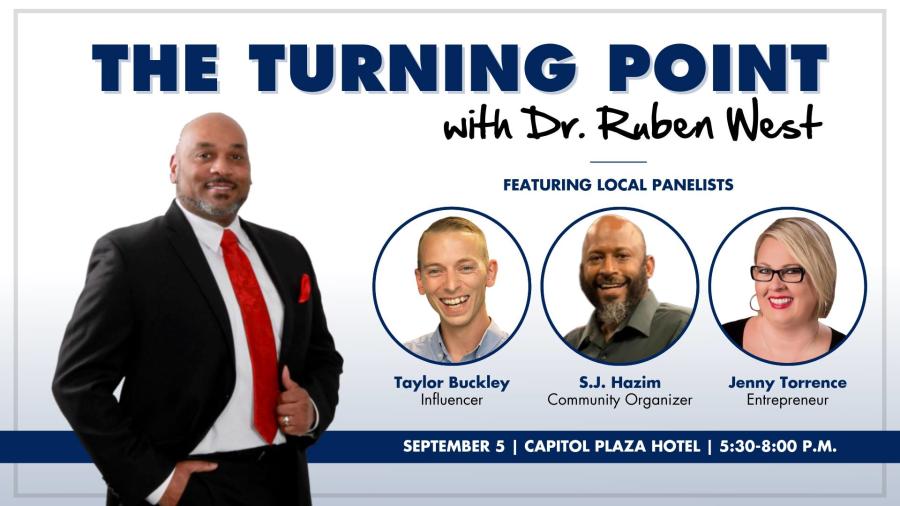 The Turning Point is an exciting celebration of the positive changes in the Topeka community. This event will highlight internationally renowned speaker Rueben West. Rueben will share his passion for Topeka and express the importance of positivity as Topeka faces its challenges and redefines itself in the region. Rueben will be joined by Topeka's own S.J. Hazim, Taylor Buckley and Jenny Torrence. Together, these three social media influencers will discuss how they are working to ignite excitement for Topeka through social media, volunteerism and retail. The event is free of charge, and will also feature table discussions designed for the attendees to share their own approaches to improving the community and elevating the good news in the Capital City.
ALSO READ: Join the GTP and Topeka Pilots for Topeka's Biggest Happy Hour
Ruben West
Dr. Ruben West has the unique ability to challenge audience members to take a personal inventory, think outside the box, and strive for new levels of excellence. Having spoken for groups and organizations around the world, Dr. West has created international influence and received global recognition for his work. Among his many accolades, Dr. West was awarded the President's Lifetime Achievement Award by President Obama in 2016. Learn more at RubenWest.com.
S.J. Hazim
S.J. Hazim is a community organizer in Topeka committed to leave a legacy based on service and effective speech, geared towards developing the youth through creativity. S.J. started Project Forward with the mission of cultivating a new generation of volunteers and mentors in the Topeka area.
Taylor Buckley
Taylor Buckley founded the Topeka Positive Experience Facebook page in 2019 with the intent of increasing community pride. This group has grown to nearly 7,000 members.  Taylor's mission is to elevate the good news in Topeka, and change the perception of the community one post at a time.
Jenny Torrence
Jenny Torrence is a North Topeka entrepreneur and founder of the "I Am Topeka" movement.  Jenny is enabling people to show their pride in community through her Topeka themed apparel and retail.  She is excited to share her love of the community through these designs.
The Turning Point will take place on Thursday, September 5 at the Capitol Plaza Hotel. Join us from 5:30 - 8 p.m. and play a part in this important community conversation. This event is free but registration is required.