From family photos among the tulips to food trucks, face painting and all-around fun, Sunday's Tulip Time Festival at the Lake was ideal. If you were there, you know the weather could not have been more beautiful! (Next year, the Visit Topeka crew will be sure to remember the sunscreen.) 
The morning started off right, with a pancake fundraiser for Friends of the Ted Ensley Gardens' purchase of next year's tulips. Overall, more than $750 was raised.  
The first-ever Tulip Time Festival at the Lake Queen, Santana Holbert, made a stunning debut in a dress made of balloons! If you haven't heard, the 8th grader has a business, Santanamals. She makes balloon creations. In fact, to raise money as Tulip Time queen, she created a life-sized balloon princess. Santana raised more than $500 selling pancake tickets. At $6 a ticket, that is a lot of tickets … and pancakes!
Because food trucks are such a crowd favorite in Top City, we had three Sunday. My pick of the day was Bop 'n Bowl. Their fried chicken rice bowl had me boppin'.
So did the Topeka High CruzLine. The drumline always draws a crowd and they certainly did not disappoint Sunday. Their excitement thundered through the crowd. You can view a video of their performance on our Facebook page. Kansas Youth Chorale and dancers from the Beverly Bernardi Post Conservatory also delighted the crowd.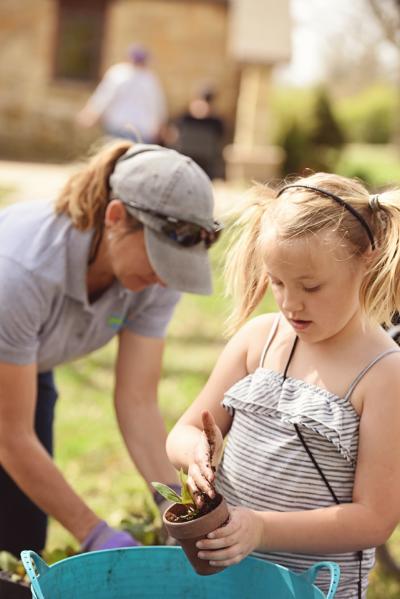 The kid-favorite was potting a plant to take home. Parents enjoyed the more than 30 vendors who joined the fun, too. And many raved about the guided garden tours.
Oh wait, did I mention the pictures? The most exciting part of the day was seeing everyone getting together for pictures – whether it was professional photographers capturing a squirming toddler, a family selfie or a dog mom trying to get her dog to sit pretty in front of the tulips (okay, maybe that was just me). You can view some of the great shots throughout the day on our Facebook page.
See you next year! (Tulip Time Day at the Lake is almost always in early April.)