When the weather is cold, windy and dreary, there is a lot of inside fun in #TopCity. In this two-part blog series, we will feature different places to buy art – and create it!  Channel your creative energy or find Zen browsing our local galleries.
Leaping Llamas
Leaping Llamas offers a variety of art classes. Enjoy paint nights, classes on printmaking, crafts, photography and more. One of the greatest aspects of Leaping Llamas is on paint night you can pick the size of your canvas. If you are looking to spend less money, a small canvas only costs $15, if you need space to create you can buy a larger canvas for $35.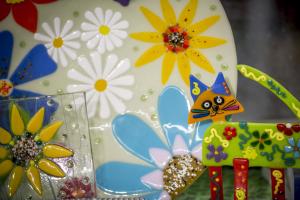 Prairie Glass
If you enjoy making glassworks, or it's on your bucket list, at Prairie Glass Studio you can make jewelry, light catchers, salt and pepper shakers, business card holders, spoon rests and more! Qualified staff is available to help you during the creation process. They teach you how to cut and shape glass pieces and how to glue the pieces together. Finally, your sweet piece will spend 18-60 hours in the kiln and is ready for pickup – or to be mailed – in 10-14 days.
Dandelions Arts and Crafts
Dandelions offers craft and pottery projects and is a walk-in studio where toddlers to teens can create. Occasionally, they have adult craft nights. Projects range in price from $2.99 to $24.95, offering budget-friendly fun! All the mess, no clean up stress!
Potwin Pottery
Potwin Pottery offers a great selection of pottery pieces to personalize, ranging from $4 for a tile, to $45 for a large platter or bowl. If you don't finish your piece in one sitting, you can come back another time! Each visit an $8 studio fee is charge for those over the age of 10, $6 for 10 and under. Once completed, your masterpiece is glazed and fired.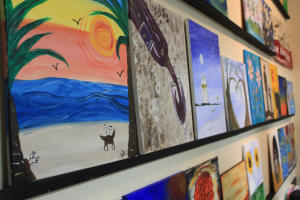 Paint Therapy Uncorked
Paint Therapy Uncorked offers public painting sessions ranging from 2-3 hours for $35 to $39, depending on the class and date. As the name suggests, you may bring wine and snacks, too! An instructor is available to guide you during the painting process. 
Read part 2 of Make the most of Winter here: http://bit.ly/2iXApc0