Is your child nuts for science, technology, engineering and mathematics? Then you don't want to miss out on Topeka's Science & Tech Festival, where enjoyment and enrichment awaits! Journey downtown on Saturday, October 13 with the kiddos to experience hands-on learning while having fun! A few special elements of this year's Science & Tech Festival include children historical reenactors and new tech for all to enjoy.
Meet Kansan Innovators from Across History!
Ever wanted to meet Amelia Earhart? This is your chance! Students from Shawnee Heights Elementary be entertaining the crowd with historical reenactments; each one personifying individuals from Kansas who made significant contributions to various fields of science.
New Hands-on Activities and Tech
One new piece of technology we're sure you'll enjoy is the Doodling Robot: the robot that draws! Place the doodle-bot on a piece of paper, wind it up and watch it go to work - drawing intricate, multi-colored patterns! Children will have fun investigating the robot's inner workings while manipulating its settings to create unique works of art. 
In addition to these special attributes, there will be various scientific demonstrations taking place as well as firsthand learning activities for your child to participate in. Be sure to come hungry. There will be multiple local food vendors for all to enjoy!
Come ready to learn (and have tons of fun!) Saturday, October 13 at 10 a.m.!
This year the GTP is partnering with Forest Park Conference and Retreat Center and Washburn University to help cross-promote Science & Tech Fest, Science is a Blast and the Ad Astra Kansas Space Celebration, respectively, as a means to further develop your children's understanding and interest in science and technology! With all three events taking place on October 13, you know it's going to be a #sciencerific day!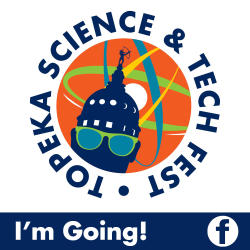 Originally posted on TopekaChamber.org