Four adorable sea lions have taken Topeka by storm! Bring the whole family to the Topeka Zoo & Conservation Center to meet Stella, Kitty, Columbia, and Lavelle, four charismatic creatures who have a lot to teach us! For instance, do you know what the difference between a Californian Sea Lion and a Patagonian (a.k.a., South American) Sea Lion is? How about how their environment influences their behaviors? For a healthy dose of sea lion facts, be sure to catch this special exhibit during its exclusive three-week run!
During the three daily Sea Lion Splash demonstrations (taking place at 11 a.m., 1 p.m. and 3 p.m.), you will learn more about each of the animal's natural habitat, abilities and backstory. The public is also welcome to get a closer look at the sea lions after the show with the assistance of a trainer. During the sea lions stay, the Zoo will reopen on Thursday evenings for a special demonstration at 6:30 p.m. 
Sea Lion Splash features two Patagonian Sea Lions (Stella and Kitty) and two juvenile California Sea Lions (Columbia and Lavelle). This exhibit runs from May 25 to June 17.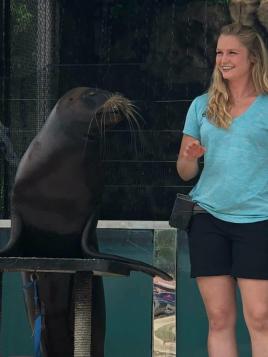 See this special summer exhibit for yourself. If you're lucky, you might get a kiss!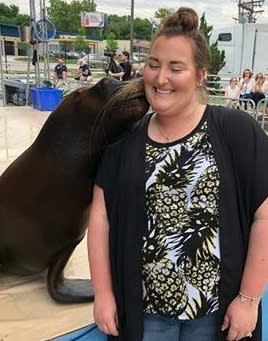 Sponsors responsible for bringing Sea Lion Splash to Topeka include: Visit Topeka, the Emmerson family, KBS Constructors Foundation, Schwerdt Design Group, Westar Energy, Shawn Silver Construction, PKMR Engineers, Schmidtlein Excavating, Inc., Torgeson Electric Company, KSNT and KS Expo Center.