Death is often looked at as the "final taboo" - a strange notion for a natural, everyday occurrence. Is this perhaps why so many have an aversion (as well as a fascination) with cemeteries? Where are am I going with this you may ask? I'll tell you. But first, a quick history lesson! It might be a surprise to hear that cemeteries, in fact, were the first parks (of sorts). Before urban parks as we known them - the playground equipment, benches, picnic tables, flower beds - came into existence, the local cemetery was the common place to bring the family for a weekend picnic or reunion. Up until the late 19th to early 20th century, cemeteries were considered to be a place of recreation, family and contemplation - a feeling (and practice) now reserved mainly for Memorial Day. So perhaps its time to put your preconceived notions aside and take a trip to the local cemeteries so that you can reexamine how we commemorate the dead as well as the cultural and historical significance of these places. We promise it will be an experience you aren't bound to forget!
These are the Topeka cemeteries you should visit any and all days of the year.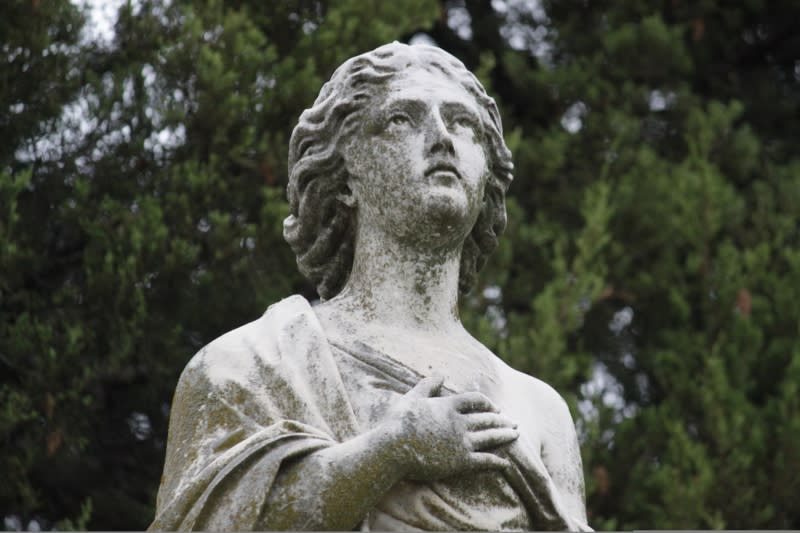 The first chartered cemetery in Kansas (chartered in 1859) and one of the largest in Topeka, Topeka Cemetery is the resting place of an American vice-president (Charles Curtis, the first vice-president of Native American decent), five governors, as well as numerous service members, entrepreneurs and pioneers, there is hardly a more historic site in the state. In fact, the cemetery was placed on the National Register of Historic Places in 2017. The cemetery is adorned with countless period statues, dating back to the late 19th to early 20th century, like the one pictured above. Its location, on a rolling hillside just east of downtown Topeka, provides a picturesque setting and a lovely vantage point to view the capital's skyline.
Rochester Cemetery in North Topeka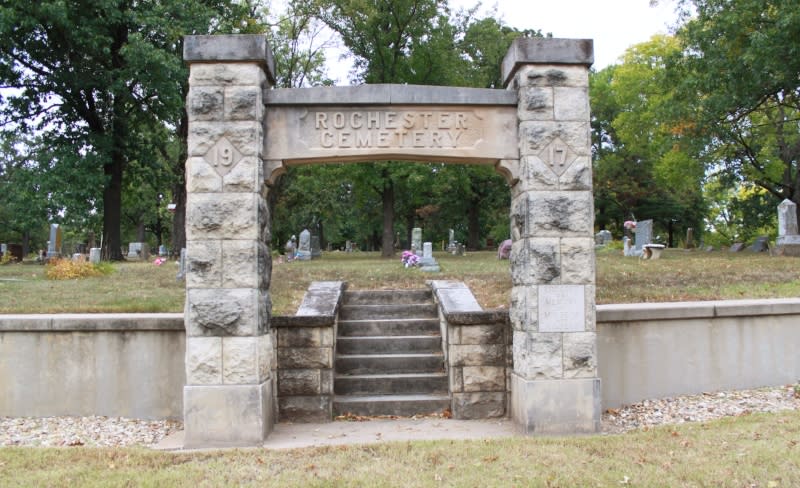 Rochester Cemetery is one of the oldest, historic cemeteries in Shawnee County, Kansas. With over 14,000 burials to date, the cemetery exhibits the range of grave markers throughout the ages the last 150 years.  The rural setting combined with the tall canopy of trees makes for a tranquil experience. One notable individual laid to rest at Rochester Cemetery is Burton Hill, founder of Hill's Packing Company which would go on to become Hill's Pet Nutrition, Inc. Another noteworthy inhabitant is the infamous albino woman, a wandering spirit that allegedly frequents the Rochester Cemetery grounds.
State Hospital Memorial Cemetery
The cemetery is located west of the intersection of Outer Circle Drive and NW MacVicar Avenue. A sign noting its location is on the north side of Outer Circle Drive. These two monuments were dedicated on May 24, 2006 at the Topeka State Hospital Cemetery containing the list of 1,157 names of the people that died at the hospital with most being buried in unmarked graves. There are 19 remaining headstones.
The State Hospital was torn down in 2010. 
Memorial Park Cemetery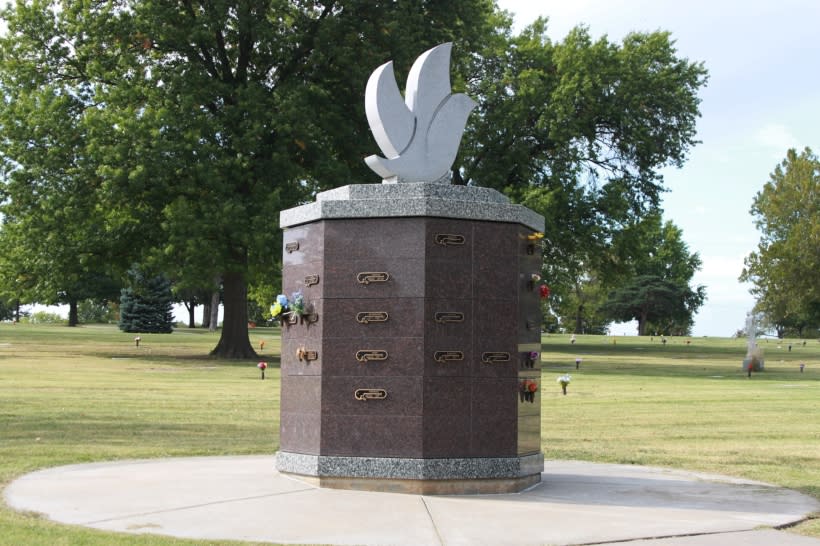 Located in Central Topeka, Memorial Park Cemetery is an updated rendition of the modern cemetery. It has a duck pond, sprawling, well-kept walking and driving trails - an overall beautiful environment that the whole family will enjoy!
Mount Calvary Cemetery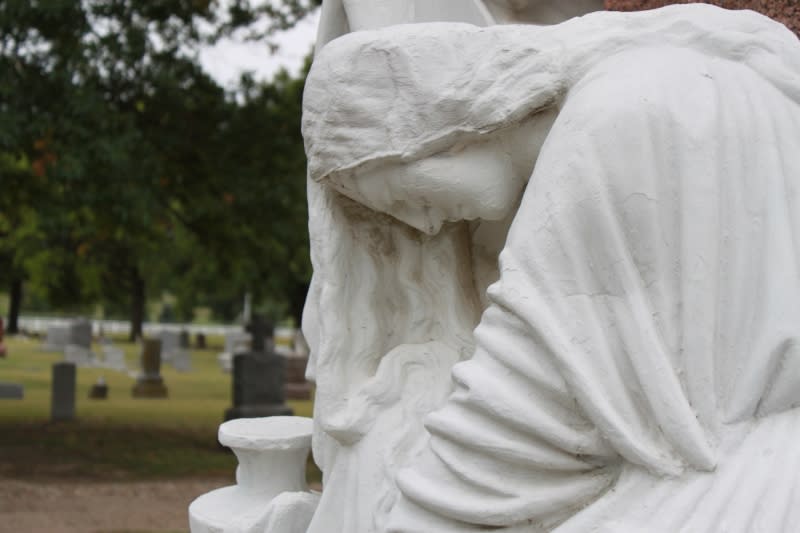 Mt. Calvary Catholic Cemetery began serving the Catholic population in 1873. Located just west of Gage Park, the cemetery is now comprised of approximately 53 acres and has 18,000 burials on its grounds. Noteworthy inhabitants include Otto "The Claw" Schnellbacher, professional footballer for the New York Giants and Yankees as well as a professional basketball player with the Providence Steamrollers and the St. Louis Bombers. 
Ritchie Cemetery
Just off the South bluff of the Shunga Trail lies the historic Ritchie Cemetery. It was established iconic abolitionist leader John Ritchie, who donated land to create free burial place to those who were too poor to purchase lots. The cemetery is small, only five acres, but its inhabitants are very important to Topeka's history. Martha Ransom, lovingly called Granny Ransom, was an ex-slave who was freed by the Emancipation Proclamation. After gaining her freedom, Ransom migrated to the Kansas where she lived until her passing in 1917 at the age of 90. The cemetery is believed to contain the graves of many black settlers, as many as four black National Guiardsmen who served near the time of the Spanish-Civil War. John Jefferson Scott, one of Granny Ransom's great-grandsons and one of the architects of Brown vs. the Topeka Board of Education, is also interned at Ritchie Cemetery, where he shares a headstone with his grandmother. 
Mount Hope Cemetery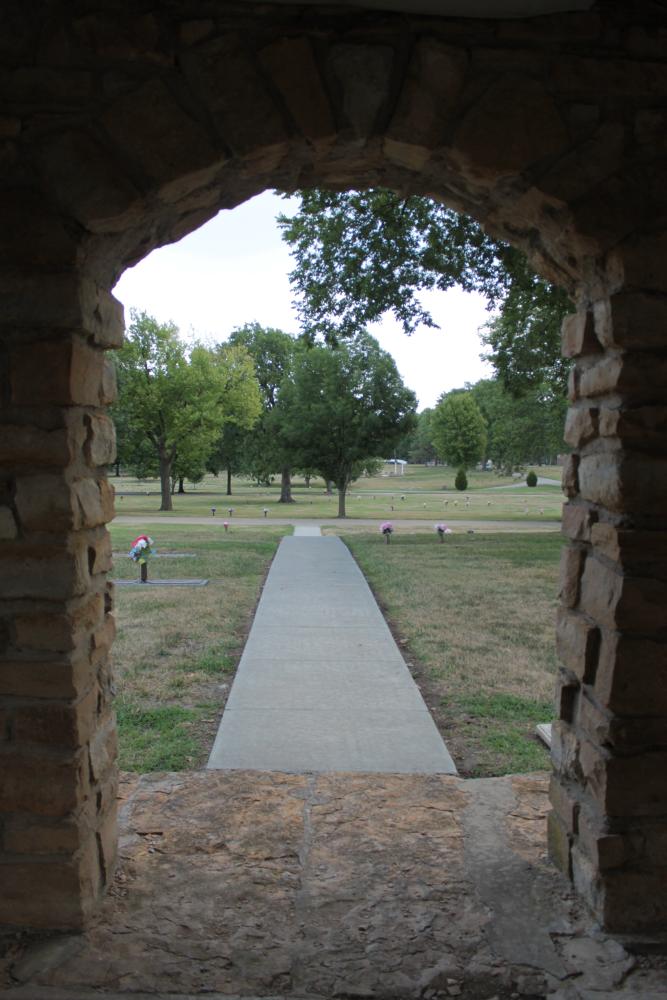 Mount Hope has been part of Topeka's landscape since 1906, when it was established by Albe and Kate Whiting. The cemetery is home to beautiful memorial gardens, a stately mausoleum, two lovely chapels for funeral and memorial services and many unique and historic features on the 120-acre grounds. Some of its famous inhabitants include Dr. Karl Menninger a ground-breaking psychiatrist and native Topeka who, with his family (buried along side him), founded the Menninger Foundation and the Menninger Clinic.