Aesthetically pleasing, warm and inviting, a product of imagination - Mehndi, also referred to as henna, is one of the oldest forms of temporary body art known to man. Originating in India, the practice involves the application of intricate designs via henna cone (or staining equivalent) most commonly to the hands and legs. However, simply put, art changes over time. The artistry evolves from tradition and individual talent. Topeka is lucky enough to claim such a talent in local henna artist Vidhi Shah. Since 2012 Vidhi has shared her passion for Mehndi through her business, Essential Henna by V, and in doing so she has opened up the Topeka community to the beauty of the art form - she was also kind enough to share with me some of the intricacies of the process, cultural traditions and history tied to henna. In recognition of India Fest Topeka, a fundraising event that celebrates Indian culture through food, dance and more, here's a deep dive into the traditional Indian practice of Mehndi. 
Learn more about India Fest 2018.
What other events are taking place in Topeka this week?
From Ancient Origins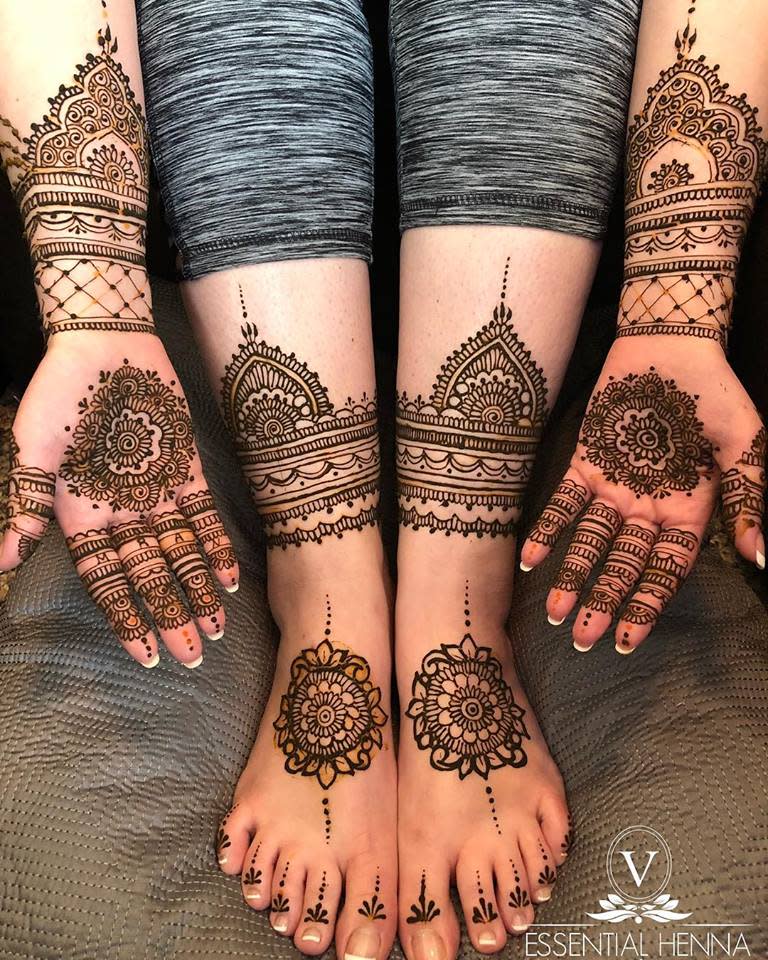 A style of body art perhaps as old as permanent tattooing itself, henna is an ancient art form that has evolved over many generations. However, thousands of years before it was a form of design, it was used as a cooling agent. 
"[I]n the warmer climates of Asia henna was slathered onto the palms and soles of the feet to create the natural cooling effect." says Vidhi. "Can you imagine your entire palm just being a burgundy/maroon color? So over the years henna took its shape into a form of art after being used as a form of home remedy."
In India, henna became a traditional form of body art applied to hands and legs for various occasions and festivals. Popular occasions for henna include Diawali (the Hindu festival of lights celebrated annually in the autumn), engagements, weddings, Eid al-Fitr (an important Islamic holiday marking the end of Ramadan) and even baby showers.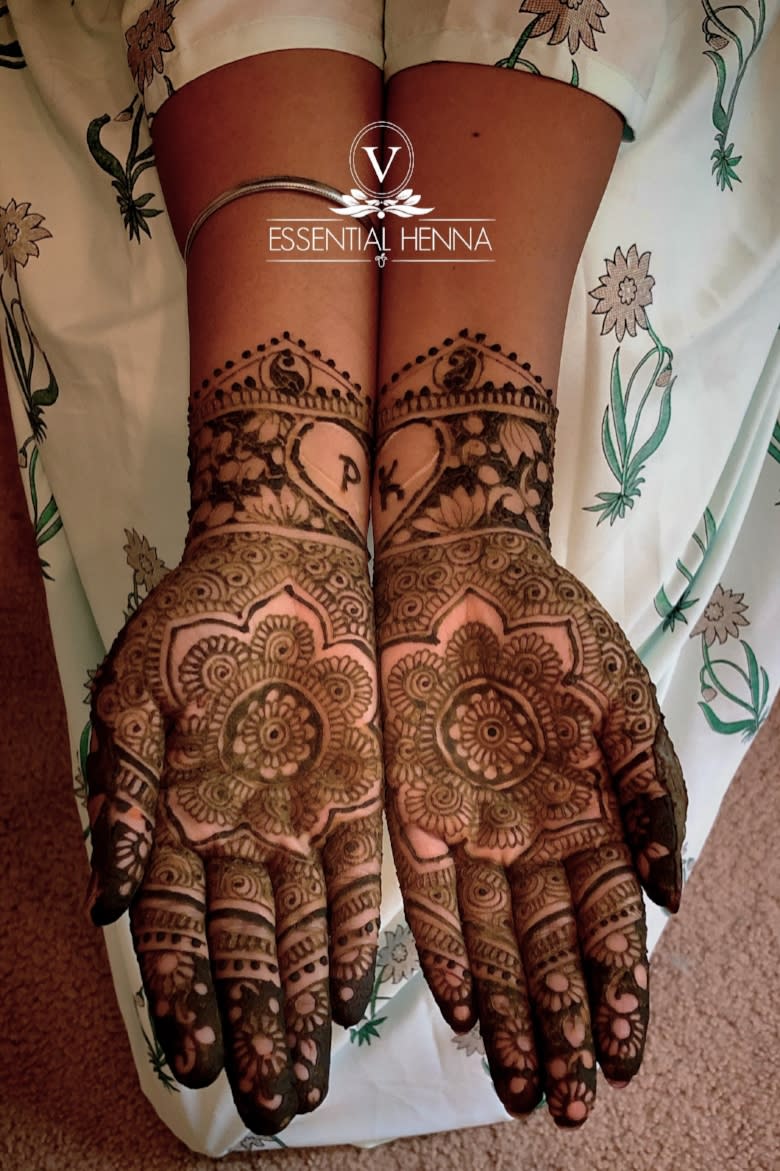 "It is said the darker the color of the henna, the more your future husband will love you."
Perhaps one of the most important of the lasting henna traditions, bridal henna serves as more than only a decoration - although, as Vidhi expresses, it is quite the decoration with "very detailed designs covering both sides of the hand, from fingers to the elbow bends and from toes to the knees". The process for a bridal henna can take up to four to six hours depending on the intricacy and size of the designs.
In addition to accentuating the bride's beauty, henna can act as a stress reliever.
"So a couple days before the wedding the bride is asked to sit and relax while she is getting pampered [...] Not only are you asking the bride to take a few hours to herself during the hectic planning, but the henna provides a cooling effect to the body." Bridal henna is commonly applied two to three days before the wedding because henna stains can take 24-48 hours to mature. 
Henna was also customarily used as an ice breaker for new couples. When a pair's marriage was arranged for them, there was a possibility that the bride and groom were unacquainted with one another. So, as an ice breaker the bride would have the groom's name hidden in the intricate designs and the groom would have to find the name. This getting-to-know-you game has become a tradition for both couples in either a love match or arranged marriage. 
"There is also an old-wives tale tied to bridal henna. It is said the darker the color of the henna, the more your future husband will love you. So, brides take that extra step to ensure the color comes out nice and rich."
The Process
"It starts with using a henna cone and drawing a design onto the skin - similar to decorating cake," says Vidhi, leading into the process.  "I do my best work in free-handing, which means I come up with unique designs on the spot. Once the henna has been drawn onto the skin, it takes anywhere from 10-30 minutes to dry, depending on the thickness of the designs."
Once the henna has dried you will leave the paste on for an additional four to six hours to ensure that the stain has set onto the top layer of your skin. "The warmer the body temperature the darker the color," shares the expert, "and I always tell my clients to apply heat with a heating pad or a do a DIY heating pad with socks and rice." After four to six hours you may rub off the paste - like a cleansing face-mask - and apply coconut oil or a henna balm to provide a protective seal.
The staining process can take anywhere from one to two days, so during the first 24 hours you'll want to avoid water. You'll notice at first the henna stain is orange. This is only temporary as after a couple of days it will reach its peak vibrancy, producing a maroon/burgundy color. From there enjoy. Fading should take place in one to two weeks.
Mediums and Similar Practices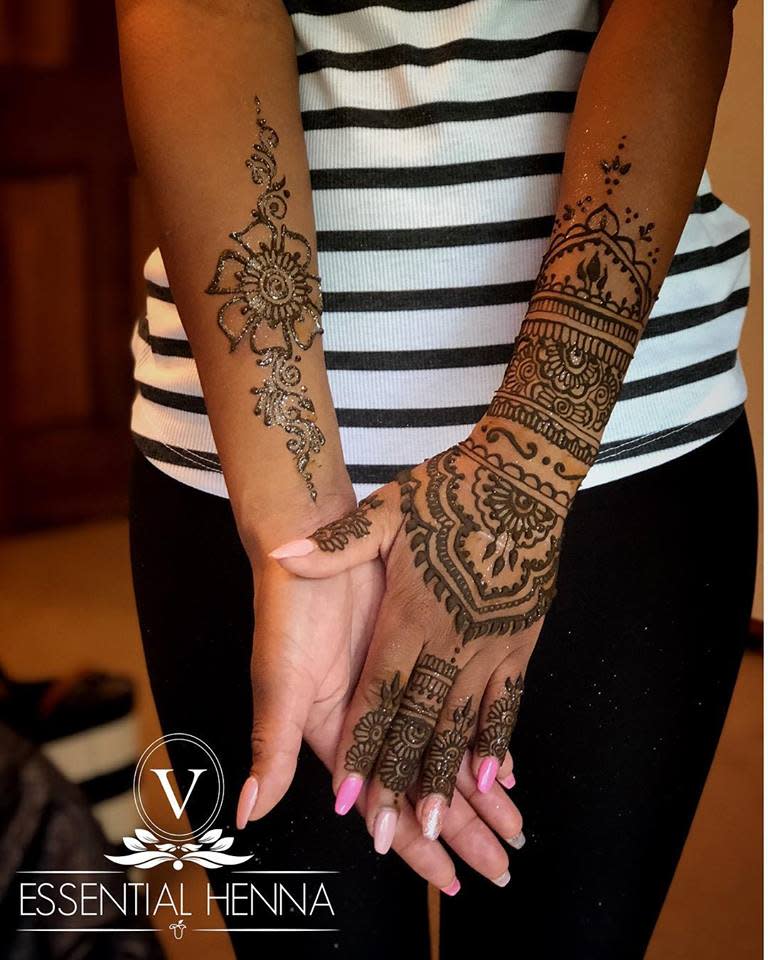 Vidhi makes her own natural henna at home so that it's always fresh for her clients. The ingredients can include essential oils, such as eucalyptus oil, henna powder, sugar, water and lemon juice. But henna is not the only staining agent she implements. Vidhi also supplies jagua. Like henna, jagua both refers to the paste used to tattoo the skin and the tattooing practice itself. 
Henna vs. Jagua 
Originating throughout the Amazon rainforest, jagua was (and still is) used as a temporary form of skin decoration by the indigenous people. While henna is derived from a plant called lawsonia-inermis, jagua is extracted from from the fruit Genipa americana. Unlike henna which stains maroon/burgundy, jagua stains blue. 
The process of jagua and henna are similar, they both are created into a paste then drawn onto the skin. Left of for about four to six hours and then you just wait for 24-48 hours for the color to darken. Jagua will also fade away just like henna in about one to two weeks.
Vidhi adds that "The only thing to take into consideration with Jagua is that it's a fruit and people can be allergic to fruits - think people with allergies such as peanuts or strawberries. If you are generally allergic to berries, I would not recommend using jagua."
The Art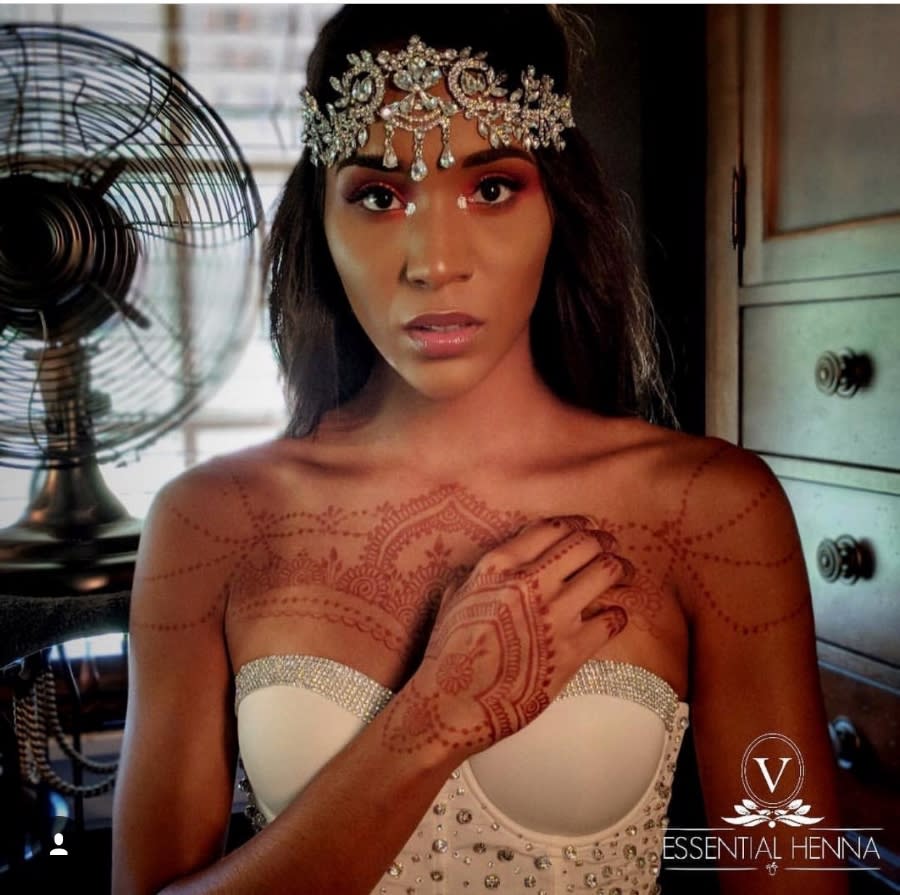 "[H]enna is my self-confidence, my therapeutic art, my culture, my tradition, my passion, my drive to be an entrepreneur, and most importantly a way to connect with other human beings and share something unique and personal."
As Vidhi has grown as an artist, new possibilities for henna tattooing have presented themselves. At first starting with hands, as she grew in confidence she began to design on shoulders, highs, backs and sternums. Vidhi has explored more non-traditional forms of henna such as henna crowns for cancer patients. 
"How I started is most important to me because it was a way to share something similar between daughter and mother." she reveals. "My mom used to do henna on me when I was younger and one day she was too busy so I picked up the henna cone and started doing it on myself, my family members and friends."
When college came, Vidhi saw henna as an art she could commit to for the rest of her life. "It became significant because henna is my self-confidence, my therapeutic art, my culture, my tradition, my passion, my drive to be an entrepreneur, and most importantly a way to connect with other human beings and share something unique and personal."
If you would like to book an appointment with Vidhi or simply talk henna, you may contact her via Facebook or email. 
Celebrate Indian culture through traditional food, Mehndi (Vidhi will be in the building!) and more at the 2018 India Fest Topeka at the Big Shelter House in Gage Park this Saturday, August 25 from 10 a.m. to 2 p.m.!