Grab your Pumpkin Spice Latte and enjoy a month packed full of festivals, two VERY special events and all the music you can handle! 
Special Events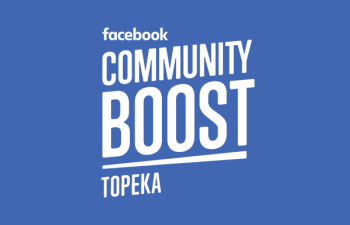 Facebook will be in Topeka for a special, multi-day event called Facebook Community Boost. You'll get free in-person training, advice and digital skills to help grow your business, your career, and your community. 
You'll explore a variety of business-related courses that cover reaching new customers, taking Facebook ads to the next level, creating content, using groups for both business and community development and making it easier for you and your community to raise money.
Take a look at the schedule of events and sign up for this unique event here.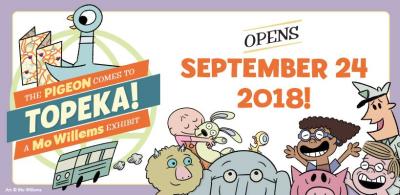 Visit the whimsical world of Mo Willems and his cast of lovable characters, including best friend duo Elephant and Piggie, faithful companion Knuffle Bunny, and The Pigeon, the wily city bird best known for his antics in Don't Let the Pigeon Drive the Bus! Here, simple stories inspire hours of play and reveal the rich emotional lives of Mo's characters. The challenges of growing up, like learning to make yourself understood or figuring out what it means to be a good friend, are gentle themes throughout. Along the way, children get to make their own art, surprises abound, and every exploration ends in a fit of laughter.
The Pigeon Comes to Topeka! A Mo Willems Exhibit opens September 24 at 10:00AM at the Kansas Children's Discovery Center in Topeka, KS. Meet Elephant and Piggie at 10:00AM and 1:30PM courtesy of Hill's Pet Nutrition.
Learn more at https://kansasdiscovery.org/thepigeonexhibit/
September Highlights
9/1 6th Annual Downtown Topeka Touch a Truck
9/8 Kansas Book Festival at the Kansas State Captiol
9/15 Tacos y Tequila
9/21 Movie on the Capitol Lawn
9/22 Jazz & Food Truck Festival
9/29 Glow Ride 2018 presented by Topeka Metro Bikes
9/30 The Great Topeka Bike Fest
Events
9/7 First Friday ART Walk
9/7-9/9 Huff 'n Puff Balloon Rally
9/8 Kansas Book Festival
9/13, 9/14, 9/16 Topeka Pilots vs Odessa Jackalopes
9/14 TopCON Geek Expo 2018 and Afterparty
9/15 Kansas Capital Quilters Guild Quilt Show
9/22 Aaron Douglas Art Fair
9/22 Cider Days at the Kansas Expocentre
9/29 Kansas Chocolate Festival  Winged Foot Run at Combat Air Museum
Theatre & Music
9/1 The Cate Bros at Uncle Bo's Blues Bar
9/7-9/29 Steel Magnolias at TCT
9/7 Heavy Petty at Uncle Bo's Blues Bar
9/8 Last Minute Folk at the Jayhawk Concert Series
9/8 Second Saturday Concert Series at The Celtic Fox
9/8 Truck Stop Honeymoon in Concert at the Jayhawk Theatre
9/12 Blues Beatles at Uncle Bo's Blues Bar
9/14-9/23 Junie B Jones is Not a Crook at Topeka Civic Theatre
9/14 Tas Cru & Tortured Soul at Uncle Bo's Blues Bar
9/15 Hurricane Ruth/Torrey Casy & Southside at Uncle Bo's Blues Bar
9/22 The Freshman Class at Topeka Civic Theatre
9/22 Shawn Ames and The Dead City Orchestra at Jayhawk Theatre
9/23 The Senior Class Improv Company at Topeka Civic Theatre
9/29 Topeka Symphony's "What is the Meaning of Life?"
Museum & Attractions
7/26 - 9/18 Chisholm Trail Exhibit at Kansas Museum of History
9/4, 9/21 Twilight Tours at the Topeka Zoo
9/7-10/21 The Printed Image 7 National Competition Showcase at Alice C. Sabatini Gallery
9/7 Opening Reception Fall Exhibits at the Mulvane Art Museum
9/15 West Fest at Kansas Museum of History
9/22 Serengeti Nights at The Topeka Zoo
9/22 Museum Day Live! at Kansas Museum of History
9/24-1/4 The Pigeon Comes to Topeka! A Mo Willems Exhibit at Kansas Children's Discovery Center
9/28-9/29 Inaugural No Prep Nationals at Heartland Motorsports Park
Community
9/15 Sertoma Great Topeka Duck Race and 0.1k Waddle
9/15 Movie Nites in NOTO
9/22 Flicks with Friends at Forest Park Conference and Retreat Center
For even MORE things to do in Topeka, visit Topeka365.com.