This Saturday, March 17 is St. Patrick's Day. Are you ready to paint the town green? Whether you decide to take your love of Irish culture to the streets at the Irish Fest & 5K Run or the St. Patrick's Day Parade or resolve to sit back to take in tastes of the holiday at the Blarney Breakfast or the Whiskey Tasting Experience at Irish Fest, you'll find a fortune of opportunities waiting for you this St. Paddy's Day in the capital city! Here are your top five things to do or see on St. Patrick's Day in Topeka!
5. Topeka's Original Irish Fest & 5K Run
You might want to tighten those laces now because this is one of Topeka's most anticipated 5Ks of the year! The annual event, put on by Mater Dei Catholic School, begins with breakfast at 8 a.m. in front of Assumption Catholic Church at 8th and Jackson, with the race starting at 9 a.m. in the same location. In addition to the 5K, there are numerous events taking place all day. Enjoy authentic Irish food, beverages, music and kids activities- including the Leprechaun Leap!  
What do I have to look forward to at Irish Fest?
Source: Mater Dei Irish Fest 5k Fun Run; Facebook
4. Whiskey Tasting Experience at Irish Fest
Did we mention there'd be beverages? Stop by Irish Fest's Whiskey Tasting Tent to savor and compare up to four whiskeys during a short educational presentation by a Jameson ambassador. Learn more about the "Water of Life" at these presentations given throughout the day: Legends of Irish Whiskey at 12:30 p.m.; Jameson Family of Whiskey at 1:30 p.m.; Premium Whiskies of the World at 2:30 p.m.; and American Whiskies at 3:30 p.m.
Learn more about the Whiskey Tasting Experience.
3. The Blarney Breakfast
Start your St. Patrick's Day off with a top o' the mornin' tradition. Easterseals Capper Foundation's annual Blarney Breakfast will be at the Blind Tiger Brewery & Restaurant, 7 – 10 a.m. Indulge in a hearty breakfast while supporting children, teens and adults with disabilities. Enjoy bagpipers, balloon artist, face painting for the kiddos, and friendly waiters from the Topeka Community all competing for the best tips to benefit Easterseals Capper Foundation.
Where can I preregister for Blarney Breakfast?
2. 10th Annual Great Topeka Bed Race
Get ready, set, BED RACE! This year marks the 10th annual Great Topeka Bed Race, hosted by Housing and Credit Counseling Inc (HCCI). This family-friendly event is a great way to have fun while raising money for a good cause. Bring your folding chairs to the State Capitol to see teams race their distinct beds (on wheels) down 10th Street in the hopes of winning trophies and cash prizes. Awards will be given in speed and best-decorated bed. The opening ceremonies will commence at 9:30 a.m., with the race concluding at 11:30 a.m. All proceeds from this event go to HCCI.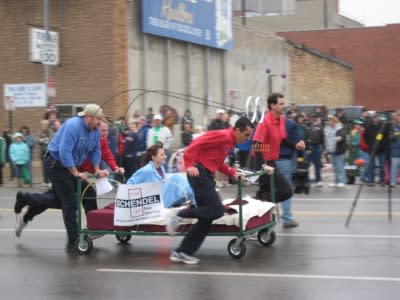 1. St. Patrick's Day Parade
It's time to go green or go home because this is where the celebration hits fever pitch! This Saturday at noon Downtown Topeka is going to come alive with the Irish spirit during the St. Patrick's Day Parade. Take the whole family to see dazzling floats and gifted performers line the streets. A helpful little advice, though: plan to bring your folding chairs and make sure that your kid has pockets – the front row is a candy splash zone!
Tell me more about the St. Paddy's Day Parade.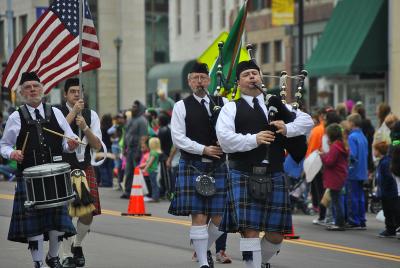 To see more of what's going on this month check out our blog, or check out Topeka365.com