Taxes
Corporate income tax
For corporations whose business income is solely within state boundaries, the tax is four (4) percent of net income. In addition, net income in excess of $50,000 is subject to a three (3) percent surtax. For those corporations with business income both inside and outside the state, the net income attributed to the Kansas operation is based upon the percentage of the corporation's business located in Kansas. A business' tax obligation is determined by a three-factor formula using the proportion of sales, property and payroll in Kansas compared to total sales, property and payroll.
State law allows net operating losses to be carried forward to each of the 10 years following the taxable year of the net operating loss.
Source: Kansas Department of Commerce
Individual Income Tax
Rates for married individuals filing joint returns:
3.1% of income not over $30,000
$930 plus 5.25% of excess over $30,000 but not over $60,000
$2,505 plus 5.7% of excess over $60,000
Rates for individuals:
2.7% of income not over $15,000
$465 plus 5.25%  of excess over $15,000 but not over $30,000
$1,252.50 plus 5.7% of excess over $30,000
Source: Kansas Department of Commerce
Tangible Property Tax
Both real and tangible personal property are subject to ad valorem taxation by cities, counties, and special taxing districts. Intangible property is classified and taxed separately. All property is appraised at its fair market value, except for agricultural land, commercial and industrial personal property and certain vehicles.
The rate of tax depends on the levy of the local taxing district and will vary within the state by location. Both real and tangible personal property are assessed by the county appraiser in the taxing district in which the property is located. Taxes are paid to the county treasurer.
Property taxation is administered by the Division of Property Valuation of the Department of Revenue together with local taxing officers. Public utilities are treated separately for property tax purposes. Utility property is assessed and apportioned by local taxing districts by the Division of Property Valuation.
Aircraft used regularly and exclusively in the conduct of business are exempted from property or ad valorem taxes.
Property Tax Formula for Commercial and Industrial Property
Appraised Value X Classification Rate = Assessed Value
(Assessed Value/1000) X Mill Levy Rate = Property Tax
Major Classes of Property
| Rate | Class |
| --- | --- |
| 11.5% | Real property used for residential purposes including multi-family residential real property |
| 12% | Vacant lots, real property owned and operated by not-for-profit organizations |
| 25% | Real property used for commercial and industrial purposes and buildings and other improvements located upon land devoted to agricultrual use (Commercial and industrial machinery and equipment are also taxed at this rate) |
| 30% | Agricultural land, mineral leasehold interests, and motor vehicles |
| 33% | Public utility real and personal property |
Property meeting certain requirements can be exempted from ad valorem taxation. (See Tax Exemptions for Industrial Revenue Bonds and Property Tax Exemptions previously described.)
Intangible Property Tax
Cities, counties, and townships are allowed to levy taxes on intangible property. Counties may tax such property at a rate of up to 0.75%, and cities or townships may impose an intangible property tax of up to 2.25%. The total intangible property tax burden of any individual or business cannot exceed three percent. In practice, most local governments have no tax on intangible property. One-third of the counties in Kansas, less than one-fifth of the cities, and about one-third of the townships impose such a tax. There is no Intangible Property Tax assessed in Topeka/Shawnee County.
Source: Kansas Department of Commerce
Sales and Use Tax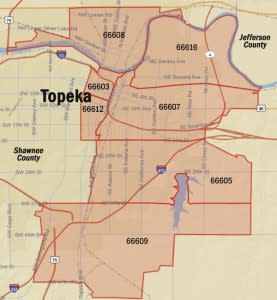 The Kansas sales and use tax is 6.50% of the sale price of tangible personal property and taxable services sold at retail to the consumer. Cities and counties may collect an additional maximum of one percent on each of the base rates noted above. In some cases, cities and counties can receive permission from the Kansas Legislature to exceed the 1% limit. The current sales tax rate for the City of Topeka is: 6.50% state, plus 1.5% city and 1.15% county for a total of 9.15%.
Source: Kansas Department of Commerce, Kansas Department of Revenue
Personal Property Tax