Buildings
Current Buildings Available
GO Topeka has a database of current buildings that are for sale or lease. These properties are not owned by GO Topeka but are listed by the brokers and we include them in our database. Below are some of the buildings that are listed as for sale or lease that are over 25,000 of square feet. To see the full listing of buildings and sites you can visit our sites and buildings database here.
Please see below for specs on each building and contact Molly Howey for more information.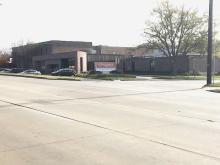 Payless ShoeSource Headquarters
The 300,000-square foot Payless ShoeSource headquarters building located in Topeka Kansas sits on 42.23 +/- acres. There is around 21 +/- acres that is vacant and ready for development.