Workforce Talent
Every attempt has been made to provide current, accurate, and consistent data in this database. There may be some differences due to sources, methodologies, or timing of data-assembly.
October 2017 Labor Report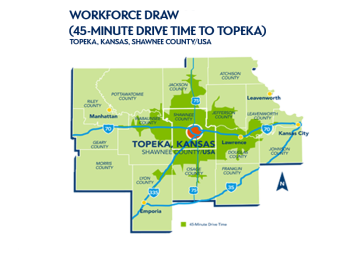 TOPEKA, Kan. – Preliminary estimates reported by the Kansas Department of Labor (KDOL) and Bureau of Labor Statistics (BLS) show a seasonally adjusted unemployment rate of 3.6 percent in October. This was up from 3.8 percent in September and down from 4.3 percent in October 2016.
"In October, 3,383 additional Kansans became employed," said Kansas Secretary of Labor, Lana Gordon. "This grew the labor force and factored into the unemployment rate dropping to 3.6 percent, the lowest it has been since August 200."
Seasonally adjusted job estimates indicate total Kansas nonfarm jobs decreased by 1,700 from September. Private sector jobs, a subset of total nonfarm jobs, increased by 1,700 from the previous month.
"The net change for total nonfarm job estimates in October was relatively small, decreasing by 0.1 percent over the month," said Labor Economist Emilie Doerksen. "One industry contributing to this loss was retail trade. Following national trends, retailers in Kansas hired fewer seasonal workers than expected in October."
Since October 2016, Kansas lost 5,200 seasonally adjusted total nonfarm jobs and 4,700 private sector jobs.
For the full news release click here.
Unemployment in Kansas
Kansas
October 2017
September 2017
October 2016
Civilian Labor Force
1,487,690
1,487,227
1,480,104
Employed
1,433,829
1,430,446
1,416,286
Unemployed
53,861
56,781
63,818
Unemployment Rate
3.6%
3.8%
4.3%
Source: Kansas Department of Labor
Unemployment in Topeka MSA
Topeka MSA
October 2017
September 2017
October 2016
Metropolitan Statistical Area: Shawnee, Jackson, Jefferson, Wabaunsee and Osage Counties
Civilian Labor Force
120,789
120,925
119,949
Employed
117,246
116,877
115,296
Unemployed
3,543
4,048
4,653
Unemployment Rate
2.9%
3.3%
3.9%
Source: Kansas Department of Labor