TULIP TIME
Topeka's Tulip Time Festival was recently named a Top 100 Event for Groups for 2016 by the American Bus Association. The festival features more than 100,000 tulips and daffodils in bloom at picturesque locations around Topeka, including Lake Shawnee's Ted Ensley Botanical Gardens, Old Prairie Town at Ward-Meade Historic Site and Gage Park.

TULIP TIME DAY AT THE LAKE
April 17, 2016
10 a.m. - 4 p.m.   
This event will go on as scheduled. 
Bring family and friends to the Ted Ensley Gardens for Tulip Time Day at the Lake!
Celebrate the 8th annual Tulip Time Festival with a day filled with activities, performances and fun. No admission will be charged for the day, including the gardening and photography classes. Food trucks and vendors will charge for their services. 
Activities schedule:
10 a.m. to 4 p.m. classic cars, food trucks and vendors 10:30 a.m.Topeka Police Department Pipe & Drum Corps
11 a.m. to 2 p.m. TSCPL Bookmobile
11:30 a.m. Master Gardener class
Noon Topeka High School Drumline
12:30 p.m. Wolfe's photography class 
1 p.m. Kansas Youth Chorale 
1:30 p.m. Master Gardener class
2 p.m. Topeka Acappella Unlimited
2:30 p.m. Wolfe's photography class 
3 p.m. Beverly Bernardi Post Conservatory of Dance
TULIP TIME IN TOPEKA
Please note: Early blooming means Tulip Time is running now through April 10.  
Downtown Topeka 
Take a slow stroll through our recently revitalized downtown area. Enjoy hundreds of tulips and various pocket parks along South Kansas Avenue.  
Gage Park
Take a stroll in the largest park in Topeka and literally smell the flowers. Gage Park is home to the Renisch Rose Gardens as well as thousands of tulips during the Tulip Time Festival.
Lake Shawnee 
Gaze in wonder at one of the most beautiful recreational outdoor areas in North East Kansas. On top of the natural beauty of the landscape, view more than 50,000 tulips and daffodils on the Ted Ensley Botanical Gardens.
Old Prairie Town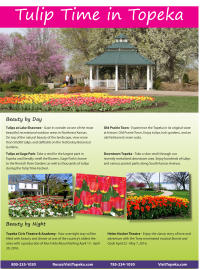 Experience Topeka in its original state at historic Old Prairie Town. Enjoy tulips, lush gardens, and an old-fashioned cream soda.
Intersted in being a vendor? 
Contact Rosa Cavazos at Visit Topeka today.
Rosa@VisitTopeka.com | 785-234-1030
TULIP TIME WOULDN'T BE POSSIBLE WITHOUT
Friends of Ward Meade and The Shawnee County Parks and Recreation Foundation