Get to know the GTP!
The Fiesta Mexicana is a party that the Greater Topeka Partnership won't miss. Stop by our booth from July 16th - 20th to learn how you can get involved with the GTP and other community initiatives. Scroll down to learn more about the GTP, the different programs and how we can help you or your business. 
About the GTP:
As of January 1, 2018 four Topeka organizations unified as the Greater Topeka Partnership. The organizations include, the Greater Topeka Chamber of Commerce, GO Topeka, Visit Topeka, and Downtown Topeka, Inc. The organizations maintain their individual managers and boards, as well as becoming the founding organizations of the Greater Topeka Partnership. Matt Pivarnik, serves as the the President and  CEO of  the Greater Topeka Partnership. There The Partnership is governed by one chair and chair-elect from each organization and seven community elected members. Together, the organizations focus on Momentum 2022, an economic development plan for Topeka & Shawnee County. The unity provided by combining the organizations allow resources to be shared and more common goals to be met.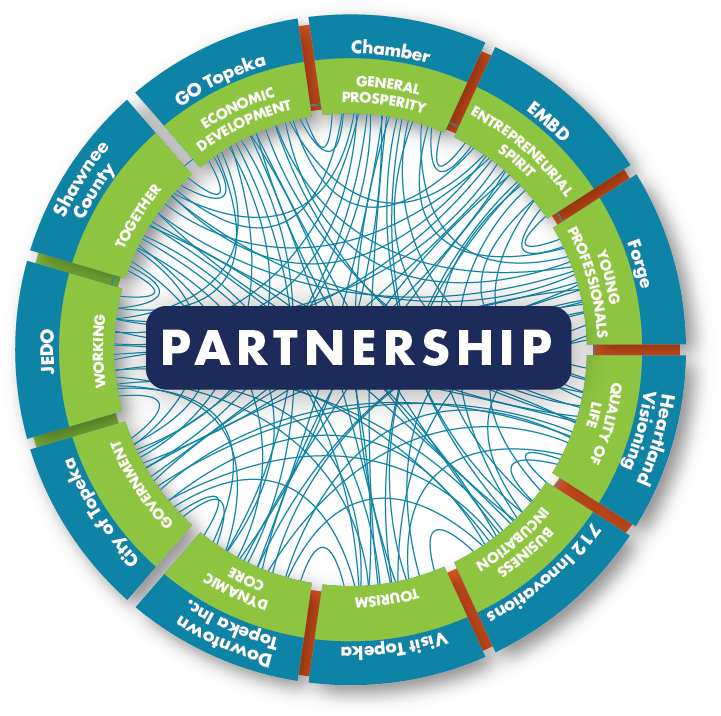 Are you a small business owner or a budding entrepreneur?
Entrepreneurial & Minority Business Development offers classes, events and mentoring to assist you in getting started with your small business or taking it to the next level. If you have any questions about how EMBD can help you contact Glenda Washington.
The Topeka/Shawnee County Small Business Incentive is a matching incentive program that offers small businesses assistance in the areas of employee skills upgrades, equipment purchases and facility construction and renovation. The incentives are rapidly becoming popular as businesses gear up to meet the needs of their customers.

Click here to download the current application. For more information contact Glenda Washington.
The cowork & makerspace facility offers everything you could want to turn your dreams into reality. Our space welcomes artists, students, tinkerers, and entrepreneurs who need a productive environment that offers social support for your goals.
Members are encouraged to pursue creative ideas, products, and business opportunities. In addition to the space's economic and workforce development benefits, our community's most creative and scientific minds finally have a place to nurture a culture of thinking differently, and innovating. We welcome entrepreneurs, students, artists, and members of the public to join us. Learn more about 712 Innovations here.
Are you a young person looking for fun activities and learning opportunities?
The mission of Forge is to make Topeka a place where all young talent want to live, work, play, connect and lead.

Forge is an organization of young professionals drawn together to become a part of something greater than themselves. In Topeka, young professionals are a force to be reckoned with, they are not sitting by, idly waiting their turn. When they move together -with central focus- people notice. Learn more about Forge here.
Are you a community member who wants to learn more about how to get involved?
 
Mission Statement
iNCLUDED leads, educates, and partners with businesses to create equitable, diverse and inclusive workforce cultures, promoting economic and inclusive prosperity.
​Vision Statement
iNCLUDED is the catalyst to build a diverse, equitable, and inclusive business culture in Topeka and Shawnee County.
iNCLUDED holds meeting the first Wednesday of every month during the meeting D&I challenges and celebratoins are discussed. View the calendar here
The goal of this initiative is to utilize the already connected network of the community to help facilitate bookings of meetings, tradeshows, conventions or sport tournaments. Part of the initiative is to provide information and materials about Topeka to the community that they'll need to help make connections between organizations. Learn more about Endorse Topeka here.
Momentum 2022, the communities 5-year strategic plan will build upon previous economic development program successes and leverage established relationships to launch new initiatives, expand upon those already underway and achieve results. 
Since its inception, the work and success of the Greater Topeka Partnership has been facilitated by an involved community of volunteers from businesses, economic development organizations, municipalities, educational institutions, non-profit organizations and countless others. Without the work, support and coordination of these entities the ability of the GTP to impact the community would be dramatically reduced. Learn more about Momentum 2022