Inclusive Topeka Decal Request Form
By requesting this decal, you/your business(es) are taking the pledge to be welcoming to one and all. You/your business will agree to the following statement:
"Diversity, Equity, and Inclusion are core values of our business. It is practiced in all aspects of our organization. We see it as our role to invite the world to celebrate the rich and diverse tapestry of ideas, people, and places that our community brings to life. We are committed to building a variety of strong and diverse relationships. We will intentionally seek to attract and serve customers from diverse groups and markets. We will exhibit an authentic and welcoming environment to all residents and visitors alike. "
After requesting, please pick up your decal at our Visitor's Center at 715 S Kansas Ave., Topeka, KS 66603. Hours are currently 10:00 - 2:00 pm week days. If you would like to pick up outside of center hours, please call and schedule a time at 785-246-6271. Other Visit Topeka items will be available to you as well including visitors guides, display boxes, rack cards, etc.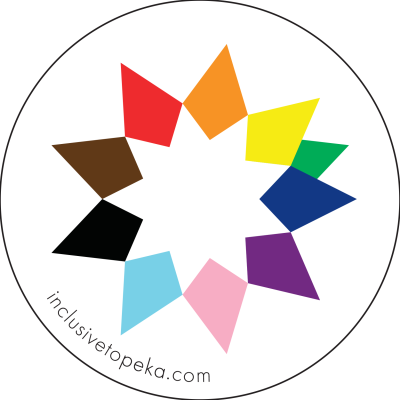 Please note, these window decals are for Topeka and surrounding area businesses to display. If you would like to purchase a decal for your own personal use, please contact sandy.tucker@visittopeka.com or visit our Visitors Center. Decals for personal use are $2 (cash only).