About Endorse
How We Help You...Help Us
Why Topeka? When you help our city by bringing your event here, we help you.
What you do: Submit an event you think should be held in Topeka.
What we do: Work with you to determine your needs, contact hotels to get competitive bids, arrange and conduct personalized site visits, give on-site logistical assistance, and offer financial incentives to bring you here. Plus, you get visitor information, coupons to area attractions and restaurants, promotional convention bags, Topeka promotional item, VIP bags, and a press release.
The question isn't 'why would I hold an event in Topeka', it's 'how soon'.
Other Frequently Asked Questions
Who are we looking for?
All residents of Topeka & Shawnee County who are involved, connected and engaged in any activity, association or team that hosts an event.
Where do I submit my lead(s)?
Click here to submit your lead!
Who benefits from this initiative?
EVERYONE! Increased tourism traffic in Topeka is essential to improving the quality of place and quality of life for the residents of the city. Participants will also receive special incentives for their contribution.
Who can I go to for additional information?
See either Jessica Schenkel or Mike Bell at Visit Topeka for more information. All phone calls can be directed to 785.215.8582.
Mike serves as Visit Topeka's Vice President of Sales. His responsibilities include sales in the sports; government and corporate markets; destination development projects; and hospitality member relations. Before joining the Visit Topeka Sales team in 2014, Mike worked in various positions of sales and operations in the hospitality sector. In addition to graduating from Baker University, Mike has earned his CMP certification and Kansas Destination Specialist (T.I.A.K.) accreditation. He currently serves on KTWU Community Advisory Council and Kansas Expocentre Advisory Council. Mike is a married father of four (three children and a 19-year-old cat).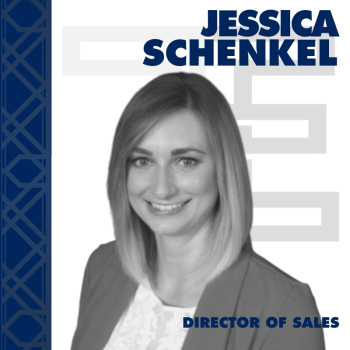 As the Director of Sales for Visit Topeka, Jessica's primary focus is bringing state, regional and national meetings and conventions to the city. She works daily with convention centers, hotels and attractions to provide the best environment for those incoming meetings or conventions. Jessica's background in the tourism industry began in Fort Scott, Kansas, where she held positions at the Fort Scott Area Chamber of Commerce and Lowell Milken Center for Unsung Heroes. Jessica is an alumna of Pittsburg State University. When not in business attire, Jessica can be found on her farm with her husband in the garden, tending to her flower beds, dogs and ducks.