NAIA Wrestling National Championship
Topeka and the Kansas Expocentre are excited to host the 60th annual NAIA Wrestling National Championships March 3 & 4, 2017.
The national championships consist of 10 individual weight classes. Competitions occur during four sessions, two each day. Enjoy a live video stream of the championship in each class. ​
"The sport of wrestling has a strong presence in the state of Kansas. The city of Topeka has proven that they have hosted successful national events. The NAIA is excited to have this friendly community provide a wonderful experience for all NAIA student-athletes and teams," said Jim Carr, NAIA President and CEO.
Volunteer with NAIA
If you love wrestling and you have time Feb. 28 to March 4, volunteer with the NAIA Wrestling Championships.
Schedule 
March 3
10 a.m. Session I 

Championship Round of 32 Championship Round of 16 & Consolation #1
Consolation #2
• Recap
• Team Scores, Brackets  
6 p.m. Session II
Championship Quarterfinals
Consolation #3
Consolation #4 (All-American Round)
• Recap
• Team Scores, Brackets
March 4
10 a.m. Session III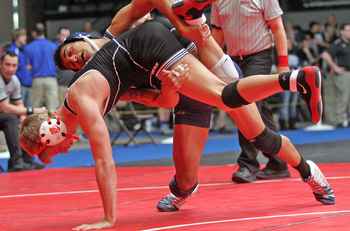 Championship Semifinals
Consolation #5
Consolation Semifinals
Consolation Rounds (3rd, 5th and 7th place)
• Recap
• Team Scores, Brackets
7 p.m. Session IV
Championship Finals | Video-Streamed Live
• Recap
• Team Scores, Brackets
Ticket Information
Tickets to the NAIA Wrestling National Championships will go on sale in January. Tickets can be purchased at the Kansas Expocenre box office or online through Ticketmaster.com
Adult All Session Reserved - $50
Adult All-Session, GA - $45
Adult Individual, Reserved - $18
Adult Individual, GA - $16
Student All- Session Reserved - $35
Student All- Session, GA - $30
Student Individual, Reserved - $14
Student Individual, GA -$12
3 & Under - Free