Tough Mudder
Tough Mudder Heartland Park Topeka, May 3-4, 2014
Are you ready for another Tough Mudder take over? Topeka welcomes back the 10-12 mile obstacle course designed to test your strength, stamina, mental grit and camaraderie by British Special Forces. The Tough Mudder Kansas event will take place May 3-4, 2014 at Heartland Park Topeka.
The Tough Mudder course in Topeka promises to be one of the most furious tracks in 2014. This year you can expect walls to be higher, pits to be muddier, water to be deeper and the electroshocks to be stronger.
More than 700,000 participants have taken the Tough Mudder challenge and have raised more than $6 million for the Wounded Warrior Project. You can register to be a part of Tough Mudder today!
Not sure if you're tough enough to do the Tough Mudder Challenge? Take the quiz to find out your Tough Mudder status then look at how others trained for the Tough Mudder Challenge.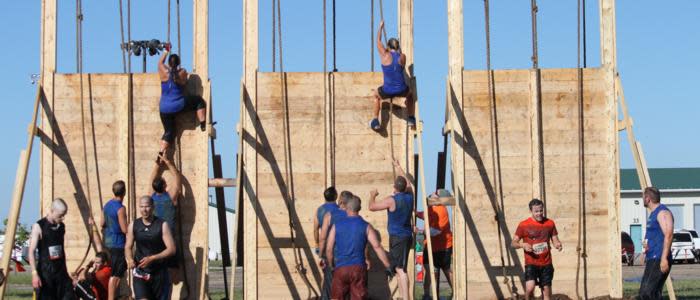 Coming from out of town? 
Topeka has 3,000 hotel rooms with a variety of lodging options. From a luxurious B&B to a streamlined economy hotel, you can find and book your room on this site. Topeka also has several RV parks and campgrounds near scenic lakes and jogging trails. Check back for restaurant recommendations and more specific Mudder information as the event approaches.