A traveling exhibit of the possessions of the world's first daredevil will make its final landing in Topeka.

The world's largest collection of Evel Knievel's authentic performance leathers, jump bikes and memorabilia will be housed in a permanent museum at the Historic Harley-Davidson of Topeka, 2047 S.W. Topeka Blvd.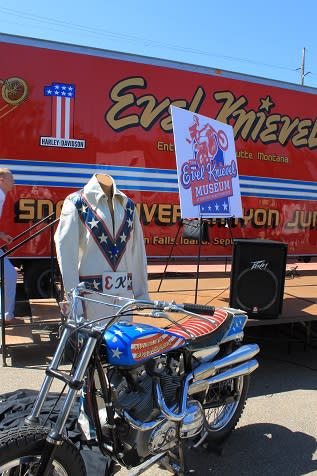 The Evel Knievel Museum at Historic Harley-Davidson is expected to open in early- to mid-summer 2016. It will be housed on both floors of the planned 16,000-square-foot expansion of Topeka's Historic Harley-Davidson.

The jewel of the museum - the "Big Red" Mack showrig that served as Knievel's living quarters on the road - was unveiled Friday, after 30 years behind the scenes. Historic Harley-Davidson of Topeka oversaw its complete restoration.

"Topeka is honored to have the Historic Harley-Davidson location here, which, with the addition of the Evel Knievel museum, will attract people from around the world," said Topeka Mayor Larry Wolgast. "We look forward to having the world's eyes on our City, so we can show them all we have to offer."

The Evel Knievel Museum will feature dozens of Evel Knievel's possessions, including:
• Several, original performance leathers and helmets - including the helmet Knievel wore on May 26, 1975, when he crashed while trying to land a jump over 13 London buses at the Wembley Stadium in London;
• Many of Knievel's jump motorcycles - including his first Harley Davidson: A 1970 XR750 Ironhead, which would become his preferred model, and the Laverda American Eagle;
• A larger-than-life bronze and copper statue; and
• Parachutes, pinball games, fan letters, photographs, X-Rays and more never-before-seen memorabilia (Fun Evel Knievel fact: He holds the Guinness World Record for surviving the most broken bones in a lifetime at 433).
The collection is more than three years in the making, a quest Texas-born actor, producer and screenwriter Lathan McKay has dubbed, "Evel Archaeology."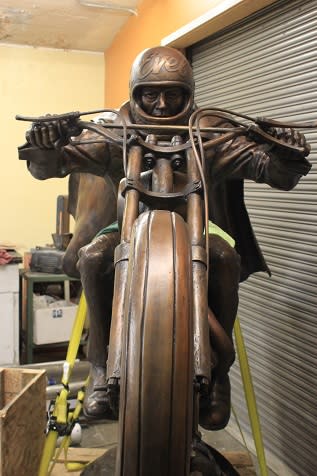 "Evel had a vision that all of his possessions would end up in the same place one day," said McKay, known as the foremost collector of Evel Knievel's possessions. "I hope this fulfills that dream, not only for him, but also his family and fans worldwide."

This one-and-only museum is expected to generate between $3 million and $5 million in direct spending in Topeka each year, said Brett Oetting, president and CEO of Visit Topeka, Inc. That doesn't include potential overnight hotel stays or complementary events the museum could attract, he said.

"Evel Knievel is a historical icon," Oetting said. "To have his one and only museum makes Topeka a tourism destination with international marketability."

McKay said he chose Topeka to house his collection for many reasons, including its prime location in the middle of the country, and the "passionate respect of heritage" Topeka's Historic Harley Davidson crew members possess.

The Historic Harley-Davidson of Topeka restores between five and six major projects each year, said CEO and owner Mike Patterson. The local crew, along with at least 50 different people and businesses in Topeka, spent more than one year restoring the "Big Red" Mack trailer and many of Knievel's jump bikes.

"We stripped everything on the Big Red trailer, from the nuts and bolts to the engine, transmission and interior living quarters," Patterson said.

Big Red will leave Topeka on Friday, carried on a semi-trailer, for a yearlong tour, starting with July 23 through 25 for Evel Knievel Days in the legend's hometown, Butte, Mont.
The showrig and some of the collection then will travel to South Dakota for the 75th-annual Sturgis Motorcycle Rally, which lasts from Aug. 3 through 9 at the Buffalo Chip Campgrounds. On Aug. 6, professional daredevil Doug Danger will attempt to land the 22-car jump Knievel himself failed twice (once in September 1972, and again in July 2001). Danger was in Topeka the week of July 13 practicing for the jump at Heartland Park.

The trailer then is scheduled to have an appearance at the Aug. 19 Los Angeles premiere of "Being Knievel," a documentary produced by Lathan and Johnny Knoxville and directed by Daniel Junge. Other events currently are being scheduled, but Big Red will be back in Topeka for the grand opening of the museum.

While the full collection will call Topeka its home, various items will contribute to "pop-up" museums that will take place throughout the country for specific events.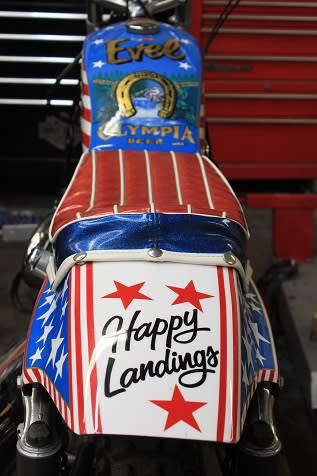 The exhibit of Knievel's possessions so far has been featured in past Evel Knievel Days, in this year's Circuit of the Americas in Austin, Texas, and in the Vintage Rally in Iowa.

McKay started his Evel Archaeology project in fall 2012 and has traveled the world to find every bit of Evel Knievel memorabilia he can. He was driven, he said, by a "passion and respect" for Evel's legacy. As to continuing to expand his collection, McKay said, "there are still some treasures to obtain."

"To myself and many others, Evel Knievel is the embodiment of living one's dreams," McKay said. "This dream became reality in the form of Evel Archaeology."
"I wanted to recreate the Evel Knievel experience for future generations to enjoy," he continued. "I hope it gives people the inspiration that they are capable of achieving anything in life. That they were put on this earth to live, not just to exist."

In his 11-year motorcycle-jumping career in the 1960s and 70s, Knievel attempted more than 75 jumps, becoming just as famous for the stunts he landed as his crashes. Knievel, born Robert Craig Knievel, died in 2007 at the age of 69 from pulmonary fibrosis.

As Knievel once said, "I decided to fly through the air and live in the sunlight and enjoy life as much as I could."
More on the Historic Harley-Davidson of Topeka:

The existing location at 21st and Topeka Boulevard is 22,000 square-feet. Part of the two-story expansion is a larger showroom, so the business can display more restored motorcycles that aren't for sale. The rest of the additional space is going toward the Evel Knievel museum.

The location also is home to the Yesterday's Museum, which walks visitors through the history of Harley Davidson. Admission is free and open during dealership hours, 10 a.m. to 6 p.m. Tuesday through Friday and 9 a.m. to 5 p.m. Saturday.