Inter-City Visit
Expedition Chattanooga
A 2 Day Interactive Workshop Driven by Momentum 2022
Intercity visits are a great way for community leaders from the public, private and nonprofit sectors to gain knowledge about innovative ideas and programs from other cities. The visit provides an opportunity for interaction among city leaders and facilitates exchange the best practices and lessons learned between two cities.
This year, Topeka will visit Chattanooga, Tennessee. Chattanooga was chosen due to its similar population, challenges and recent successes. Those who attend Expedition Chattanooga will have the opportunity to learn from local leaders about topics important to Topekans such as: Tourism, Entrepreneurship, Riverfront, Diversity & Inclusion, Education,  Young Professionals, Local Government, Community Health and more!
We anticipate an outstanding stay with a full schedule of networking, learning and exploring for attendees to enjoy. But when it comes to travel, the "getting there" can be the hardest part. The GTP would like to help you plan your trip to make getting from point A to point B as seamless as possible. So, before you book that flight to Chattanooga, check out our Expedition Chattanooga Travel Guide.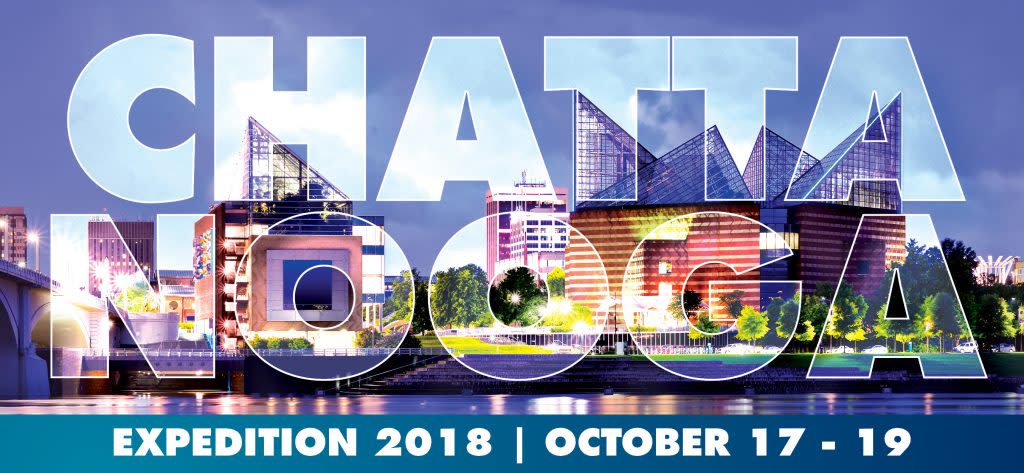 Ticket Details
Your ticket includes hotel room, meals, tours and workshops. You can purchase your ticket here.
Meals
Your ticket includes 3 Breakfasts, 2 Lunches, and 2 Dinners. 
Itinerary
Tuesday, October 16
7:00 – 9:00 p.m. – Welcome Reception
Join us at the Holiday Inn to unwind after your day of travel with a cocktail and some of your favorite Topekans.
Wednesday, October 17
8:30 – 10:30 a.m. – Breakfast sponsored by Bartlett & West
Gather in our group meeting space for breakfast and the official kickoff of Expedition Chattanooga!
Agenda Overview

GTP Staff run through the agenda and provide additional details. 
2018 Trip Chair and 2019 Chamber of Commerce Chair Gary Yager will fill you in on the purpose of inter-city visits, why we choose Chattanooga and how it all ties back to Momentum 2022. 

Chattanooga Welcome

Hear from the Chattanooga President & CEO, BOTH of Chattanooga's mayors, and Dr. Eleanor Cooper, a major player in Chattanooga's Venture initiative which, as you will learn, guided them through a process similar to Momentum 2022.
10:45 – 12:00 p.m. – Catalysts for Chattanooga Panel Discussion
There are many current examples in Topeka of catalytic change. Learn what Chattanooga credits as their own catalyst to a better community:  Downtown revitalization, innovation and entrepreneurship, Gig City, the aquarium and the role philanthropy played.
12:15 – 1:00 p.m. – Lunch sponsored by Bartlett & West
1:30  – 2:15 p.m. – Corporate Diversity and Inclusion in Chattanooga
The director of diversity and inclusion for the Chattanooga Chamber, Maria Noel, will moderate a panel of community leaders changing the landscape of D&I in Chattanooga.
Michael Jones, EPB – one of Chattanooga's first supplier diversity professionals
Emmanuel Escobar, EPB – Human Resources professional and Latino Leadership Award 2018 nominee
Summer Ashley Floyd, Tennessee Valley Authority – oversees TVA's 7-state Employee Resource Groups
2:30 – 4:30 p.m. – Breakout Sessions
Gain hands-on knowledge from the Chattanooga community relating to the five pillars of Momentum 2022 as we take "field trips" with our hosts.
Grow a Diverse Economy

GTP Staff Pillar Leaders: Molly Howey and Katrin Holzhaus 
Tour the Business Development Center with the director of small business and entrepreneurship, A.J. Willis

Hear how three entrepreneurs took their concepts from napkin to business with the help of Chattanooga's entrepreneurial ecosystem: Hot Chocolatier, Chattanooga Whiskey, American Draft (then show them our thanks by visiting them this evening)!

Develop Homegrown Talent

GTP Staff Pillar Leaders: Diann Faflick 
Meet Dr. Jared Bigham, Executive Director of Chattanooga 2.0 at the Chattanooga Chamber of Commerce to learn about their education initiatives and how their Cradle to Career program is performing.

Tour Camp K, a Chattanooga 2.0 initiative to give students a jump-start on kindergarten.

Create Vibrant & Attractive Places

GTP Staff Pillar Leader: Vince Frye 
Walking Tour of Downtown Chattanooga with Kim White, president and CEO of River City, which was created to aid in the redevelopment and revitalization of downtown.

Promote a Positive Image

GTP Staff Pillar Leader: Glenda DuBoise 
Walking Tour of Downtown Chattanooga with Kim White, president and CEO of River City, which was created to aid in the redevelopment and revitalization of downtown.

High Point Climbing
Tennessee Aquarium
AT&T Field/Chattanooga Lookouts
Visit Chattanooga Office

This group will break away from the tour to meet with Visit Chattanooga Marketing Director, Candace Litchfield to discuss successes in promoting a positive image of Chattanooga.

Collaborate For a Strong Community

GTP Staff Pillar Leader: Glenda Washington 
Join Maria Noel, Director of Diversity and Inclusion for the Chattanooga Chamber to learn about some of the important and successful initiatives they have implemented in Chattanooga to promote D&I.
Meet with representatives from the Chattanooga Police Department to discuss their efforts toward community

involvement, diversity and inclusion training for their officers and steps they have taken to strengthen their relationship with the members of the community.

Chief Danna Vaughn – Chattanooga Police Department
Fire Marshall William Matlock – Chattanooga Fire Department
James McKissic – Mayor's Office / Office of Multicultural Affairs
5:30 – 6:30 p.m.   Cocktail Reception sponsored by AT&T and Cox Communications
Take a quick break to relax and chat about our field trips while enjoying cocktails 
6:30 – 8:30 p.m   Dinner in Downtown Chattanooga sponsored by Kansas Gas Service
Head to the Chattanooga Choo Choo district for dinner and great nightlife. Opened in 1909 as Terminal Station, the train depot welcomed thousands of travelers during the golden age of railroads. Today, Terminal Station stands as part of the world famous Chattanooga Choo Choo Hotel. History and hospitality are at the heart of the Chattanooga Choo Choo. The complex boasts on-site dining, retail shops, tranquil rose gardens and much more. For dinner, consider one of these local restaurants:
Latin Food – Conga
Italian Food – Alleia
TV food network style  – Feed & Co.
Thai Food – Alex Thai
BBQ – HiFi Clydes
Surf & Turf – Stir at the Choo Choo
Thursday, October 18
7:30 – 9:00 a.m. – Breakfast
We hope you enjoyed your time in the Chattanooga Choo Choo district, but not so much that you don't join us for breakfast! We've got a couple of great speakers lined up to talk about how Chattanooga uses their creative strengths to market their city as "literally perfect".
Candace Litchfield, Marketing & Public Relations Manager, Chattanooga CVB
Sybil Topel, VP of Marketing, Chattanooga Chamber
9:30 – 11:30 a.m. – Breakout Sessions
They've come a long way! Learn about where Chattanooga is headed next and what we can learn from them within the five pillars of Momentum 2022.
Grow a Diverse Economy

This group will focus on innovation and entrepreneurship in Chattanooga through a tour of their innovation center and the chance to speak with leaders in the field of entrepreneurship.

Edney Innovation Center – Ken Hays, president and CEO
LAB – Marcus Shaw, chief executive director
LAUNCH – Marco Perez, VP of operations
Panel – Meet with the innovators who have benefitted from Chattanooga's entrepreneurial spirit.

Develop Homegrown Talent

Learn about the efforts Chattanooga is making to grow, attract and retain their talent base.

Tour Future Ready Institutes – Located in thirteen different high schools in Hamilton County School District, Future Ready Institutes allow students a rich learning opportunity focused around a career theme.
Tour Gestamp's Learning and Development Center – Operating three facilities in the Chattanooga area, Gestamp is a champion for work-based learning.

Create Vibrant & Attractive Places

Take a deeper dive into what makes Chattanooga attractive to people who choose to work, play and visit.

Tour Tivoli Theatre – A historic theatre providing live music and shows in downtown Chattanooga.
Tour West Village – A thriving part of Chattanooga's downtown, the West Village hosts street festivals, night life and a wide variety of shops and restaurants.

Promote a Positive Image

Take a closer look at the importance of arts in a community.

Chattanooga Arts Tour – Learn about Chattanooga's arts scene and the role it plays in promoting a positive image.

Collaborate for a Strong Community

Sometimes the most impactful changes are created through community connections rather than focused initiatives.

Tour select communities in the City's Area 3 Planning District, where grassroots initiatives led by resident leaders are reshaping these underserved, predominantly African American communities. Though overlooked as areas riddled with high crime, high unemployment, low incomes, housing decay and commercial abandonment; these communities were once home to a black-owned golf course, bowling alley, airplane hangar, private school, and thriving housing and commercial centers. Hear how these leaders are redefining what economic inclusion looks like in Chattanooga.

Cora Lanier (Boyce Station)
Marvene Noel (Orchard Knob)
Johnnie Ware (Churchville)
Ken Smith (Avondale)
Dr. Everlena Holmes (Community Advocate)
12:00 – 12:45 p.m. – Lunch sponsored by Kansas Commercial
Head back to the conference space to enjoy lunch together as a group and talk about the field trips of the morning.
12:45 – 1:45 p.m. – Panel Discussion – Chattanooga Talent Initiatives
GTP Staff Pillar Leader: Molly Howey
Molly Blankenship, VP of Talent Initiatives for the Chattanooga Chamber will lead a panel discussion about how they have worked to grow, attract and retain their homegrown talent.
2:00 – 3:30 p.m. – VW Talent Development
GTP Staff Pillar Leader: Diann Faflick
Amidst one of their largest hiring pushes since opening in Chattanooga, Volkswagen partnered with Chattanooga 2.0 to create a workforce development program. This session will explore the challenges of filling 3,500 jobs and the ways they are developing talent throughout a wide span of ages and skillsets.
3:45 – 4:30 p.m. – Local Success Stories
GTP Staff Pillar Leader: Katrin Holzhaus
Chattanooga is home to some pretty impressive start-ups. Hear from two homegrown success stories and learn about how they got to where they are today.
Skuid – Lane Ford, CFO and Janelle O'Neil, Senior Director of HR
5:00 – 5:45 p.m. – Roundtable Discussions
It is our hope that we've provided ample opportunity to learn about a city that went from being known as "the dirtiest city in America" to one that boasts booming economic development, progressive initiatives and unmistakable community pride. We'd like each group to provide us with three actionable takeaways from Expedition Chattanooga that we can implement in Topeka!
6:30 – 7:30 p.m. – River Cruise Cocktail Hour sponsored by Schwerdt Design Group
Enjoy a unique opportunity to view Chattanooga from the Southern Belle Riverboat! We'll take an hour-long cruise to take in sights such as Lookout Mountain, Moccasin Bend, and Downtown Chattanooga while enjoying cocktails on the deck.
The River Cruise is a 10-minute walk from the hotel, so make sure you arrive promptly at 6:30 PM. The cruise will leave on time.
151 Riverfront Parkway
Chattanooga, Tennessee 37402
Phone Number: 423.763.1541
7:30 p.m. – Group Dinner sponsored by Schwerdt Design Group
Continue the riverboat experience as we dine together on our final evening of Expedition Chattanooga!
Friday, October 19
9:00 a.m. – Breakfast/Adjourn
We hope Expedition Chattanooga will be an unforgettable experience for you. Thank you for joining us and have safe travels home!
Accommodations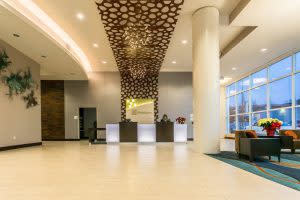 Holiday Inn & Suites Chattanooga Downtown
434 Chestnut Street
Chattanooga, TN 37402
A unique, stunning and modern hotel located in the heart of Downtown Chattanooga. They are the only hotel in downtown Chattanooga with TESLA Chargers to cater to all your parking needs. The hotel's prime location and new high-end guest rooms make Holiday Inn Hotel & Suites one of Chattanooga's premier hotels. Walk from the hotel to nearby riverfront restaurants or stay in the hotel to enjoy the Rodizio Brazilian Steakhouse. This hotel is 100% non-smoking.
Hotel Amenities: Business services, indoor pool, limited fitness center, on-site guest self-laundry facilities, same-day dry cleaning, porter/bellman, baggage hold, ATM/Cash machine, Gift Shop, Convenience store, and a fine dining full-service restaurant and bar
Room Amenities: Iron/Ironing Board, Separate hanging closet, In room heating and ac controls, black-out shades, extra bedding, private bathroom, hairdryer, mini refrigerator, microwave, coffee maker and complimentary coffee/tea, flat screen tv with cable/satellite and premium channels, work desk and extra electrical outlets, and wireless internet.
Interested in sponsoring this event full of community leaders and advocates? Contact Kim Redeker at Kim.Redeker@topekapartnership.com.
For all other questions or to get more information, contact Amy McCarter at Amy.McCarter@TopekaPartnership.com.