Topeka Flag Meaning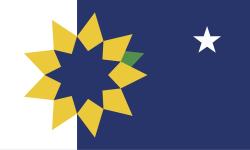 Colors
Gold: reflects the city's nickname, "The Golden City", given by the early settlers because of the beauty of the city's sunlit rolling hills and autumn elms.
Green: represents the fertility of the Kaw Valley and corn, an important agricultural product of the region.
White: represents Topeka's national historical significance as a community fighting for a more just society. White is a color often used to denote goodness,  purity and peace.
Blue: recognizes the Kansas state flag and symbolizes the beautiful skies. Just as white often represents purity and peace, blue represents trust, stability and tranquility -- which our city has modeled in the face of adversity.
Three colors used in this design -- gold, green, and white -- all pay homage to Topeka's first flag from 1977. The blue pays homage to the Kansas flag and is a new addition.
Symbols
Sunflower: pays tribute to Topeka, the capital city of Kansas, the Sunflower State.
9 Petals on the Sunflower: represent the nine founders of the city.
Star: represents where Topeka is geographically and also denotes the city as the capital. A five pointed star is commonly used to represent the capital of a geographic region on a map.
Green Arrow Pointing to the Star: this symbol represents both the statue atop the Kansas statehouse and the state motto. The green arrow points towards the star. That is symbolic of Ad Astra, the Native American who  stands atop the statehouse building pointing his arrow toward the North Star. The flag, in paying tribute to Ad Astra, also pays homage to the Kansas motto, "Ad Astra Per Aspera," which in Latin means, "To the stars through difficulty." This motto speaks to Topeka's birth through adversity during the civil war, and the community's significance in the fight for civil rights.
A fun Topeka fact: Topeka was chartered as a city on Valentine's Day in 1857.
---
Share the flag on social media using the
#TopekaFlag
The Topeka Flag is a Forge Initiative.