All Veterans Memorial at Great Overland Station
The triumph of the human spirit and the values of the American way of life will be represented by a memorial to all veterans, the men and women who gave their hearts, souls and lives to uphold the right of all humans to be free. The All Veterans Memorial will consist of a dramatic sculptural flame centered above four reflecting pools, shimmering in the sun and glowing under the stars. Linked to the Great Overland Station by the Corridor of Flags, the Memorial will provide the nucleus around which will revolve patriotic celebrations, holiday ceremonies and countless community events.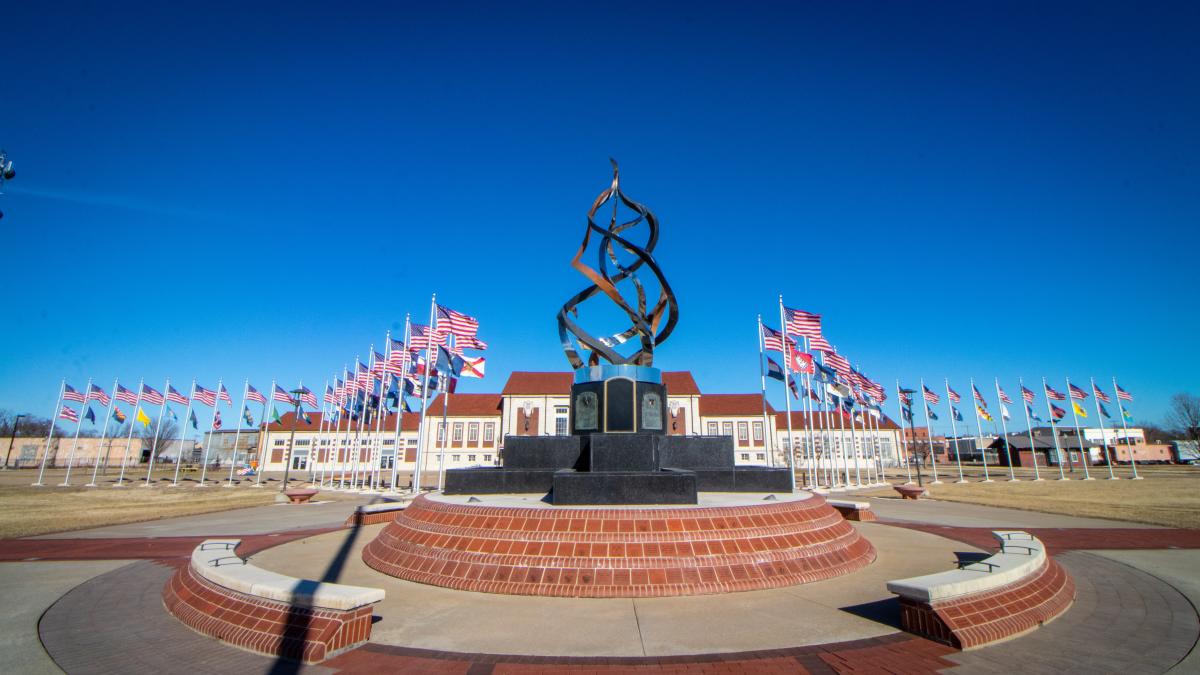 The Corridor of Flags, BNSF Memorial Plaza, and Memorial Square add a new signature landmark for Topeka, connecting the new All Veterans Memorial to an historic treasure, the Great Overland Station. The Corridor of Flags provides the setting for community events of all kinds. Here contemporary and future generations will create new memories against the backdrop of our heritage.​
The Corridor of Flags outlines a broad outdoor room, the BNSF Memorial Plaza, between the Great Overland Station and the All Veterans Memorial. Fifty American flags will proudly wave above the flags of our fifty states, signifying America's unity of spirit: E Pluribus Unum - "Out of many, one."
Each 30-foot flagpole is accompanied by a limestone base with bronze plaque and is lighted from below. The state flags flying beneath historic American flags as configured at the time of the state's admission, forms a unique educational exhibit - the name of the state, the year it joined the Union, its capital, and other state-specific information is inscribed on the plaque. Each flagpole's sponsor is recognized on a separate bronze plaque at the base.
BNSF Memorial Plaza extends from the Great Overland Station and connects to Memorial Square, surrounding the All Veterans Memorial. Bricks installed in this plaza can be engraved to honor or memorialize a loved one. The engraving can include a logo such as Santa Fe, BNSF, Union Pacific, or a listing of a veteran's branch and company. ​
The Ceremonial Flagpole located to the south of the All Veterans Memorial is 60-feet high and displays a 12'x18' United States flag, a 5'x8' Kansas flag, and a 4'x6' POW/MIA flag. It will be the location for many events and, due to its height and large flags, will be easily visible from many parts of the city.