Outdoor Escapes
If you're looking for outdoor adventures, Topeka is the place to be. Enjoy fresh air and sunshine while paddle boating at Lake Shawnee, or explore Topeka's many parks and recreation facilities where you can do it all - from golfing, swimming, and playing sand volleyball to strolling along the scenic trails.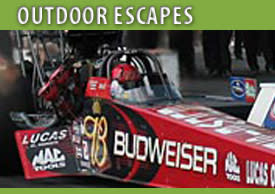 Lake Shawnee Recreational Area
Lake Shawnee offers fishing, boating, sailing, and swimming. The park surrounding the lake includes foot trails, fish hatcheries, a golf course, a marina, tennis courts, shelter houses, horseback trails, ball diamonds, and gardens. Call for a complete schedule and applicable admission fees.
Kaw River State Park Trails
Kansas's newest and only urban state park features trails for walking, hiking, running, and off-road biking.
Gage Park
Take a scenic mini-train ride through this expansive park, ride the carousel built in 1908, explore the Topeka Zoo, and see more than 400 varieties of roses at Reinisch Rose Garden. Cool off at the Blaisdell Family Aquatic Center.
Heartland Park Topeka
Home to the dragstrip, road course, and dirt track racing on one of the world's fastest tracks. Heartland Park hosts numerous events, including national NHRA and AMA events, in a season running from March through October. 
Shawnee North Aquatic Center
Topeka's newest aquatic center features a lazy river, a kiddy pool, and numerous slides for family fun in the summer sun.