At the Crossroads: A Fight for LGBTQ+ Rights
The United States is currently at the crossroads of the fight for LGBTQ+ issues and Topeka again has found itself at the center of that fight. After having LGBTQ+ protections for state employees reversed in 2015, Kansas newly elected Governor has restored those LGBTQ+ protections for state employees and went even further to include LGBTQ+ workers of those who do business with the state.
Topeka itself has done much to combat the negative attitudes against minorities and all groups of people and the LGBTQ+ issue is no difference. Find out how Topeka has fought against the persecution of the LGBTQ+ community.
Aaron Jackson and the Equality House
Aaron Jackson, a human and environmental activist, founded the nonprofit Planting Peace in 2004. Planting Peace is a global organization founded for the purpose of spreading peace. There projects range from a network of orphanages in developing countries to multi-national deworming campaigns. Planting Peace also is a LGBTQ+ rights advocacy group and in 2012 the organization bought a house across the street from the Westboro Baptist Church. The Westboro Baptist Church is known for protesting military funerals and advocating against the LGBTQ+ community and their rights. A year after purchasing the house, Jackson and Planting Peace painted the house the colors of the pride flag and designated it the Equality House in direct protest to the messages of the Westboro Baptist Church. The house was used as the resource center for the Planting Peace human right initiatives and stands as a visual reminder of their commitment to equality for all.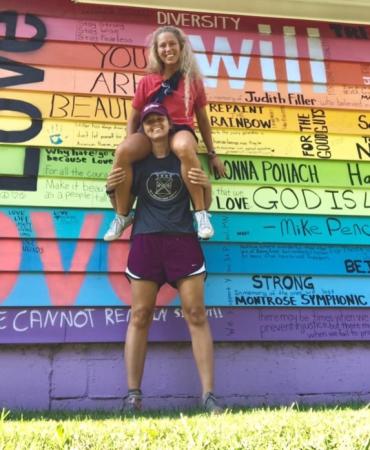 Stephanie Mott and the Mott House
Stephanie Mott considered by many to be Kansas' greatest transgender activist did much for the LGBTQ+ community in Topeka and Kansas as a whole. Mott founded the Kansas Statewide Transgender Education Project (KSTEP) in 2010 which aimed to end discrimination against the transgender community in Kansas through education. She also served as the chair and vice-chair of Equality Kansas both in the state organization and the local Topeka chapter. She helped revive the Topeka Pride celebration and served as the first president of Topeka Pride, Inc as well as being the president of the board for Capitol City Equality Center. The LGBTQ+ community lost an influential leader in the fight for LGBTQ+ rights when Mott died unexpectedly on March 4, 2019.
In 2016, Planting Peace purchased and painted the house next door to the Equality house the colors of the transgender flag to serve as an additional symbol of hope for the LGBTQ+ community and specifically transgendered people. The house was renamed the Mott House on March 8, 2019 after the passing of Mott just days earlier.