Carrie Nation
The moment when a women's voice was heard across the nation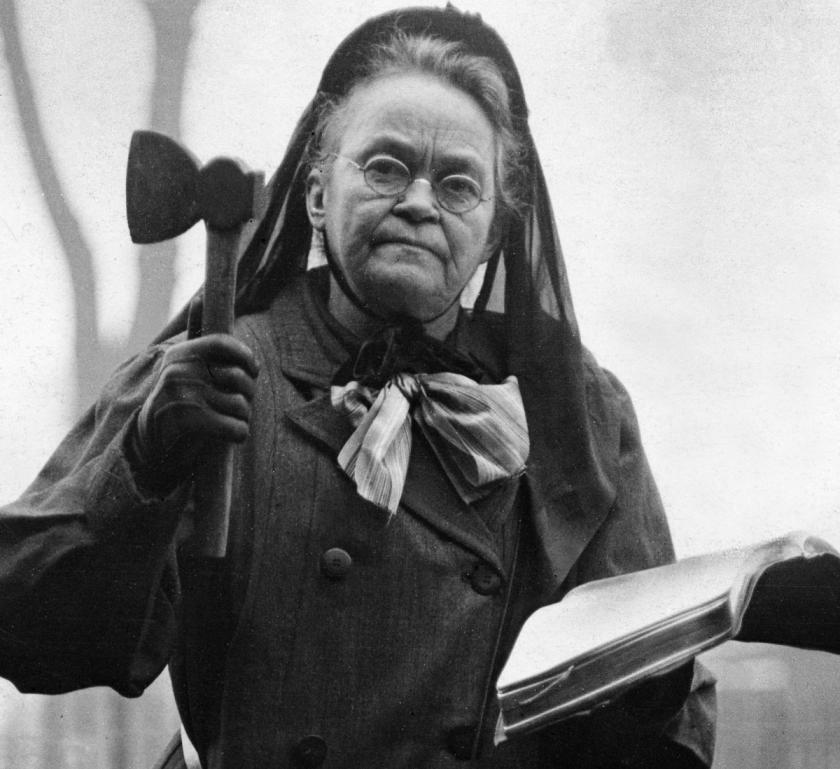 Carrie Nation, the hatchet-wielding temperance crusader, was known across Kansas, and the rest of the nation, for her staunch prohibition beliefs and even more for her somewhat controversial tactics. 
Carrie Amelia Moore was born November 25, 1846, in Garrard County, Kentucky, to George and Mary (Campbell) Moore. At a young age, the family relocated to Missouri, and during the Civil War, to the Kansas City area. There Moore helped nurse those injured at nearby Independence, Missouri.
Moore married a young Civil War doctor, Charles Gloyd, on November 21, 1867. The couple separated shortly before the birth of their daughter, Charlien. Gloyd died as a result of alcohol the next year. She married David Nation on December 27, 1874. They moved to Brazoria County, Texas, to operate a cotton plantation. After that venture failed, the Nations moved to Medicine Lodge, Kansas, where he was a minister and she became involved in religious and civic activities. She organized a local branch of the Woman's Christian Temperance Union (WCTU), and campaigned for enforcement of the state's liquor laws. Nation was also a supporter of women's suffrage and women's rights.
While in Kansas, Nation started her campaign for the enforcement of prohibition across the state. Her first assault took place in December of 1894 when she shut down a "pharmacy" in Medicine Lodge. In June of 1900, Nation raided six different bars in Kiowa, Kansas. Over the next year she would attack bars throughout Kansas. Nation smashed several bars in Wichita and Enterprise and eventually made her way to Topeka, the capital city.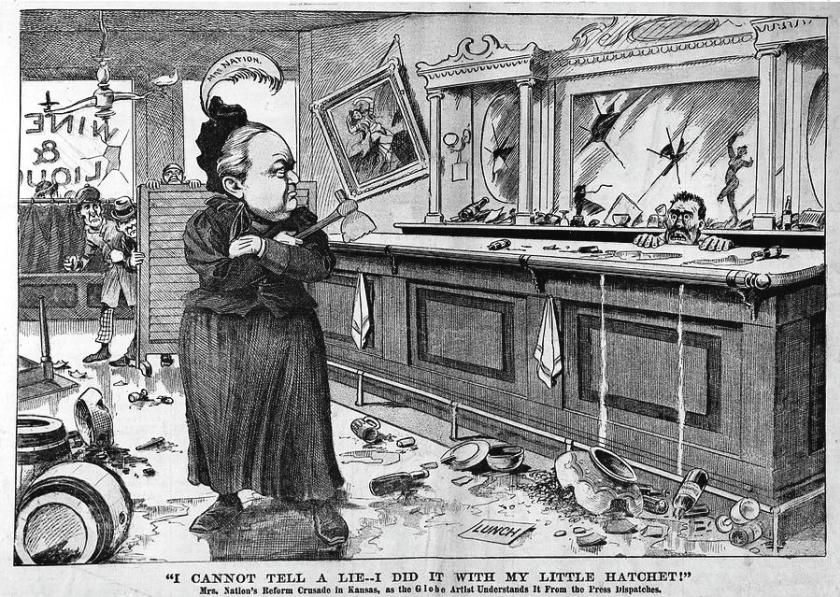 In January of 1901, Nation arrived at the Topeka train station to a large gathering of people. She was led to several bars by the crowd who were interested in seeing Nation do what she was known for. Although at this time she didn't try to raid any of the bars, but instead tried to plead with the owners to voluntarily close down. At one of the shops Nation was attacked by one of the bar owner's wife with a broom. It was said that as she bent over to pick up her bonnet, which was knocked off by the broom, that the bar owner's wife "smote her upon that portion of the anatomy which chanced to be uppermost."
Soon after, Nation met with the Governor William Stanley where she asked the Governor to enforce the prohibition laws. When she received no assurances from the Governor she decided to take matters into her own hands. Nation and a large group of supporters from the Women's Christian Temperance Union (WCTU) marched toward Kansas Avenue to talk with local bar owners. The bar owners were prepared for Nation as they had received word that she was coming and they had set up barricades in front of the doors and windows. Instead of forcing her way in she again talked to the owners about what alcohol can do to families when misused and asked them to abide by the current law. 
A week later the saloons still hadn't closed their shops and Nation again made her way to Kansas Avenue, this time to the Senate Saloon, a frequent hang out of the legislature. This time, Nation was tired of talking and raided her first Topeka saloon. Her followers joined in and Nation was quickly arrested but that wouldn't stop her for long. Two weeks later, Nation and her followers attacked seven bars in Topeka including a cold storage house. By the time Nation decided to give up the saloon smashing, a month later, she had been arrested 30 times. Although she had decided to stop raiding bars she wasn't done fighting. Nation decided to take her fight to the press through her own "Smasher's Mail."
Carrie Nation was a devout supporter of prohibition, women's suffrage and women's right overall. She died on June 9 in 1911 in Leavenworth Kansas, only a year before women gained the right to vote.
source: Kansas State Historical Society