Just around the corner from the plaza, check out Axe & Ale. At this newly opened location, you can test your axe throwing skills and grab dinner and drinks. If you enjoy competition, you can gather your friends to join the weekly throwing league.
If you are looking for something a bit more relaxed, take a short stroll to Brew Bank. This location was the first in Kansas to offer self-serve digital taps, allowing you to enjoy some of the finest local and regional craft beers in the amounts you prefer; you can even get root beer on tap for the kids or non-drinker. On arrival, set up your pour card, then try as much or as little of anything you would like. They also offer a great menu for dinner or dessert featuring globally themed charcuterie boards, salads, and flatbreads. Although this colorful location opened in September 2019, the allowance of sidewalk seating gave this experience the perfect opportunity to enjoy your favorite brew while taking in all the lit structures of downtown, including our constantly changing arches.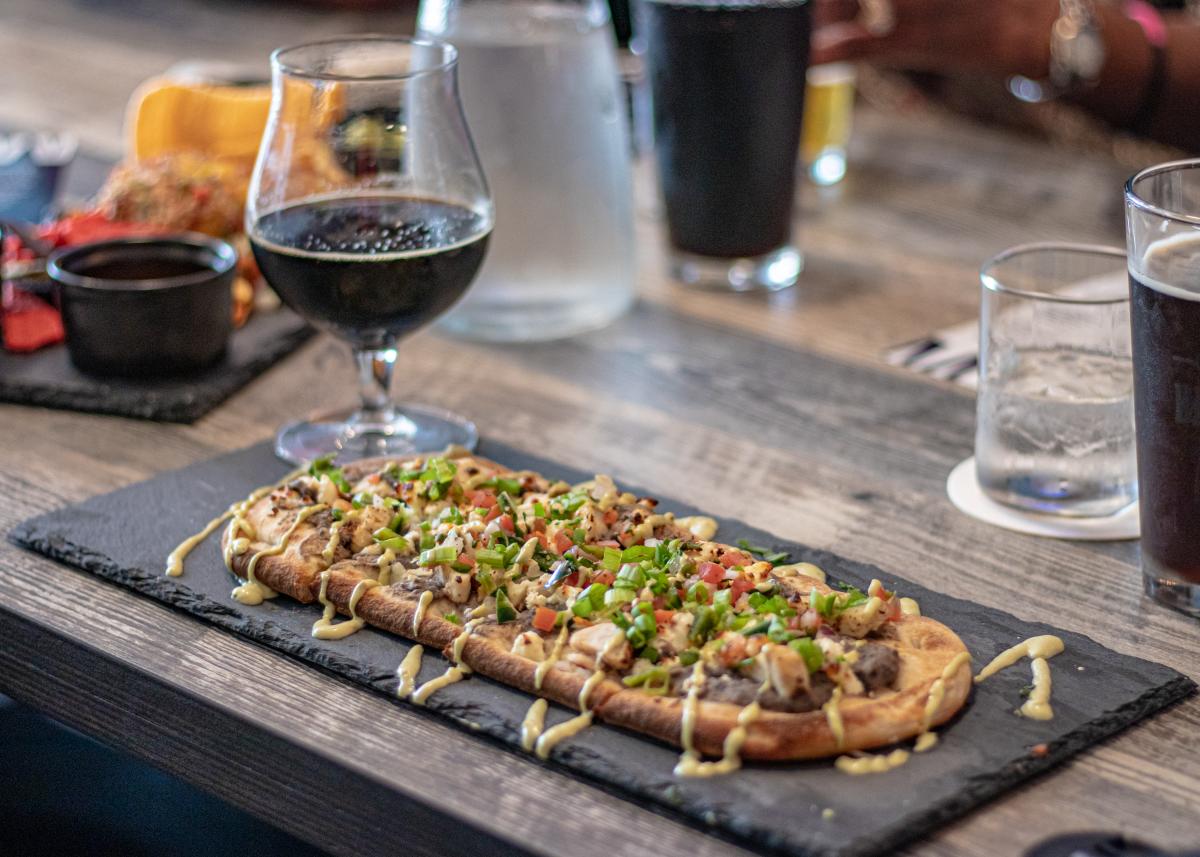 For a swanky stay, check out the Cyrus Hotel. The view overlooks downtown and offers a modern yet unique aesthetic. They are pet friendly, offer valet services, and one of the best Old Fashions in town among their other specialty drinks and full bar offerings in The Weather Room. They have several conference rooms and a ballroom to support any sized event, along with a rooftop event area. They have begun to offer package deals for "micro-weddings" to help handle anything you may need for the perfectly small wedding of your dreams.
After a restful evening at the Cyrus, head over to check out the new location for local fave, Juli's Café and Bistro. They offer the perfect caffeinated combinations to get you started for your day along with a full breakfast and lunch menu that can be both hearty and healthy.
Ash Boutique is a new addition to the downtown scene, offering trendy women's clothing, jewelry, and locally made goods. If you have a younger shopper with you, it is a short drive to Lily Grace; Ash Boutique's sister store celebrating young women.
If photo-ops are more your style, you can find the perfect backdrop with any of our new murals featuring the Topeka flag, sunflowers, characters and more. Find locations of these and more through ArtsTopeka.org.
We have also seen our downtown change through renovation, with updates to facades throughout the downtown stretch, and within several of our buildings. Townsite Towers is just one to receive an updated look inside as well as out. The commons area offers a great spot to stop if you need a quick place to work or meet.
You can easily spend a day, or more, enjoying the new additions, but stay a bit longer to take full advantage of all our new and longstanding offerings of Downtown Topeka!
Check out events in the area!