Free Fun
For travelers on a shoestring budget, Topeka offers many free adventures. The following list offers something for everyone. How many free activities can you do in a one day?
Free Activities in Topeka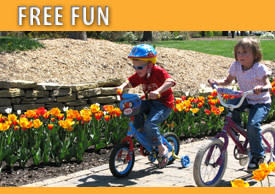 Attend a First Friday ArtWalk at locations all over the city of Topeka.
Admire breathtaking murals and architecture during a tour of the renovated Kansas Statehouse.
Get inspired by the incredible collection of Tiffany Windows at First Presbyterian Church.
Explore more than 30 outdoor and 100 indoor exhibits featuring artifacts, equipment and materials at the Museum of the Kansas National Guard.
Visit Yesterday's Motorcycle Museum at Topeka Harley-Davidson for a look at classic bikes.
Get arty at the Mulvane Art Museum & ArtLab, a hands-on creative experience for all ages.
Hike your way through the nature trails at the Kansas Museum of History, Kaw River State Park, and at the Governor's Mansion.
Enjoy a leisurely walking tour of Potwin Place, a neighborhood with tree-lined, brick streets and beautiful Victorian homes.
Enjoy the fresh air, beautiful gardens and family fun environment of Gage Park.
Explore the Brown v. Board of Education National Historic Site to discover Topeka's role in the national Civil Rights Movement.
Take a step back in history at Old Prairie Town at Ward Meade Historic Site.
Explore outdoor art, lush landscaping and a Japanese garden on the Washburn University campus.
Tour Cedar Crest, the Governor's Mansion.
Discover the many treasures of the Topeka & Shawnee County Public Library including an art gallery, cafe, gift shop, colorful murals and hundreds of free programs for all ages year round.
Mosey down to Lake Shawnee Trail and enjoy playgrounds, fishing & more at the Lake Shawnee Recreational Area.
Grab your discs and test your skill at one of Topeka's disc golf courses.
Admire the color and variety of produce, baked goods, plants and more at one of Topeka's many seasonal Farmer's Markets.
Stroll through Ted Ensley Gardens at Lake Shawnee.
Visit the oldest tree in Topeka at the southeast corner of Huntoon Street and Clay Avenue. This tree was a landmark in the very early days of Topeka marking where the trail from Fort Leavenworth to the New Mexico Territory joined the main Santa Fe Trail. In 1913, a bronze tablet was placed at the base of tree identifying it as Topeka's Oldest Tree.
Take your four-legged pal for a run (off-leash) at the Bark Park in Gage Park.
Check out of one Topeka's many annual events and festivals, like Fiesta Mexicana, Huff n' Puff Hot Air Balloon Rally and the Sunflower Music Festival.