Attorney by day and head brewer by night. That is the life of Betsy Baker who has turned two of her passions into professions.  
Two years ago, Baker started her own practice with two other lawyers which is now called Baker, Storey, and Watson.  Just last year, Baker and four other friends opened Topeka's first nano brewery---Barrister's Brewing Inc.  The start up of both of these companies was made possible by Baker's move to Topeka to attend Law School at Washburn University. 
When Baker, a Wichita native and avid beer lover, graduated with her law degree in 2013, she wanted to meet new people in the area with similar interests, so she joined Greater Topeka Hall of Foamers---a local club that teaches its members how to brew.  "I quickly realized that the other brewers were smarter than me," she said, "so I started brewing on my own at home so I could keep up with their conversations."  
In the meantime, Baker and some of her friends from her Fantasy Football League often met at other local bars and breweries to watch Monday Night Football together.  With Baker's newfound hobby of brewing, they discussed how fun it would be to have their own brewery where they could hang out and invite their friends. That's when she, Dave Watson, Rick Peat, Kenny Kutina, and Dan Purcell turned the idea of Barrister's Brewing Inc. into a reality.  It's now located in the Barrington Village at 2822 SW Arrowhead Road in Topeka, and they're about to celebrate their one-year anniversary.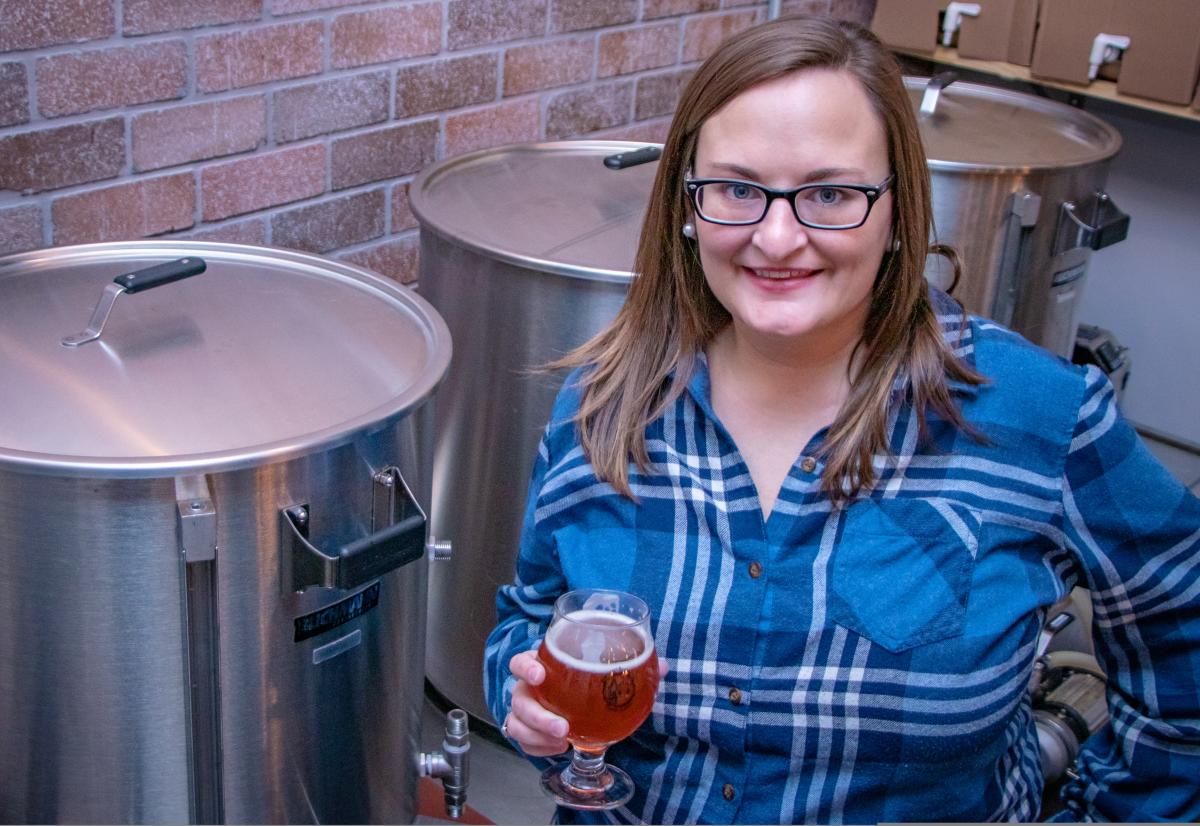 The nano brewery is open Wednesdays and Thursdays from 4 - 10 p.m., Fridays from 4 - 11 p.m., Saturdays from noon - 11 p.m., and Sundays from noon - 6 p.m. 
Baker, Kutina, and Watson brew on Mondays and Tuesdays when the brewery is closed.  If they do a double batch on their twenty-gallon system, it usually takes them from 5:00 a.m. to 6:00 p.m.  Since their system is so small, it allows them to frequently brew a variety of different beers, which keeps their on tap menu rotating every week.  If you're looking for a Bud Light, you won't find it here. Barrister's serves only original and unique beers that can't be found anywhere else. They have eight taps---seven are their beers and they always feature one beer from a guest brewery like Freestate Brewery out of Lawrence or Double Shift out of Kansas City, MO. "We try not to have a guest tap from Topekan breweries because we want people to go and support those places," Baker said.  
Watson, one of the five owners, is also an attorney, so he and Baker have integrated their love of the law in creative ways with not only the name of the business but with the names of the beers.  Some customer favorites are the following: 
Brown v. Board---a brown ale that's malty, but mild; dark in color, but not heavy

Kavanaugh(ty) Kolsch---a light German-styled beer 

Willful Wheat---a light wheat beer with a Belgiun influence 

RBGESB---(which stands for Ruth Bader Gingsburg, Extra Special Bitter)---a dark, toasty beer that's well-balanced and malty
With the arrival of fall, Barrister's plans to feature the following seasonal flavors: 
Motion to Squash---a pumpkin ale 

Heat of Passion---a creamy ale with jalapenos

Sixth Circuit Sour---a beer with a fruity sour finish, which is a special for their one year anniversary on Oct. 19th
If you don't get the judicial allusions of all the names, that's even more reason to stop by the brewery.  One of the owners or the bartender on duty will be happy to explain them to you as you throw one back. 
The beers aren't the only thing unique about Barrister's.  The owners wanted to create an atmosphere that reminded them of home, and the small interior that only seats twenty-five guests definitely gives it a comfortable, intimate feel. The patio includes fire pits and seating for forty-five additional guests and often features live music and food trucks on Friday and Saturday nights.  Besides light snacks, Barrister's doesn't serve any food. Instead, customers are encouraged to support other local restaurants by ordering in food from them. The brewery even offers a notebook full of menus to make this more convenient.  
The opening of Barrister's is way more than a creative outlet for Baker.  When asked what the brewery meant to her, she said, "The most important thing about beer is that it brings people together.  We've offered a cozy atmosphere that has allowed people from all walks of life to gather in the same spot who wouldn't have met otherwise."