Sips & Swigs
It's 5 o'clock somewhere, and we don't judge! Ready for a change of pace or night on the town? The hottest bars in the area are popping up across Topeka, offering something for everyone. From craft beer to wine to cocktails, belly up to the bar with us to try some of the drinks that have visitors raving!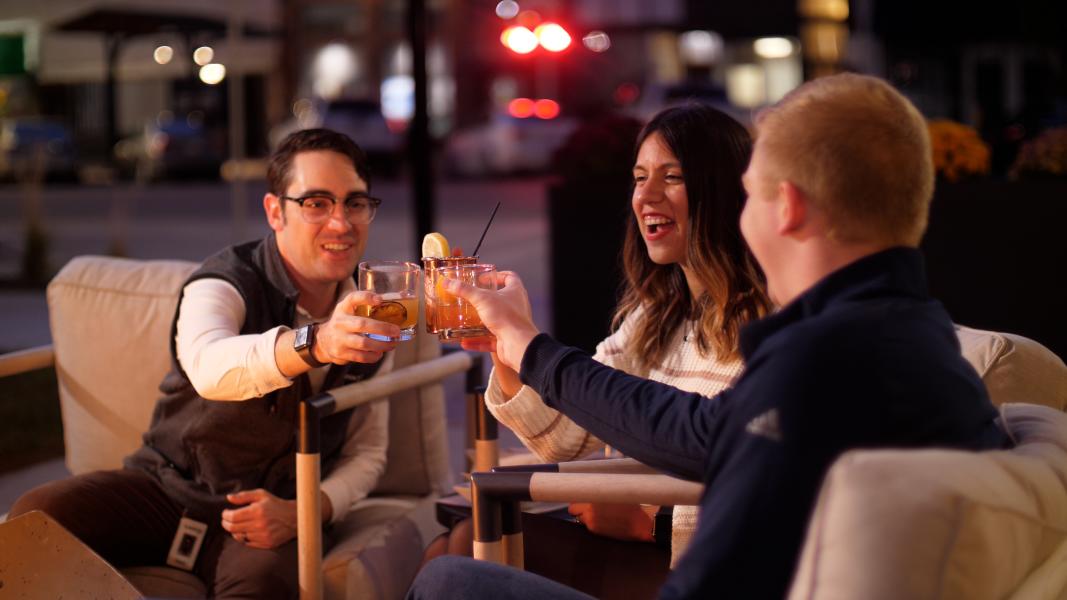 SIP AWAY 
• SOLILOQUY A semi-elusive establishment featuring cocktails like no other! With sips like the "Koi No Yokan" — described as "The feeling upon first meeting someone that you will inevitably fall in love" — and "Injuries Due to Falling Coconuts," which boasts Thai chili kissed Creole bitters, this hidden oasis and its talented owners can be found popping up at Circle Coffee on select dates. 
• THE KNOX COCKTAIL BAR & LOUNGE This modern, sophisticated lounge features cocktail classics, alongside a rotating-signatures selection. Wines, a bourbon reserve, and select beers can also be found as you relax, take in the ambiance and sip on your favorites. 
• THE WHEEL BARREL This local favorite flaunts a cocktail menu with all the classics, alongside some show-stopping seasonal drinks, and beer and spirit menus to swoon over! 
• BREW BANK Pour the pint or just a sip at Brew Bank! This local joint was the first in Kansas to offer self-serve digital taps. Browse the beer wall to find your favorites, or enjoy a cocktail or one of the few wine offerings on tap! 
• THE PRINCIPAL'S OFFICE New to town, The Principal's Office is a speakeasy hidden in Topeka's Westboro Mart. Find the paddle on the door to be transported underground, where you'll be treated to prohibition-style fare. 
CHEERS TO BEER 
• CELTIC FOX The Celtic Fox is a downtown Topeka landmark. Recently renovated in 2022 this Irish pub is housed in a 140 year old building. The stones on the wall were excavated at the same time as the Kansas Statehouse in 1879. The restaurant now boasts a modern upscale design that points towards the future while honoring its past. Enjoy a pint of beer or a glass of whiskey and casual pub fare that include bangers and mash and fish and chips! 
• NORSEMEN BREWING COMPANY Beers fit for the Vikings at heart! From craft brews to Norse-inspired food, tables here are set for the whole party. As staff like to say, "Mortal Brewed, Odin Approved!" 
• HAPPY BASSET With both Happy Basset Brewing Co. and Happy Basset Barrel House open for business, two locations in TopCity are dedicated to "brewing beer for dog's best friend!" Catch live music and food trucks at the barrel house on weekends, or stop by either location for some of the best brews in town. Dogs are welcome! 
IN GOOD SPIRITS 
• AXE & ALE Throw axes over a pint (or two) 
• THE TEE BOX Practice for par, while sipping and snacking the night away 
• THE PENNANT Arcade? Check. Bowling? Check. Drinks AND good grub? CHECK. 
• SPAWN INN Enjoy milkshakes and cocktails while gaming galore 
• THE BLIND TIGER BREWERY &   RESTAURANT This Topeka staple has brought home more than 25 medals for its award-winning brews, some as recent as 2022! Whether you're going for the barbecue, one of their flagship beers or a more recent seasonal brew, you can't go wrong at The Blind Tiger. 
• IRON RAIL BREWING Iron Rail in downtown Topeka pays homage to the city's rich railroad history. From the Three Sunken Engines IPA to the Great Overland Station Kolsch, these beers are as special as the stories that inspire them.