Severe Weather
Unless you're an experienced storm chaser, severe weather isn't something you typically plan for during a family vacation or business trip. Being in an unfamiliar area can make severe weather conditions even more stressful. We want to encourage everyone to stay alert to weather conditions and review the following severe weather information.
Know where you are and stay informed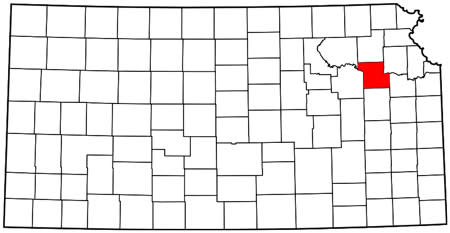 Topeka is located in Shawnee County, Kansas, in the northeast area of the state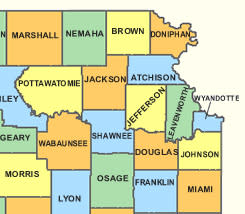 A map similar to this one will appear on your television screen during severe weather. Stay tuned to local media for real time updates and relevant warnings:
What does it mean?
The National Weather Service and local media meteorologists track severe weather threats.  The following terms will help you understand what's happening and make the best decision for your safety:
Tornado watch – Conditions are favorable for the development of severe thunderstorms and tornadoes.
Tornado warning – Strong rotation in a thunderstorm indicated by Doppler radar or funnel cloud development/touchdown has been confirmed by storm spotters.
A funnel cloud is a funnel-shaped cloud extending from the base of a cloud, but not reaching the ground. A funnel cloud becomes a tornado if it touches the ground.
Severe Thunderstorm watch – Conditions are favorable for the development of severe thunderstorms. A severe thunderstorm watch does not necessarily mean that a tornado is likely.
Severe Thunderstorm warning – Severe weather is actually occurring. This could include rain, wind, hail, etc.
If tornadoes and other severe storms are identified for our immediate area, Shawnee County will sound emergency sirens. The sirens are meant to alert people who are outside or do not have access to other weather alerts. Take cover immediately until local National Weather Service has given the all-clear. In certain buildings or locations, you may not be able to hear the sirens and will need to rely on other weather alerts including TV, radio, web or phone alerts. (Please note: Sirens are tested every Monday at noon.)
What next?
Stay calm. Seek shelter in a basement or on the lowest level of the structure. Avoid windows and outer walls. Crouch as low as possible to the floor, facing down and cover your head with your hands.
In a Hotel
Each hotel will have its own emergency plan. You can usually find emergency procedures explained in the hotel's room guide, but ask a front desk clerk or a manager for more information. It is likely that in the event of a tornado warning, the hotel will alert all guests and ask them to gather on the first floor, away from exterior windows and walls.
In a Car
Vehicles are very dangerous in a tornado. It's best to park the car as quickly and safely as possible and seek shelter in a sturdy building.
If you are in the open country with no shelter available, get out of the car and run to low ground away from any cars. Lie flat, face-down, protecting your head.
Additional resources: