There are plenty of awesome places to dine in the Sunflower State.
Written by Spencer McKee  
As published by Movoto
1. It's Hard To Top This Pizza Joint
Topp'd
3934 Rainbow Blvd
Kansas City, KS 66103
(913) 677-7070
Yelp: 4.5 Stars; 14 Reviews.
With a focus on using only the freshest toppings around, each slice here is one of a kind. This restaurant makes it easy to build your own pie, letting you control everything down to the crust they use.
Everyone gets their own personal pizza here, meaning there's no more arguing over what type of 'za you're ordering. Expect big things from this place for many years to come.
2. The Perfect Place To Pig Out
Pig In! Pig Out!
1003 E 13th St N
Wichita, KA 67214
(316) 263-7474
Yelp: 4.5 Stars; 61 Reviews.
If there's one thing that Kansas does better than any other part of the country, its barbecue...and few places can top Wichita's Pig In! Pig Out!
With all of the barbecue essentials from brisket to hot links, every bite here is just as succulent as the last. But don't take my word for it, try it yourself.
3. This Brewery Doesn't Stop At Just Beer
Free State Brewing Company
636 Massachusetts St
Lawrence, KS 66044
(785) 843-4555
Yelp: 4 Stars; 297 Reviews.
If you're a fan of good food and craft beer, this Lawrence staple has got exactly what you're looking for. With a long list and good variety of beers, your experience doesn't end at what you're drinking.
They've also got a great food menu full of delicious options like their cheddar ale soup and black bean quesadillas, making this the perfect place to get your buzz on in the Sunflower State.
4. Food With A Southwestern Flair
Redrock Canyon Grill
1844 N. Rock Road
Wichita, KS 67206
(316) 636-1844
Yelp: 4 Stars; 109 Reviews.
Inspired by Southwestern American cuisine, the food at Redrock Canyon Grill is totally worth writing home about. With an energetic atmosphere and friendly wait staff, it's hard to beat anything that features their delicious rotisserie chicken.
5. American Classics With A Twist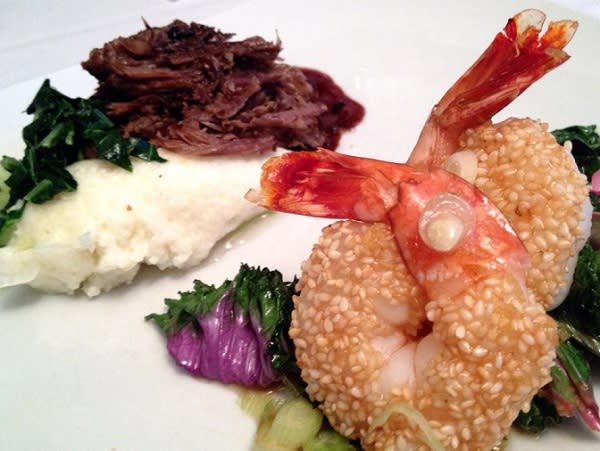 Rowhouse Restaurant
515 Van Buren St
Topeka, KS 66603
(785) 817-6052
Yelp: 4.5 Stars; 38 Reviews.
A truly innovative staple of the Kansas food scene, Rowhouse Restaurant has one of the most creative kitchens around.The best way to get a feel for this restaurant is by testing out the tasting menu, pairing each course with the recommended glass of wine, of course. It's the perfect way to treat yourself or a loved one to an unforgettable experience.
6. Great Seafood In A Landlocked State
Newport Grill 
1900 N Rock Rd
Ste 144
Wichita, KS 67206
(316) 636-9555
Yelp: 4.5 Stars; 80 Reviews.
While it might seem strange to find such a great seafood restaurant in Kansas, Newport Grill can compete with any seafood joint around the country. With a big menu full of fresh selections, options like their lobster roll and tuna tartare will keep you coming back.
7. What Happens When Food Meets Art
Café Beautiful
730 Massachusetts St
Ste B
Lawrence, KS 66044
(785) 843-7423
Yelp: 4.5 Stars; 36 Reviews.
With every dish equal parts elegant and delicious, the food at Café Beautiful will quickly have you craving another visit.
Built around the concept of Asian Fusion cuisine, every item on this menu is a winner. With a romantic ambiance and a BYOB policy, make sure you head here for your next date night.
8. Mama Mia! This Place Is Amazing!
715
715 Massachusetts St
Lawrence, KS 66044
(785) 856-7150
Yelp: 4 Stars; 181 Reviews.
If you're in Lawrence and longing for some homemade Italian, 715 is calling your name. With handmade pastas, sandwiches, creative pizzas, and plenty of other inspired entrees like the Lasagna Bolognese, this place is sure to have your stomach smiling.
9. There's No Better Way To Start Your Day
The Wooden Spoon
11823 College Blvd
Overland Park, KS 66210
(913) 345-9849
Yelp: 4 Stars; 93 Reviews.
A brunch staple of Overland Park, the Wooden Spoon is the perfect way to fuel up for the rest of the afternoon. With all of the breakfast classics, each with their own unique twist, favorites include dishes like their hash brown casserole and the very creative egg and bacon pancakes.
10. Sink Your Teeth Into These Buns!
The Burger Stand at the Casbah
803 Massachusetts St
Lawrence, KS 66044
(785) 856-0543
Yelp: 4 Stars; 228 Reviews.
It's hard to beat a great burger, especially if it's one from the Burger Stand. Not only do they have an interestingly delicious variety of sandwiches, they've also got several homemade dipping sauces, the perfect complement to any meal, especially if you ordered a side of their truffle fries.
One things for sure, after one meal here, you'll be telling all of your friends to try it out.
11. Is Your Mouth Watering Yet?
Fiorella's Jack Stack Barbecue
9520 Metcalf Ave
Overland Park, KS 66212
(913) 385-7427
Yelp: 4.5 Stars; 363 Reviews.
Another awesome Kansas City style barbecue joint, Jack Stack Barbecue delivers everything you want when it comes to a great plate of meat. Their burnt ends seem to be the crowd favorite here, tender, fatty, and cooked to perfection.
Just make sure you don't leave without trying their cheesy corn bake. Can't make it to the Overland Park location? There are several other Jack Stacks on the other side of the Kansas-Missouri border.
12. Comfort Food Worth Talking About
Doo-Dah Diner
206 E Kellogg Dr
Wichita, KS 67202
(316) 265-7011
Yelp: 4 Stars; 131 Reviews.
Doo-Dah Diner is proof that not all diners were created equally. A true stand-out when it comes to American classics, selections like chicken and waffles, jalapeño bacon, and monkey bread will have you in dining bliss.
13. This Gastropub Never Disappoints
Public
129 N Rock Island
Wichita, KS 67202
(316) 263-4044
Yelp: 4 Stars; 93 Reviews.
With an awesome beer selection and delicious food, Public is a great way to start a night out with your friends. The cool thing about this place is that they actively seek out the best farmers and brewers in the area to give their customers the freshest food and drinks possible.
The menu here has something for everyone, but a few of the most popular items are brisket tacos, prairie sliders, and their famous house-made pickles.
14. Perfect Fuel For A Day Of Shopping
Yard House
1863 Village West Parkway
Kansas City, KS 66111
(913) 788-4500
Yelp: 4 Stars; 128 Reviews.
Nestled in The Legends outlet mall, a quick stop by the Yard House is the perfect way to give your feet a rest during a day full of check-out lines and overstuffed shopping bags.
With a cool atmosphere and a menu that's got a great range, a few of the favorites here include the chicken enchilada stack and the lobster garlic noodles.
15. Authentic Indian Food Minus The Long Flight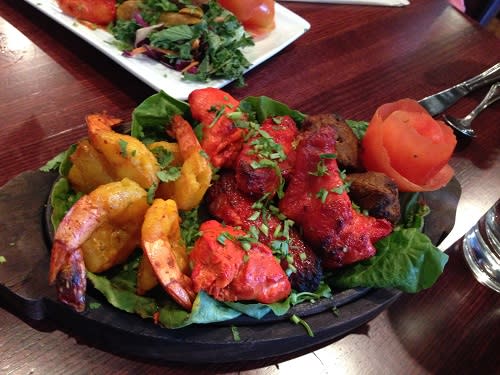 Monsoon Indian Grill
2040 SW Wanamaker Rd
Ste 104
Topeka, KS 66604
(785) 783-7776
Yelp: 4.5 Stars; 30 Reviews.
Monsoon Indian Grill is the perfect place to add a little spice to your life. With all of the Indian classics, it's a great place to dine on this style of cuisine whether it's your first time eating Indian or you're a seasoned veteran.
If you need help picking something off of the menu, the chicken tikka masala and the Peshwari naan are highly recommended.