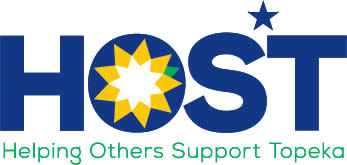 The Greater Topeka Partnership and GO Topeka are pleased to announced that the private donations raised through the HOST Relief Program were delivered this week to 23 additional Shawnee County small businesses; this represents $83,000 in new relief distribution. To date, a total of 99 small businesses have received HOST Relief funding. HOST, or Helping Others Support Topeka, was created to provide emergency funding for local businesses affected by the COVID-19 pandemic. To date, $655,000 in private HOST Relief donations have been raised to purchase gift cards from local businesses; $388,000 of these funds have been distributed to over 1,300 furloughed workers in Shawnee County
"This funding is not just a drop in the bucket," said Glenda Washington, senior vice president of Women & Minority Business Development, GO Topeka. "In many cases, small businesses are relying on any form of relief they can acquire to make ends meet. We may not be out of the woods yet, but with efforts like HOST GO Topeka and the Partnership will endeavor to provide continued support to the small businesses in our community."
Additional recipients will be announced in the weeks to come. 
The businesses that received private donations this week are:
A-Hann Thai
Aura Salon
Cashmere Popcorn
Affinity Hair & Nails
Create Hair Studio
Dickey's Barbecue Pit
Jason's Deli
Laser Trooper Laser Tag
Luis' Place
Norseman Brewing Co.
Pizagel's
Rebound Physical Therapy
Senior Burrito
Sharp Honda
Sheridan's Frozen Custard
Silver Lake Chinese Restaurant
The Dugout
The Landing
Topeka Pizza
Village Cleaners
Wendy's
World Cup Coffee & Crepes
Zoila's Cafe
HOST Relief Program Donors:
Alma Creamery
Capital City Oil
Capitol Strategies (John and Michelle Peterson)
Capitol Federal
Creative One
David and Danielle Byers
Don and Nancy Daniels
Eaton Roofing
Ed Eller Inc.
Eric and Maggie Hunsicker
Edward Jones Associates of Shawnee County
Evergy
Federal Home Loan Bank
Gary and Carol Hunsicker
Gary Woodland
Innovation Design Group
John Peterson
Jared and Lisa Anderson
Kansas City Life
Kansas Financial Resources
Kansas Secured Title
Kevin and Nancy Alexander
Lance Sparks Trust
Magellan Financial
Mark and Aron Krueger
Mark and Lisa Heitz
Mark and Sandy Ruelle
Market Synergy
MCP Build
McElroy's
Mike and Gina Miller
The Nellis Family
Schendel Lawn and Landscape
Security Benefit Group
Silver Lake Bank
TBS Electronics
Vaerus Aviation
Vision Bank
About HOST Relief Program
The HOST Relief Program is a small business emergency resource fund that was developed by private sector leaders and is being facilitated by GO Topeka and the Greater Topeka Partnership.
On April 1, the Joint Economic Development Organization (JEDO) approved $1 million in additional grants to provide support to small businesses through the HOST Relief Program. Small businesses will be eligible to receive up to $5,000 in grant money through this program.  These grants will be used to complement the private HOST Relief donations.
Applications for the HOST Relief Program may be found at SupportTopeka.com/HOST or by calling 785.246.6246 (English) or 785.246.6227 (Spanish).
About GO Topeka
GO Topeka creates opportunities for economic growth that provide a thriving business climate and fulfilling lifestyle for Topeka and Shawnee County. GO Topeka operates under the Greater Topeka Partnership, the leading economic development agency in the region.  
About Greater Topeka Partnership
The Greater Topeka Partnership serves as the collaborative agency of eight distinct efforts that support the enhancement of economic development and quality of life in Topeka and Shawnee County. They include:
                                                                        # # #
If you would like more information about this topic, please contact Bob Ross at Bob.Ross@TopekaPartnership.com.
If you have questions regarding small business support, or what aid is available to you, you may call the following:
English – 785.246.6246 
Spanish – 785.246.6227