Written by Laura Fletcher
As published on RV Adventures with Kids 
Laura Fletcher is the Publisher of RV Adventures with Kids - an online destination for unbiased reviews of attractions, restaurants and campgrounds. Article topics include packing tips, meal ideas and how to experience RV travel without having to buy an RV. The following is a post Laura wrote while traveling through Colorado and Kansas.
Our last morning in Colorado was a chilly one. I had Troy turn on the heater for a few minutes just to take a little of the chill out of the trailer so we could get up. To be honest, I actually savored the chill as I knew that it would most likely be a long time before our family encountered cool weather again.
After a delicious breakfast of bacon and eggs, it was time to reluctantly pack up and head further east. After asking around, we decided to forgo taking Highway 40 as we didn't want to tax the truck over the steep Berthoud Pass.
We opted for Highway 9, a beautiful by-way that took us over rolling hills past farms and mountain peaks. We were fortunate to have left early as there was major construction on the highway, including a 6-mile dirt section that required a lead car. We heard the back-ups at this area could be over an hour, however, we breezed right through. We followed the Blue River and passed the large Green Mountain Reservoir and a plethora of campgrounds before meeting up with Interstate 70 at Silverthorne which would take us east.
It just so happened to be around lunch-time as we were driving into Denver. Troy asked me where I might like to eat since I had lived a couple of years in the area back in my early 20's. Without hesitation I chose Blue Bonnet Cafe, my favorite Mexican eatery in Denver. It did not disappoint as the whole family enjoyed their lunch. Of course, I was in heaven with their Chili Relleno and Burrito plate; both items smothered with Blue Bonnet's amazing green chile sauce.

Note: Blue Bonnet Cafe is located at 457 S. Broadway in Denver, CO and conveniently located just a couple of blocks off Interstate 25. They offer all sorts of traditional Mexican fare made from scratch. They are located in a large shopping center with ample parking for RV's and trailers.

A good friend of mine lives close to the Blue Bonnet and I called to see if she could join us. As it turned out, my friend Sherry and her husband, Dale, were heading west across Kansas on Highway 70. We decided to see if we could possibly meet somewhere as we were heading east on the same highway.
After leaving Denver metro area, we were on our way through Eastern Colorado. The land is vast, but not flat. Hills undulate with fields of corn and soybeans as the land rises 3,400 feet before meeting the Kansas border. Storms off in the distance could be seen and at one point, we drove through an intense rain shower.

After another phone call to my friend, Sherry, we decided to meet in Goodland, Kansas at the Steak-n-Shake. It was a fun reunion as we haven't seen Sherry and Dale since before the kids were born.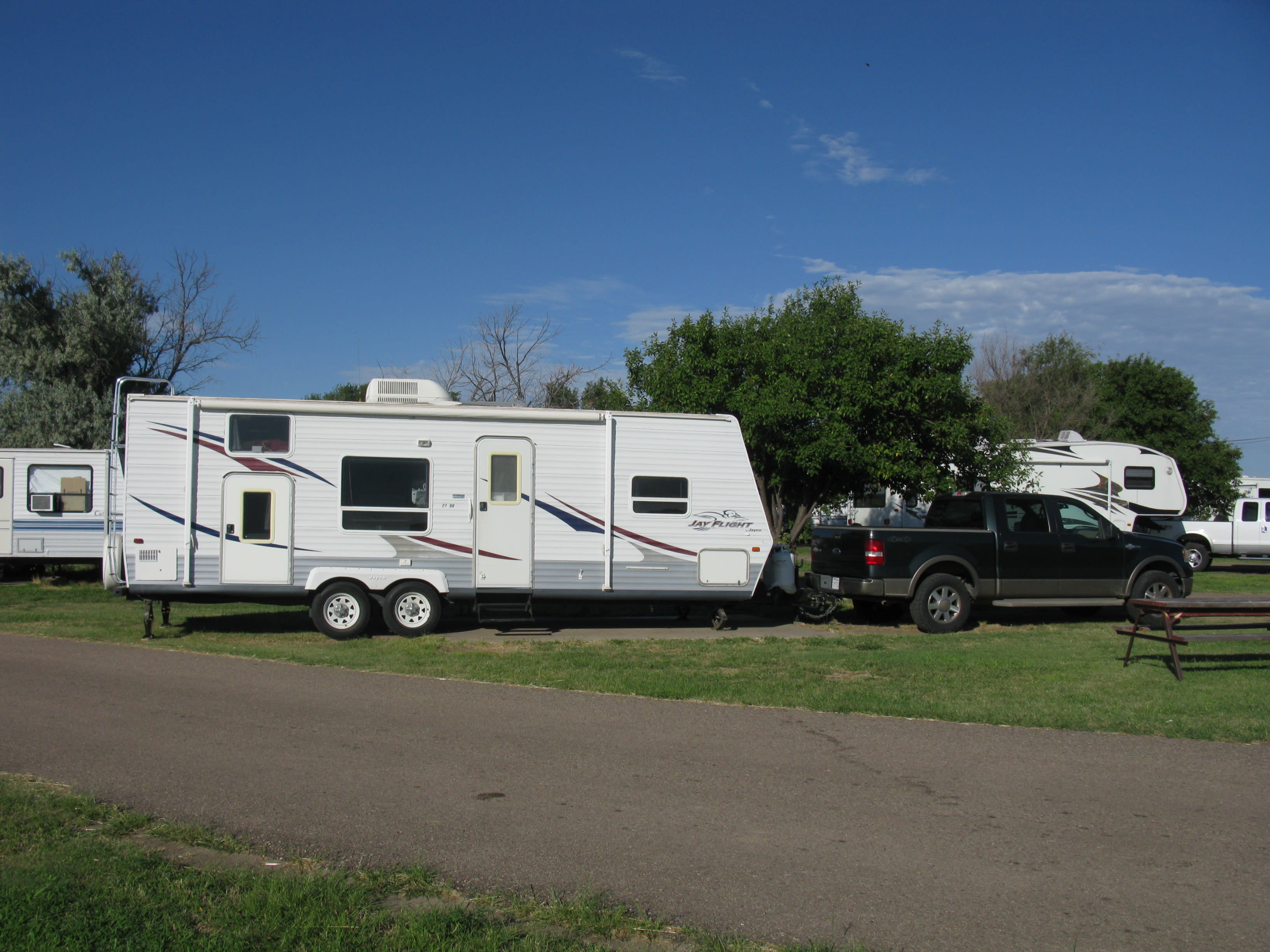 After dinner we headed just across the street to the closest campground; the Mid-America Camp Inn to spend a night. It was a bit run-down with many full-time residents, however, it was convenient to the highway and would work for one night. We plugged in the electricity, turned on the air-conditioner, and went to bed. 
After a quick breakfast, it was on back on the road for our day-long driving across the state of Kansas. With all that time on my hands and it being my first time in the state, I came up with a list of 5 things that I didn't know about Kansas. Here they are in no particular order:
1. Contrary to popular belief, Kansas is NOT flat.
2. Kansas has a lot of Catholics and they advertise along the freeway
3. Because of #2, there are many cathedrals in Kansas that look like they belong in Europe
4. They grow A LOT of corn - and not much else
5. They generate a lot of wind energy
The one place that I was excited to visit was Oz Museum, located in the small town of Wamego, KS. We had to drive about 10 miles on "The Road to OZ" (otherwise known at Highway 99) to get there. 
The museum is home to over 2,000 artifacts relating to the original 1939 movie and all the variations after. Visitors follow the Yellow Brick Road to meet each of the main characters and view lots of great memorabilia. Mia was mesmerized by the hand jeweled ruby slippers, covered in over 3,500 Swarovski crystals, created by artist Jeffery Merrell to commemorate the 50th anniversary of the making of the movie. It was a fun diversion from our hours on the road.

Note: Hours for The Oz Museum are Mon-Sat 10AM - 6PM and Sunday 12PM- 6PM. Cost for museum is $8 for 13 years and older, $5 for kids aged 3-12, and toddlers 3 and under are free!
We didn't arrive in Topeka until late afternoon. Our campground for the next couple of days was located in the city-run Lake Shawnee campground. We had site 99 which was perfectly situated right on the lake. I can't even describe the heat we felt when we went to set up camp. Topeka was gripped in a heat wave and the record temperature was an unbearable 106 degrees with high humidity. Once camp was set up, we all gathered inside the trailer with the air conditioner.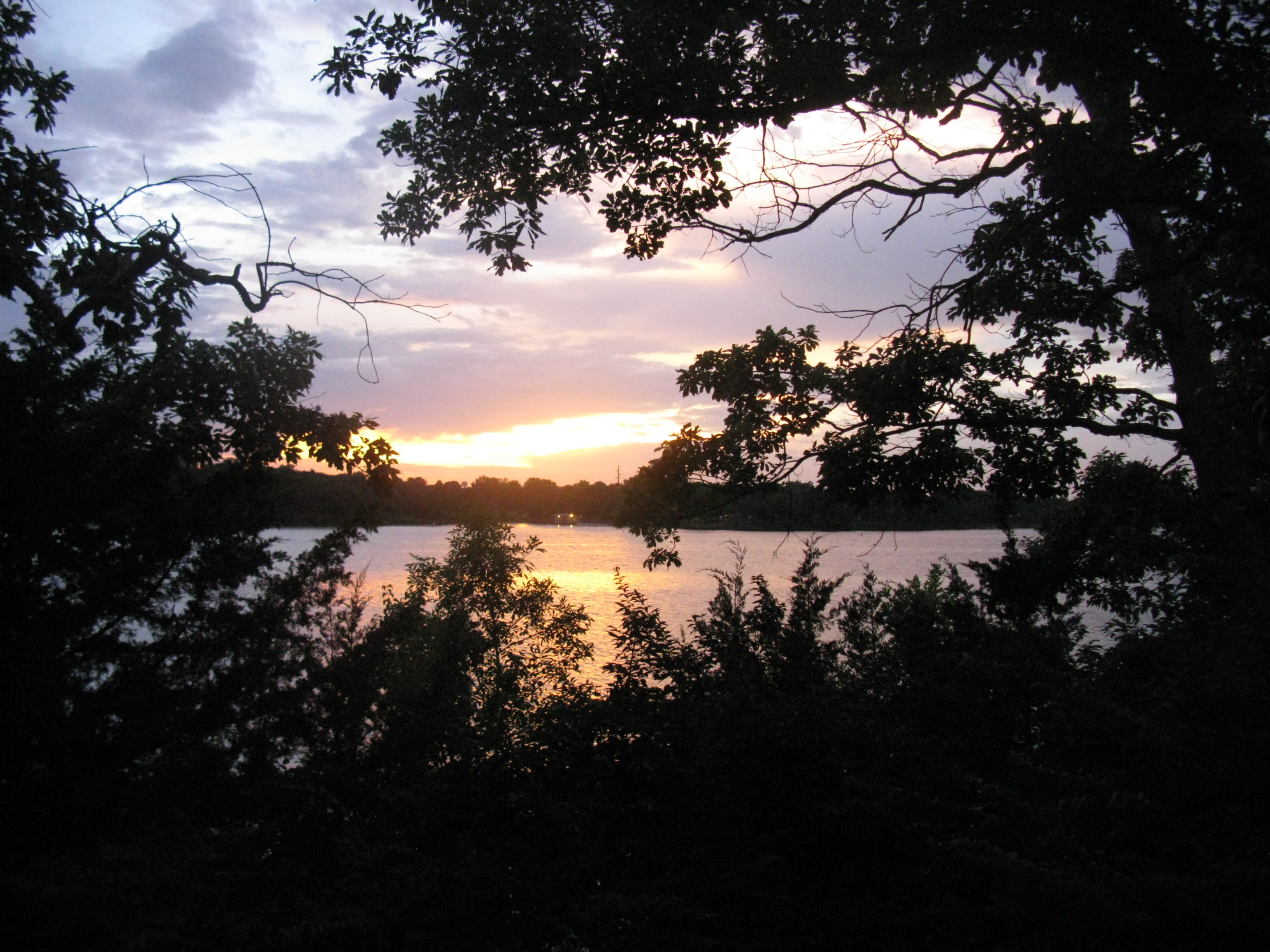 As night closed on us, I happened to look out the window and there they were - fireflies! It has been my life's dream to actually see them in person and there they were blinking on and off. We all piled out of the trailer and stood in wonder at nature's light show. To top it off, there were bats flying around too. It was worth the mosquito bites to stay outside and try to catch some fireflies!

Campground Notes: Lake Shawnee Campground is the perfect family campground in Topeka, KS. There are many campsites located on the lake. You have to call the park for reservations so make sure to request a lake-side site - We loved Site #99 which was close to park and bath/shower room. For $20/night the sites include water and electric with a dump station within the park. Shower room was air-conditioned, but not very private. Activities in the park include multiple playgrounds, swim beach with water slide, marina, all types of water sports, fishing and lots of grassy areas to run around.
When we woke up the next day the heat persisted. None of us really wanted to go out exploring. We decided that we would go for a BBQ lunch then visit the Children's Discovery Museum. The restaurant we chose was closed on weekends so we went for choice #2 - The Southern Star Café, located in a nondescript aging strip mall. The décor was plain and worn, however, the food was delicious! I had the Beef Brisket Sandwich with a side of delicious mac-n-cheese and creamy coleslaw.

Note: The Southern Star Cafe is located at 4900 Topeka Blvd in Topeka, KS. They are open Monday-Saturday from 11AM-8PM and closed Sundays. This family owned restaurant specializes in BBQ and other Southern favorites.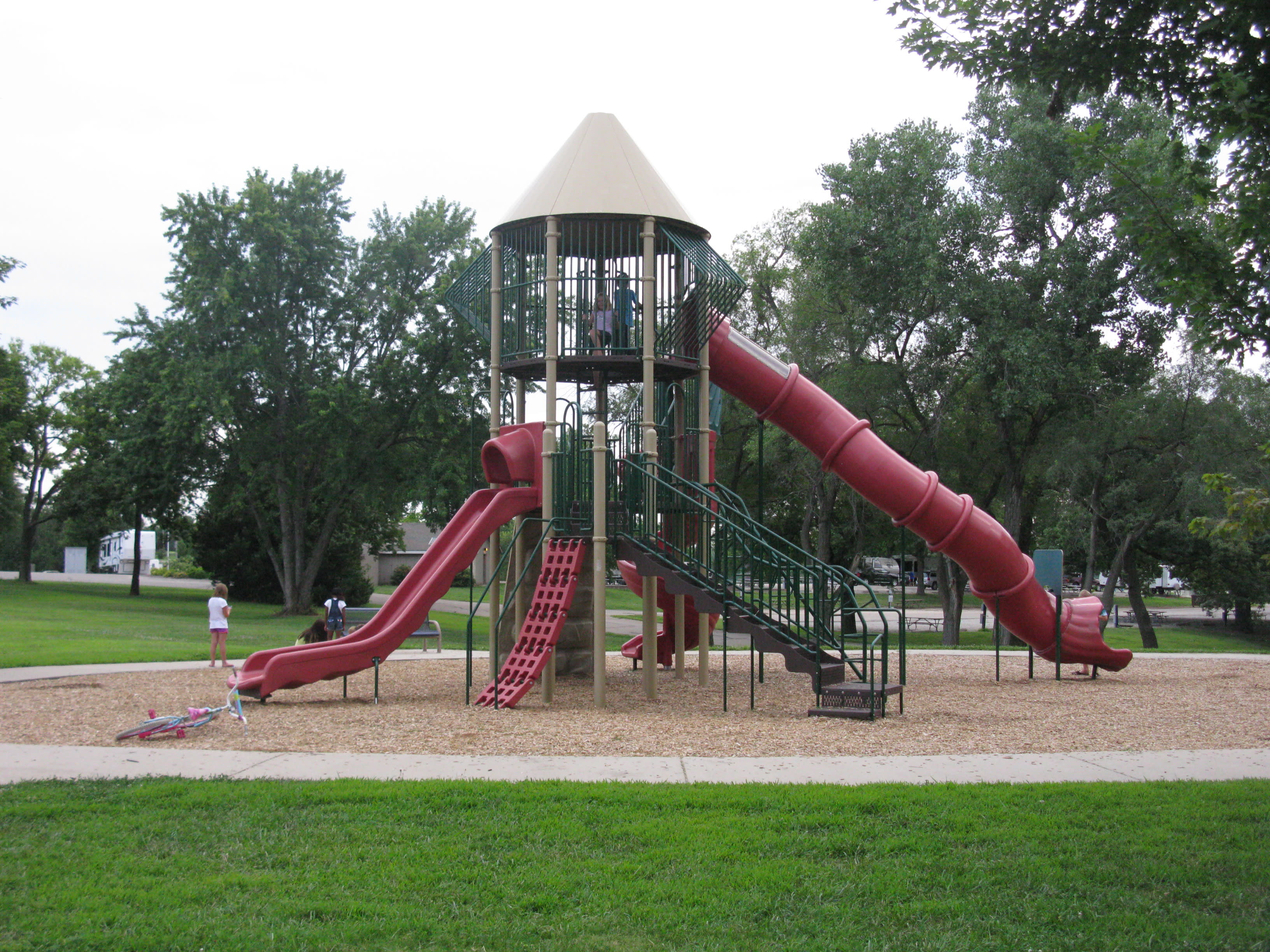 At lunch we decided that we would skip the museum as the heat and humidity drained our enthusiasm. After a quick stop for gas, we headed back to our trailer and air conditioning. Right after we returned there was a brief rain shower which did help a bit with the heat. 
After dinner, the kids talked me into watching them at the playground while we waited for dusk. Then, we all enjoyed another spectacular light show put on by the fireflies. The kids actually caught a few this time!

Next stop on our 2015 RV Adventure? Lake of the Ozarks in Missouri.

Destination Note: If we had been up to exploring Topeka, we would have also visited Old Prairie Town at Ward-Meade Park and the Children's Discovery Museum. If we had been there during the week, we would also have visited the Topeka Capitol building. If you have older kids, the Brown vs. Board of Education National Historic site is also located here.