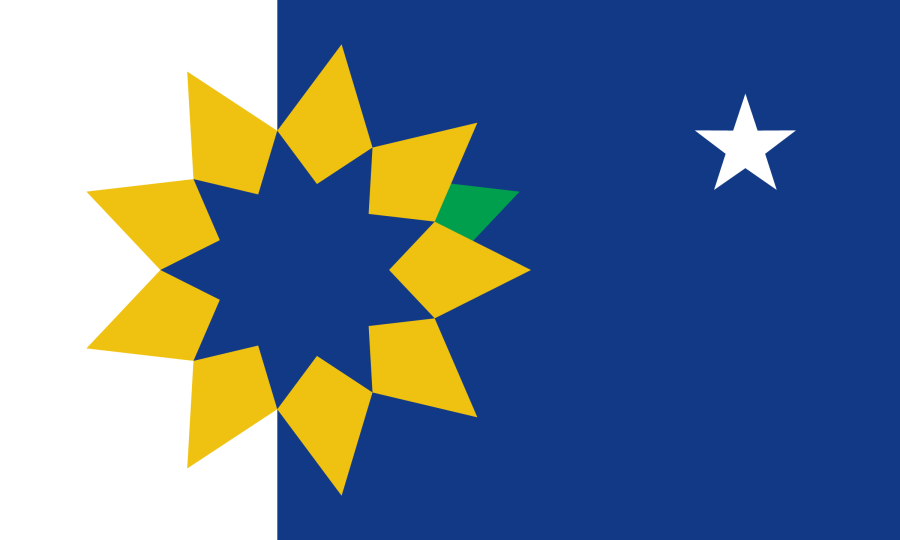 A panel of 23 members of the National American Vexillological Association (NAVA), all interested in the study of Vexillography (the design of flags), recently rated the design of the new Topeka city flag. On a scale of 0 to 10, the Topeka flag averaged 7.8, a high score among city flag designs.  In NAVA's 2004 survey of 150 American city flags, respondents rated only 12 designs higher than Topeka's score.
The Topeka flag was evaluated at the request of the Greater Topeka Partnership.  In addition to a rating, comments about the flag were gathered from the panel members.
One enthusiastic judge wrote: "…one of the loveliest and actually joyous flags I've seen in a long time."  Another said, "This is an excellent design destined to capture the imagination of Topeka and the rest of the world."  Others described it as "bold," "simple," "crisp" and "wonderful."
Ted Kaye, one of the judges and the compiler of NAVA's flag-design guidebook Good Flag, Bad Flag, called it "a distinctive and recognizable design combining state symbolism (the sunflower) with a geographic locator for the capital star—making it a map of Kansas as well."
"This is outstanding news," said Matt Pivarnik, President of the Greater Topeka Partnership. "Many months of thoughtful consideration and hard work went into this flag design, and it is fitting that experts should take notice of its excellence."
# # #
If you would like more information about this topic, please contact Bob Ross at 785.215.8362 or Bob.Ross@TopekaPartnership.com.