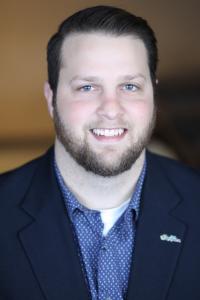 GO Topeka announced two new leaders focused on business retention and talent attraction. Trina Goss and Rhett Flood have assumed the roles of Director of Business & Talent Initiatives and Executive Director of Forge Young Talent, respectively. Goss and Flood previously held positions within the Greater Topeka Partnership.
"As Topeka continues to grow, attracting and maintaining the best talent, and serving our existing businesses is more important than ever. Trina and Rhett were chosen for the outstanding skills and leadership abilities they've demonstrated within their careers," said Molly Howey, president of GO Topeka. "Both were instrumental in supporting GO Topeka initiatives that foster growth and development in our community, such as the Choose Topeka talent incentives and Forge Young Talent. I'm excited to see them both advance within their new positions and continue to make great contributions to the growth of our community."
Flood joined the Greater Topeka Partnership in 2017 as a marketing account manager, providing direct support to GO Topeka's Business Attraction and Retention, Innovation and Entrepreneurship, and Minority & Women Business Development programs. He grew up Independence, Kansas. A graduate of Wichita State University, Flood holds a degree in Integrated Marketing Communication.
"I'm thrilled to take up the helm of leadership for Forge Young Talent. Alongside our fantastic volunteer team, I will endeavor to help young talent find their community, advance their careers and develop themselves here in Topeka & Shawnee County," said Rhett Flood, executive director of Forge Young Talent.
Goss was born and raised in Eudora, Kansas and attended Oklahoma Christian University. She moved to Topeka in 2009, has grown to love the community and is proud to call it home. Her professional background includes 18 years of business management and administration experience, including four years as a small business owner. Goss previously served as executive assistant to GO Topeka and the Greater Topeka Partnership since 2020. 
"GO Topeka is really driving a lot of the momentum we're seeing take place in Topeka & Shawnee County," said Trina Goss, director of business & talent initiatives, GO Topeka. "I'm elated to have the opportunity to work with the GO team to address important areas of growth, such as business retention and attraction as well as talent recruitment."
ABOUT GO TOPEKA
GO Topeka creates county-wide economic success for all companies and citizens through implementation of an aggressive economic development strategy that capitalizes on the unique strengths of the community. Visit https://www.gotopeka.com/
# # #
If you would like more information about this topic, please contact Bob Ross at Bob.Ross@TopekaPartnership.com.