April 13, 2015 (Topeka, Kan.) - Experience the beauty of the Ted Ensley Gardens at Lake Shawnee in full bloom. To coincide with the 7th annual Tulip Time Festival, Visit Topeka Inc., along with Shawnee County Parks and Recreation and Friends of the Ted Enlsey Gardens are hosting the inaugural Kansas Tulip Time Festival at the Lake from 10 a.m. - 6 p.m. on Sunday, April 19.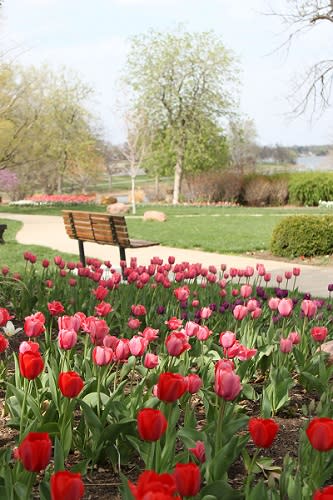 "We are very excited to celebrate one of Topeka's most beautiful events in a new way," said Rosa Cavazos, Tourism Development Manager at Visit Topeka Inc. "Every spring, thousands of people enjoy the tulips at Ted Ensley Gardens, Old Prairie Town at Ward-Meade Historic Site and Gage Park, and many people come from other cities to see the flowers. I want to invite everyone to attend the Kansas Tulip Time Festival at the Lake and celebrate spring in Topeka on Sunday."

Not only will attendees be able to enjoy food and walk amongst the flowers - several car clubs will be motoring in for a car show, and a hot air balloon will be on display as well. Shop around at many of the vendors in attendance including Scentsy, Origami Owl, Damsel in Defense and Posh & Petite Bow-tique. Afterwards, be sure to stop by the Garden House to see artwork of the tulips on display and available for purchase.

Entertainment will be provided by the Topeka High drumline, with performances from dancers at Beverly Bernardi Post Dance Topeka.

A $5 donation is suggested to attend and will help fund the purchasing of new tulips for next year's Tulip Time Festival.

Visit Topeka Inc. is still accepting vendors for this event. If interested, please contact Rosa Cavazos at Rosa@VisitTopeka.com or by calling 785-234-1030.
---
Contact: Rosa Cavazos
Tourism Development Manager, Visit Topeka Inc.
785-234-1030