CRB-designed Topeka facility honored with Food Engineering magazine award
As published by PR Web
Mars Chocolate North America has been honored with Food Engineering's 'Plant of the Year' for its state-of-the-art facility in Topeka, Kansas. The award recognizes the most innovative new food or beverage plant built in North America. CRB was a key member of the project team, ensuring successful design and construction for the LEED® Gold certified facility.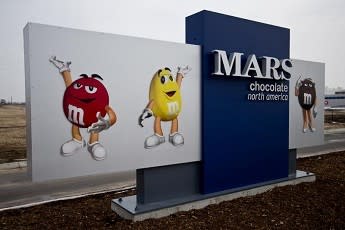 "Each year, the competition is fierce, but this year, it was even more significant," said Food Engineering Editor in Chief Joyce Fassl. According to Fassl, some of the reasons the judges gave for the Mars decision included: just-in-time manufacturing; level of food safety innovation and clean design technology; emphasis on lean manufacturing; high level of automation; and LEED® Gold certification.

Beginning in 2010, CRB worked closely with Mars Chocolate North America to progress the project from initial concept through detailed design and construction support. The firm was responsible for all design disciplines, including civil, structural and architectural. Mars officially opened the doors of the 500,000 sq. ft., greenfield, confectionery facility on March 27, 2014.

"CRB is proud to have been part of this multiple-award-winning project," said Jeff Matis, PE, CRB Project Manager. "We're committed to our clients' success and working with them to meet their goals. This project is a testament to our hardworking team and our ability to deliver innovative design. We're honored that Mars chose to partner with CRB."
The project is featured in the April 2015 issue of Food Engineering magazine. The Mars Chocolate North America and CRB project team will accept the award at the Food Automation & Manufacturing Conference on April 14 in Clearwater Beach, Florida.

About CRB
CRB is a full-service network of engineers, architects, constructors and consultants assisting advanced technology organizations in the planning, design, construction and operational support of facilities across the globe. With world-class technical expertise and an empowered team of 700-plus, we relentlessly pursue and deliver the right solutions to our clients' technical challenges, no matter how big or small. CRB has 14 production offices located in: Kansas City, Mo.; St. Louis, Mo.; Raleigh, N.C.; Philadelphia, Pa.; San Diego, Calif.; San Jose, Calif.; Los Angeles, Calif.; San Juan, Puerto Rico; Kalamazoo, Mich.; Dallas, Texas; Boston, Mass., Boulder, Colo., Baltimore, Md., and Atlanta, Ga.

For more information, please visit http://www.crbusa.com. 
About Mars, Incorporated
In 1911, Frank C. Mars made the first Mars candies in his Tacoma, Washington kitchen and established Mars' first roots as a confectionery company. In the 1920s, Forrest E. Mars, Sr. joined his father in business and together they launched the MILKY WAY® bar. In 1932, Forrest, Sr. moved to the United Kingdom with a dream of building a business based on the objective of creating a "mutuality of benefits for all stakeholders" - this objective serves as the foundation of Mars, Incorporated today. Based in McLean, Virginia, Mars has net sales of more than $33 billion, six business segments including Petcare, Chocolate, Wrigley, Food, Drinks, Symbioscience, and more than 75,000 Associates worldwide that are putting its Principles into action to make a difference for people and the planet through its performance.

Mars brands include: Petcare - PEDIGREE®, ROYAL CANIN®, WHISKAS®, BANFIELD® Pet Hospital, CESAR®, SHEBA®, DREAMIES® and NUTRO®; Chocolate - M&M'S®, SNICKERS®, DOVE®, GALAXY®, MARS®, MILKY WAY® and TWIX®; Wrigley - DOUBLEMINT®, EXTRA®, ORBIT® and 5TM chewing gums, SKITTLES® and STARBURST® candies, and ALTOIDS® AND LIFESAVERS® mints. Food - UNCLE BEN'S®, DOLMIO®, EBLY®, MASTERFOODS®, SEEDS OF CHANGE® and ROYCO®; Drinks - ALTERRA COFFEE ROASTERSTM, THE BRIGHT TEA COMPANYTM, KLIX® and FLAVIA®; Symbioscience - COCOAVIA® and WISDOM PANEL®.

For more information, please visit http://www.mars.com.