Written by Justin Kendall
As published in The Pitch 
John Dean isn't drinking a beer. Dean, the 48-year-old brewmaster and co-owner of Topeka's Blind Tiger Brewery & Restaurant, sips tea from a plastic cup. But there's no missing him: Dean has met me at a table in the compoundlike brewery and restaurant (at 417 Southwest 37th Street, in Topeka), having chosen for us a table surrounded by oversized photos of himself accepting various medals for his brews.
"We started stacking up these pictures of winning medals," Dean says in his thick Kansas drawl. "I've been here 15 years now, and it's all of the faces of John: heavy John, bearded John, longhaired John."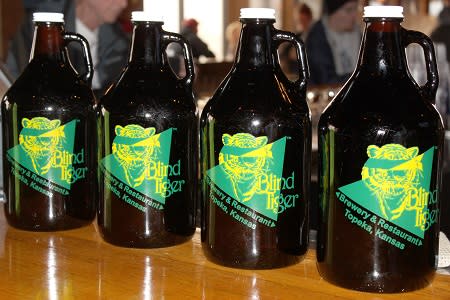 Today, it's bearded John - the version of Dean who was honored at the 2014 Brewers Association World Beer Cup as Champion Brewery and Brewmaster, Large Brewpub.
"That was fun," Dean says.
For a man sitting amid photos of his own face, this is a modest way to characterize an achievement that many good brewers go their whole careers without. And it's far from a onetime honor. Dean and Blind Tiger head brewer Alvaro Canizales also claimed a gold medal last year for their Munich Dunkles (European-Style Dark/Münchner Dunkel) and a silver for their Maibock (German-Style Heller Bock/Maibock) at the olympics of beer competitions, and the brewery has been a regular in the Great American Beer Festival.
"Those are the two competitions that we subscribe to, that we try to compete in," Dean says, "compete and lose and sometimes win in."
In 2001, the medals started rolling in, with a silver for Smokey the Beer, followed by a silver for Tailwind Rye and a gold for Raw Wheat in 2002. In 2004, Cup of Mud Java Porter got the gold; in 2006, Blind Tiger's Maibock did it again. So did 2007's Smokey the Beer, 2009's County Seat Wheat, 2012's Capital City Kölsch and 2014's Basil Beer.
"We'd done one similar to it the year before and just loved drinking it so much," Dean says of Basil. "We grow all of the basil here. Basil grows awesome in Kansas, so why not?"
For some breweries, Kansas itself would be why not. The Sunflower State has kept some notoriously restrictive liquor laws on the books at a time when beer is booming in plenty of other places, including in Missouri. But Blind Tiger is making world-class beers in Kansas' capital city, and making converts of drinkers around the country - beer nerds who go wide-eyed when they find out where this stuff comes from.
"People order the beer, smell it, taste it, and they stop and turn around and read our sign," Dean says. "And I'm like, 'Yeah, Kansas.' And they're like, 'Kansas?'"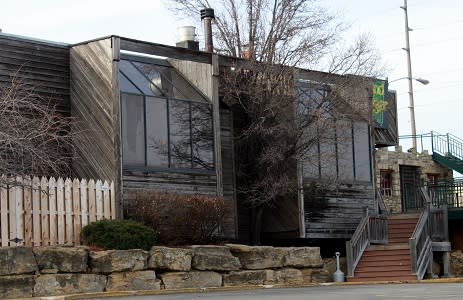 He has a good answer.
"I'm like, 'Yeah, no distractions,'" Dean says. "We make good beer because there's no distractions. It's not like we're busy skiing or waterskiing or all of this other stuff. Mountain climbing." He laughs. "So you can really focus on making beer. It's our passion."
He goes on: "We have our regulars and our folks who drink beer here, but mostly we're more recognizable in Kansas City and Denver and San Diego, amongst other breweries and stuff, than we are right here in Topeka. This is where you come back to be humbled and get back to work."
Brewing has been Dean's passion since the early 1990s, when he started making beer at home. He learned to brew by reading books, but he credits his palate with refining his product. He recalls a 2007 trip to Germany, where he realized that he'd been brewing Kölsch all wrong.
"When I got there and tasted that, I was like, 'Whoa,' " he says. "So I had to come back and change the recipe and immediately got a bronze that year, and the next year got the gold.
"If I can taste it, I can get my head around it and I can brew it," he adds. "The whole thing about getting the beer on your tongue - that educates me more than all the reading that I can do."
KC Bier Co. founder Steve Holle was on the 2007 Germany trip and brewery tour with Dean and other brewers. Dean has mastered the nuances of making authentic-tasting German beers, Holle says.
"He makes great beer," Holle says. "He's very thoughtful about how he does things."
Meaning that Dean is always refining his recipes."There's some tweaking that a brewer has to do because the ingredients that we use is a crop, and it changes every year," Dean says. "So everybody has to tweak it a little bit, but as far as changing it, I'm always messing with them because I'm looking for perfection. Occasionally, I'll go, 'I'm done with that,' and I can leave that one alone. Others, I'm always messing with them, just trying to get it a little bit better. And several times they've gone from bronze or silver to gold."
And when a beer he has fussed over strikes gold? "Usually, there's not much left to do," he says.
When he first started applying his sensory skills to his newfound book knowledge, though, jobs for even experienced brewers were scarce. Twenty years ago, he bugged everyone he could for a job in the industry, even washing kegs. Eventually, he won over the brewers at the now-shuttered Topeka outpost of Barley's Brewhaus.
"I kept taking them my homebrew, and they were like, 'Whoa, you really know how to make beer,'" he says. "When they had an opening, they called me back and said, 'Come on in.'"
One of those Barley's brewers was Keith Thompson, the longtime brewmaster of McCoy's and the upcoming Brewery Emperial. Thompson remembers Dean coming into the brewpub wearing a John Deere hat and toting along his homebrews, including Cascade Delight.
"He's just a student of brewing, and probably one of the best practical brewers that I know," Thompson says. "We talk about that a lot - taking a practical approach to something and then honing it in to make something great. He's always been one to investigate ingredients and different styles and really pay attention to what's going on in the industry - technically, scientifically and relevantly.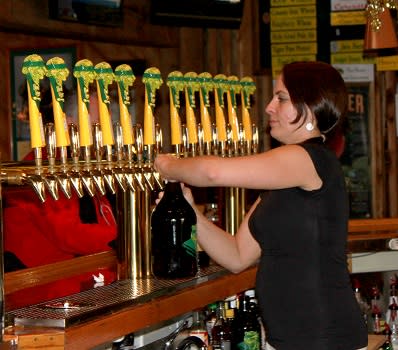 "He has a great palate," he adds.
When Barley's closed, Dean moseyed over to the High Noon Saloon in Leavenworth.
"I say I did 18 months up in Leavenworth," he says.
While in Leavenworth, Dean convinced the owners to invest in a proper mashing vessel and become an all-grain brewery.
"They did, and their beer got better," Thompson says. "And he was able to influence the next brewery after he left and kind of leave a nice legacy there to follow. He's that kind of guy who is the teacher as well as the student all of the time."
The High Noon Saloon is where Dean won his first medal, a gold for his Oregon Trail Raspberry Wheat, at the GABF in 1998.
Then Blind Tiger came calling.
Blind Tiger opened in May 1995. Dean credits his business partner, Jay Ives, with reviving the address and bringing his passion project to life. "Every scrap of money that we make goes into new tanks, repairing [this] old building," Dean says. "I've got to sell a lot of beer across the bar to pay the HVAC guys to be on the roof fixing all of these air conditioners all the time."Dean had grown up going with his parents to previous incarnations of what would become the Blind Tiger restaurant. The 100-year-old structure was a farmhouse originally, before becoming a series of bars and rock clubs (Ted Nugent and Kansas played there), and even a disco hot spot. Then it was a steakhouse; Dean can still point to where the lobster tanks and the salad bar, with its wheel of cheddar, once stood. It's where Fermenter No. 1 is now.
But this is what he'd always wanted to do: Brew beer in his hometown.
"I looked around, and Topeka had all of the positions filled but they didn't really have a brewer and great beer," Dean tells me. "So I guess that's what I'll be for my community. I'll be a brewer. I'm going to stay right here until I retire."
That's a noble calling, I tell him.
"Selfish," Dean fires back. "I brew the beer I drink, and I sell what's left."Dean is holding back a little extra for the 12th annual Parkville Microbrew Fest at English Landing Park Saturday, April 25.
"We've been with them since the very first one," Dean says.
For now, Parkville is the closest that Blind Tiger gets to serving a beer-thirsty Kansas City. But Dean hopes to change the direction of Blind Tiger traffic along Interstate 70.
Dean and Ives have long debated where they should send their beer next, beyond an existing limited distribution in Topeka, Wichita and Lawrence. Ives has pushed for Manhattan, Kansas. Dean argues that Blind Tiger belongs in KC.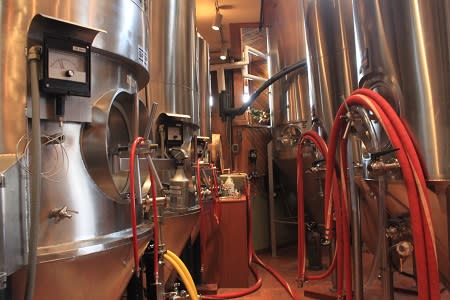 "I was like, 'Listen, I don't have a single tie to Manhattan. I've been working every festival in Kansas City for 20 years, and they keep asking, "When are we going to get some beer?" So I'm going that direction,'" Dean says. "And he's like, 'They're so big, they could suck us dry. What are we going to do?'"
Dean tells his partner not to worry about that. "Honestly, there's so much beer over there right now, you're going to be one tap at Flying Saucer to 100 other taps. How are they going to suck you dry?"
Dean's biggest concern isn't quantity. It's quality.
"I'm a stickler about that," he says. "We buy the best ingredients that we can buy, and I want the beer to taste right no matter what. I'd just die if something didn't taste right somewhere. It's very personal."
Until then, Blind Tiger's beer is worth the drive west. The sprawling complex is a living love letter to beer, with tanks scattered throughout the restaurant. One vessel towers over a dining room like a missile in a silo.
"It's very hard to make beer here," Dean admits. "This place, the overhead is sky-high. So what we've been doing is just slowly growing, slowly growing, and then hopefully we can take that money and enough interest to enough places that we can then go build a place next door."
The plan: to build a neighboring microbrewery for distribution. Dean says it has gone as far as hiring architects to sketch plans. Blind Tiger is already in the midst of an expansion to put 12 more vessels into a neighboring storage building, Dean says. Right now, the building is used to store malt and to house the brewery's keg washer.
"Now we're going to build an icehouse basically as big as that bar over there, and we'll put 12 15-barrel vessels in it and run piping over there, and we'll be able to expand our capacity," he says. "A lot of these beers take a lot of aging time, six weeks on these Germanic styles, so if I could brew that beer and then send it there after primary [fermentation] and let it condition, I could be fermenting another one in this tank rather than waiting almost two months to turn it over."
If Blind Tiger's capacity - about 1,300 barrels of beer annually on its 14-barrel system - can keep up with demand, distribution gets closer to becoming a reality. First, Dean wants to be able to take care of the brewery's taproom.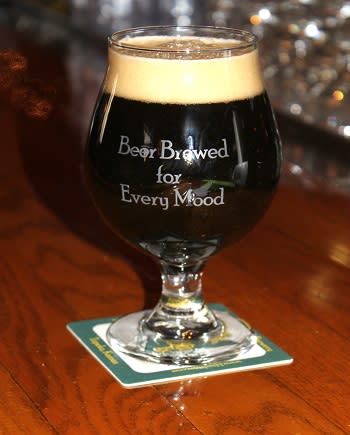 Dean has managed to keep distributors at bay because he doesn't have a lot of beer to give them. "We've installed two big 30-barrel vessels, and we end up selling it across the bar," he says, "and I still don't have any to give them." Any distribution at this point would just be, he says, "advertising.""I want to saturate what I can do here," he says. "What I have left that I'm not drinking, then I can distribute, and we've opened that up a little bit by going into Lawrence. They dig Top Gun IPA and Java Porter and stuff over there. So we've just opened that up."
"If I can get my beer in somebody's mouth, they're going to want to come here and try 15 other beers," he says. "My slogan is 'beer brewed for every mood.'"
That is, if Dean is in the mood to leave some for the rest of us.