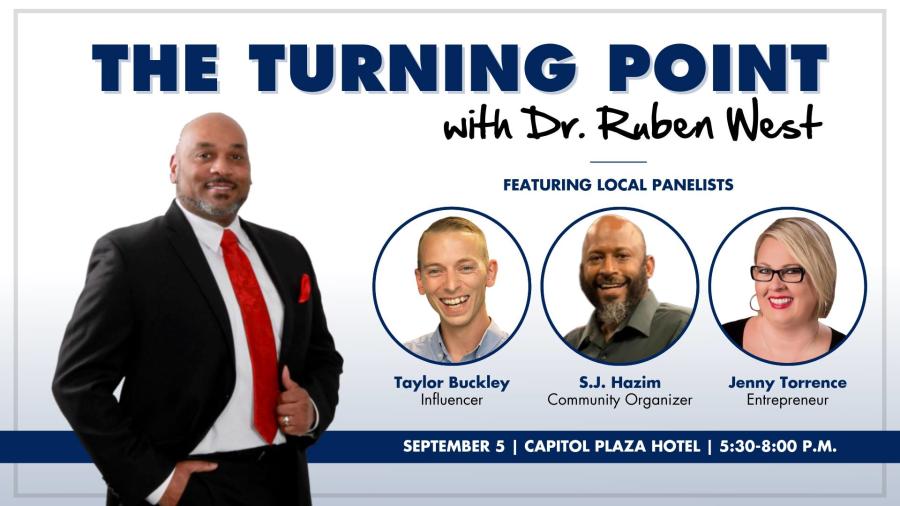 On Thursday, September 5 the Greater Topeka Partnership will host The Turning Point, a Community Living Room Conversation about increasing community pride and engagement in Topeka & Shawnee County. The event will be held at the Capitol Plaza Hotel's Maner Conference Center, 5:30 – 8 p.m.
Dr. Ruben West is the guest speaker and will act as facilitator for the event. West is a native Topekan who has achieved national recognition as a speaker, author and trainer, having received a President's Lifetime Achievement Award from President Barak Obama in 2016. The Turning Point will culminate with a panel discussion comprised of local influencers. Each panelist will speak to the "I am Topeka – Community Pride" voice in Topeka.
Panelists include:
S.J. Hazim – Local organizer and founder of Project Forward
Jenny Torrence – Local entrepreneur, owner of Pinkadilly, Serendipity and NOTO Burrito, and creator/promoter of the "I am Topeka" trend
Taylor Buckley – Founder of the "Topeka Positive Experience" Facebook page
"When you change the way you view and speak about Topeka, you change the opinion of everyone you speak with about Topeka." says Taylor Buckley. "To me, 'I am Topeka' brings a personal touch to living here, and it identifies us all to a common goal – to make Topeka better, daily."
According to SJ Hazim, Topeka is already undergoing a transformation. "Topeka is at a place where I've never seen it before." says Hazim. "Leaderships ears are open for new ideas, and hometown pride is higher than I've ever seen it. Anyone with the heart and will can plug in and make magnificent things happen. #Payit4word."
This event is free and open to the public. A light dinner will be served.
# # #
If you would like more information about this topic, please contact Bob Ross at 785.234.2644 or Bob.Ross@TopekaPartnership.com.
Don't wait! Register for The Turning Point today!