As published by Livability 
In our annual overall Best Places to Live list, many of the cities are a little on the pricey side. We get it. Not everyone can afford to live in a place like Palo Alto or Berkeley. They're great places but not for everyone. Therefore, we felt it was important to look at places that are more affordable. What follows isn't merely a list of the cheapest places to live in America. We didn't set out to find cities where you can live on the bare minimum. Instead, these 10 cities are less expensive than most but still great places to live by all of our usual metrics.

To find these cities, we looked at cost of living across a number of categories such health care, food, housing, and transportation using data from C2ER and the U.S. Department of Housing and Urban Development. We also examined the tax climate in the state. Then we factored in our own unique LivScore. We selected one city per state to give us some geographic balance because much of the cost-of-living data is calculated at the county level.

Sure, there are some cheaper places to live. But these are cities where most people can afford to live and would still want to live.
10. Cedar Rapids, IA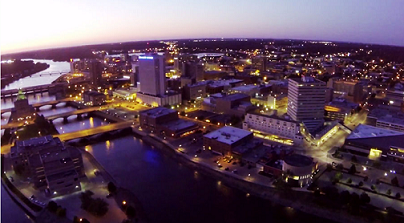 A high concentration of public libraries, museums, parks and college graduates, below-average cost of living, and a healthy economy make Cedar Rapids, IA one of the Best Affordable Places to Live. Inexpensive housing is a big selling point for Cedar Rapids. The median home value in Cedar Rapids is $133,900, which is nearly $44,000 below the national median. Grocery, transportation and utility prices are also lower than they are in most cities.
Things to Do in Cedar Rapids
The second-largest city in Iowa, Cedar Rapids is considered the cultural center of the eastern portion of the state. Its downtown is filled with restaurants, shops, performing arts venues and historic attractions. Paramount Theatre hosts a variety of live performances including concerts and musicals. The Cedar Rapids Museum of Art houses the world's largest collection of work by artist Grant Wood. The museum offers free admission from 4 p.m. to 8 p.m. every Thursday, and children 18 and under are always free. Families have no trouble finding cheap and often free things to do in Cedar Rapids. The city manages over 96 parks and trails, which provide more than 3,430 acres of land for recreational use.
While corn and grain processing roots the economy in Cedar Rapids, Rockwell Collins, a leading aircraft parts manufacturer, is the city's top employer. The city's low unemployment rate (3.9 percent at the end of 2014) is a testament to the many job opportunities Cedar Rapids offers. 
9. Topeka, KS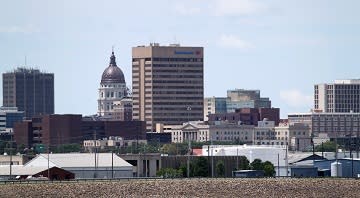 Low housing costs coupled with low unemployment and an abundance of entertainment options helped Topeka, KS, land a spot on our list of the Best Affordable Places to Live. The Kansas capital provides residents with first-class attractions, art galleries and performing arts venues, expansive parks, nature trails and excellent schools. All this for a relatively low cost of living, more than 7 percent under the national average, according to The Council for Community and Economic Research.

Home prices in Topeka rank among the lowest on this list and come in about 18 percent below what you'll find in most U.S. cities. The median home value in Topeka is $95,600, and most residents spend less than 27 percent of their incomes on housing costs.

Westar Energy, Collective Brands, Hill's Pet Nutrition and Goodyear form the foundation of Topeka's economy. The city's 4.3 percent unemployment rate draws in workers from all walks of life. Combine great employment opportunities with an affordable tax structure, and Topeka looks highly attractive to businesses.

Things to Do in Topeka
Beyond the usual fast-food chains are an assortment of independent restaurants, coffee shops and cafés in Topeka offering cheap meals. Some of the local favorites include The Shack Bar & Grill, Lonnie Q's BBQ, Blackbird Espresso Bar and PT's at College Hill. Attractions in Topeka include the Topeka Performing Arts Center, the Great Mural Wall of Topeka and historic Ward-Meade Park. City-owned parks, aquatic centers and community centers provide low-cost recreation options. Among the most popular parks is Gage Park, which includes the Topeka Zoo, a carousel and gardens. Many families utilize the facilities surrounding Lake Shawnee, which include a campground, marina, beach and gardens. 
8.  Nampa, ID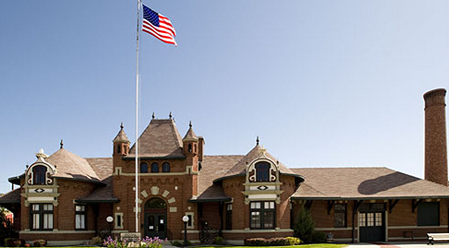 Located in the heart of the Treasure Valley, Nampa, ID, offers plenty to those looking for an affordable place to live and work. The cost of living in Nampa is nearly 5 percent under the national average. Cheap housing and utility costs (both about 22 percent below what you'll find in most other cities) draw many young professionals and families to Nampa. Yet, there's no skimping when it comes to things to do in Nampa, the second-largest city in Idaho and the No. 8 city on our list of the Best Affordable Places to Live.

Things to Do in Nampa
The range of entertainment options and jobs is as vast as the natural attractions that draw thousands of tourists to the area each year for camping, skiing, hiking, and river adventures. Frugal fun lovers will find many ways to stretch their dollars in Nampa. Vineyards and wineries near Nampa provide romantic excursions throughout the year. Most can be reached on less than a half tank of gas. It's hard to beat the $3 movies at Northern Lights Cinema Grill for a cheap date. The city maintains 25 parks, two golf courses and a pair of disc golf courses. Downtown Nampa is loaded with independent restaurants, shops and galleries. The Ford Idaho Center hosts concerts, rodeos and sporting events throughout the year. 
7. Rochester, MN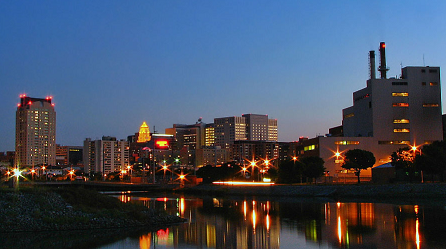 Home to the Mayo Clinic, the largest nonprofit medical practice in the world, Rochester, MN, provides an appealing, artistic atmosphere at a considerably affordable price point. The consideration? Well, the median household income in Rochester is $60,795, which puts most residents in easy reach of the average-priced home here and makes it one of the Best Affordable Places to Live. Most Rochester residents spend 26 percent of their monthly income on housing costs. That's below what many mortgage experts recommend. Transportation costs in Rochester are also low, while other living expenses come in at or slightly above what they are in most major cities.

Things to Do in Rochester
Among the best restaurants in Rochester is a place called Cheap Charlie's, but don't let the name fool you. Charlie's is known for serving generous portions of comfort food. Festivals and special events, art galleries, theater troupes, and performances by the Rochester Symphony Orchestra & Chorale help keep residents highly entertained without emptying pockets. The city's Park Division manages more than 100 parks, totaling over 3,500 acres, giving the people who live here many options for staying active and getting outdoors.

Employing more than 30,000 people, the Mayo Clinic anchors the economy in Rochester, but companies like IBM, supermarket chain Hy-Vee, and Crenlo, a maker of cabs and enclosures, provide hundreds of jobs. 
6. Fort Wayne, IN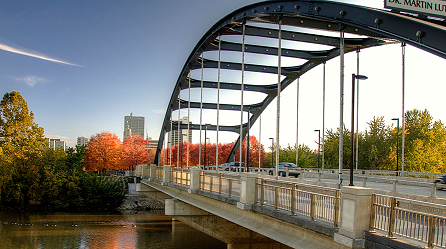 Low living expenses, including below-average housing, transportation and grocery costs, were more than enough to get us interested in Fort Wayne, IN. But what solidified their spot on our list of the Best Affordable Places to Live was the city's vast array of entertainment options and the high quality of life residents enjoy. Fort Wayne's recreational amenities, arts and cultural offerings, housing options, and vibrant downtown add up to one of the best values in the country.

The typical Fort Wayne resident spends just 24 percent of their monthly income on housing costs, which is 4 percent under what most mortgage experts suggest. The median home value is $99,900, while the median household income surpasses $41,000.

Things to Do in Fort Wayne
Three minor league sports teams, 15 museums and art galleries, 86 public parks, a zoo, orchestra, annual events like the Johnny Appleseed Festival and Three Rivers Festival, and Indiana University-Purdue University Fort Wayne give residents plenty of things to do. Looking for a great sports deal? Turn to the Mad Ants, Fort Wayne's NBA D-League team where spectators can watch up-and-coming basketball stars for as little as $11 a game. (Sorry, we had to mention the Mad Ants.)

General Motors, Lincoln Financial Group, Parkview Health System and Lutheran Health Network are among the leading job providers in Fort Wayne. Residents benefit from Indiana's flat-rate individual income tax rate of 3.4 percent, among the lowest in the nation among states that collect it. 
5. Appleton, WI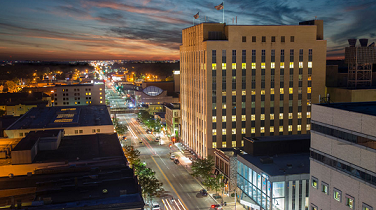 Tourists see Appleton, WI, as a unique summer vacation destination. Students at Lawrence University view the city as a great college town. Forbes named it one of the "best places for business and careers." We find Appleton to be one of the Best Affordable Places to Live.

Things to Do in Appleton
Regarded as one of the safest cities in Wisconsin, Appleton draws young professionals and families who are attracted to the city's large assortment of recreational offerings, quaint downtown and growing list of entertainment options. More than 100 restaurants, shops and bars help create a lively scene in downtown Appleton, while surrounding neighborhoods have playgrounds, parks and a growing collection of walking trails that connect to nearby cities in the Fox Cities region. Area home prices are nearly 20 percent below the national median home price. The average Appleton resident spends less than 28 percent of their monthly salaries on housing costs and about 18 percent on transportation.

Miller Electric, which makes wielding supply equipment, Armament Systems and Procedures, a producer of defensive compliance weapons, and Thrivent Financial make up part of the array of companies found in Appleton. The city enjoys a low unemployment rate, and government leaders have shown fiscal restraint while providing a host of amenities to keep residents healthy and active. Valley Transit, a network of bus lines that run by the city, gives residents a cheap alternative to driving a car in Appleton. 
4. Lansing, MI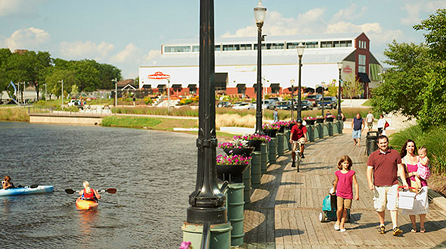 It's a good thing residents of Lansing, MI, save money on housing, groceries and other living expenses because this city offers a wealth of entertainment options. Luckily, there's great value to be found in the many things to do in Lansing, the fourth city on our list of the Best Affordable Places to Live.

The cost of living in Lansing is 8 percent below the national average, according to The Council of Community and Economic Research. With a median home value of $85,000, houses in Lansing are nearly 33 percent below what they are in most major cities. Residents also enjoy low transportation costs, typically spending less than 18 percent of their monthly salaries on car payments and gas. Living in Michigan also brings the advantage of having a flat-rate individual income tax of 4.33 percent.

Things to Do in Lansing
Home to Michigan State University, Lansing's economy is anchored by auto manufacturing, health care, insurance and education. The city provides residents with bargains when it comes to entertainment, shopping and education. With many restaurants, bars and music venues catering to the college crowd, residents can easily find great deals. Lansing City Market, which overlooks the Grand River in downtown, provides a lively setting for residents to procure farm fresh produce, artwork and crafts. Bike trails, walking paths and gardens tempt outdoor lovers to engage in the recreational activities Lansing offers. Kayakers are often seen paddling through town.
3. Lawton, OK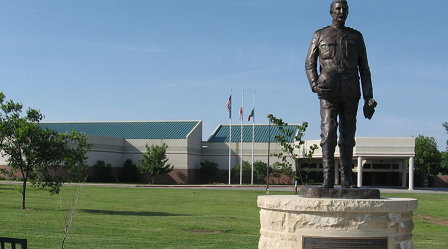 Fort Sill, a U.S. Army post originally constructed during the Indian Wars, has provided economic and population stability to Lawton, OK, for many years. But Lawton's economy has grown to include manufacturing, higher education, health care and retail. Economic gains have allowed Lawton leaders to build a nice amenities package that attracts many young professionals and families. Residents of Lawton spend 6 percent less on living expenses than most Americans, according to The Council for Community and Economic Research. Lawton's utility costs are nearly 22 percent below those in most cities. The average homeowner in Lawton spends roughly 27 percent of their monthly income on housing costs, which is lower than most mortgage experts recommend. These low costs of living combined with the high quality of life that Lawton residents enjoy makes it one of the Best Affordable Places to Live.

Things to Do in Lawton
Residents enjoy valuable natural resources including the Wichita Mountains and three lakes where boating, swimming and fishing are permitted. More than 80 parks and recreation areas provide plenty of opportunities to hike, play and relax. The Lawton Community Theatre, Museum of the Great Plains, and Leslie Powell Gallery are just some of the cultural attractions that draw visitors and keep residents entertained.  
2. Dayton, OH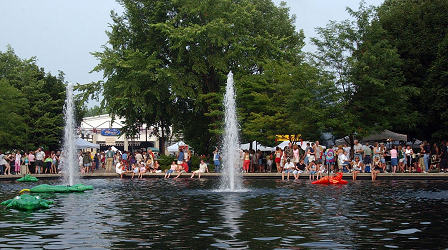 Considered the birthplace of American aviation, you won't find soaring costs of living in Dayton, OH, the No. 2 city on our list of the Best Affordable Places to Live. Residents here spend nearly 8 percent less on combined living expenses than the average American, according to The Council for Community and Economic Research. The city's median home value of $69,600 is almost 33 percent below the national average, making it the cheapest city for housing on this list. Trips to the grocery store and visits to the doctor in Dayton typically cost less than they do in most other cities.

Things to Do in Dayton
The real bargain that comes from living in Dayton is the high quality of life residents enjoy. Located near one of the busiest crossroads in America (where I-75 meets I-70), Dayton offers a rich assortment of things to do, from outdoor recreation that includes canoeing and ice skating to cultural amenities, like the Dayton Philharmonic Orchestra and the Benjamin and Marian Schuster Performing Arts Center. Several attractions in Dayton are free, including the National Museum of the United States Air Force and The Wright Cycle Company. Dayton often hosts major college, high school and amateur sporting events, such as the Adidas Warrior Soccer Tournament and games in the NCAA Men's Basketball Tournament. 
1. Round Rock, TX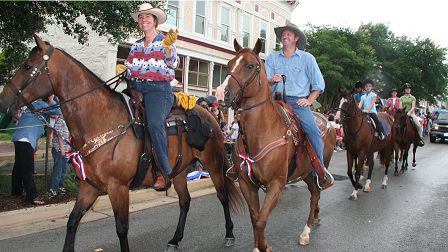 There's an old saying that "everything is bigger in Texas." But quite the opposite is true when it comes to tax bills and living expenses for the residents of Round Rock, our pick for the most affordable city. Living costs in Round Rock are nearly 7 percent below the national average, according to The Council for Community and Economic Research. This suburb of Austin offers higher than average salaries and lower than average home prices. Low costs of living, a high number of jobs and a stellar line up of entertainment options make Round Rock the No. 1 city on our list of the Best Affordable Places to Live.

A healthy economy, anchored by the city's largest employers, Dell and motor maker TECO-Westinghouse, helps keep prices in check. Local taxes remain low thanks to adequate sales tax collections and conservative spending by city leaders. The average property tax bill in Round Rock was under $762 according to the city. Residents also get to keep more money in their pockets since Texas has no state income tax.

Things to Do in Round Rock
Families enjoy the many things to do in Round Rock that won't slim your wallet too much. Some of the cheapest entertainment options include watching the minor league baseball team the Round Rock Express (season tickets start at $395), catching a movie at Flix Brewhouse, where tickets are typically less than they are at larger cinemas, and playing in the many recreational amenities the city provides, like parks, playgrounds and pools.