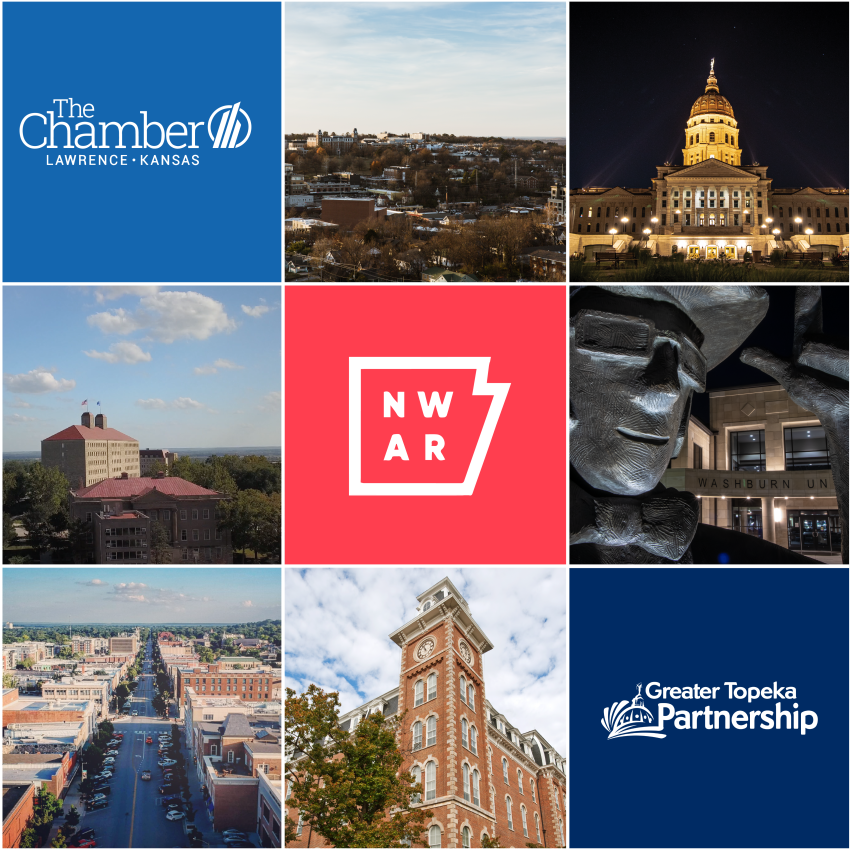 Today, the Greater Topeka Partnership and the Lawrence Chamber of Commerce announced their partnership to host an inter-city visit to Northwest Arkansas (NWA), a regional collective of Rogers, Springdale, Bentonville and Fayetteville. Titled "Stronger Together: Expedition NWA," the visit will allow community leaders from the public, private, educational and nonprofit sectors from Topeka and Lawrence to gain knowledge about innovative ideas and programs from Northwest Arkansas. The visit also provides an opportunity for interaction among city leaders and facilitates the exchange of best practices and lessons learned between the visiting cities and the destination cities. Stronger Together: Expedition NWA will take place on October 6-8.
"This was a perfect opportunity for our two organizations to collaborate to learn and grow together," said Matt Pivarnik, CEO, Greater Topeka Partnership. "Focusing on a community as uniquely collaborative as NWA allows us to learn how to better partner as neighboring communities."
"As economic development continues to take on a more regional approach, it's more important than ever for Chambers and cities to work together," said Bonnie Lowe, president & CEO, Lawrence Chamber. "This is an outstanding way for our two cities – with our Chambers and leaders from government, education, and the business community – to learn about a nearby region, share best practices, and strengthen connections."
"The communities of Lawrence and Topeka are uniquely positioned to benefit from a joint inter-city visit. Selecting Northwest Arkansas as our first joint visit will be an opportunity for all of us to learn from a university community, areas of innovation and collaboration, as well as larger industry partners and how they interact with each other," said Kirsten Flory, chair, Lawrence Chamber Board of Directors." I am excited to be a part of growing stronger together."
"The Partnership will definitely want to focus on key areas of growth, such as economic development, entrepreneurial resources, community strategy, Plug and Play innovation efforts, DEI initiatives and community discussions, tourism, education, local government and more," said Keith Warta, chair, Greater Topeka Partnership's Chair Council. "What we are able to glean from this excursion will better aid us in the future development of both our communities."
"Elected officials will absolutely benefit from this inter-city visit," said Topeka Mayor Michelle De La Isla. "New ideas don't happen in a vacuum. We need as many community leaders on board to learn what other communities like ours are doing to address challenges, find creative solutions and collaborate on a larger scale. I'm thrilled to be able to partner with our neighboring community, Lawrence, on this impactful learning experience."
"Cooperation between cities, especially university cities, is more important than ever," Lawrence Mayor Bradley R. Finkeldei. "I look forward to partnering with Topeka to explore how the cities of Northwest Arkansas collaborate to be stronger together, and then using those ideas to increase our cooperation with Topeka going forward."
Additional details about Stronger Together: Expedition NWA may be found at DestinationNWA.com.
# # #
If you would like more information about this topic, please contact Bob Ross at Bob.Ross@TopekaPartnership.com.
ABOUT THE GREATER TOPEKA PARTNERSHIP
The Greater Topeka Partnership serves as the umbrella agency of seven distinct efforts that support the enhancement of economic development and quality of life in Topeka and Shawnee County. They include: Downtown Topeka, Inc; Greater Topeka Chamber; GO Topeka; Forge Young Professionals; Minority and Women Business Development; Momentum 2022 ; and Visit Topeka, Inc.
ABOUT THE LAWRENCE CHAMBER OF COMMERCE
The Lawrence Chamber works collaboratively with the City of Lawrence, Douglas County, the Economic Development Corporation of Lawrence and Douglas County (EDC), as well as many other community organizations to promote growth and economic prosperity by serving as the leading business advocate in our community.
ABOUT NORTHWEST ARKANSAS (NWA)
Northwest Arkansas is a uniquely collaborative metropolitan area and region within the Ozark Mountains. The birthplace and headquarters of world-leading companies such as Walmart, Tyson Foods and JB Hunt. The region is the home to Plug and Play's supply chain & logistics innovation startup accelerator program. Other assets include the University of Arkansas, the state's flagship campus, and Crystal Bridges Museum of American Art, which boasts a renowned collection ranging from Rockwell to Warhol.